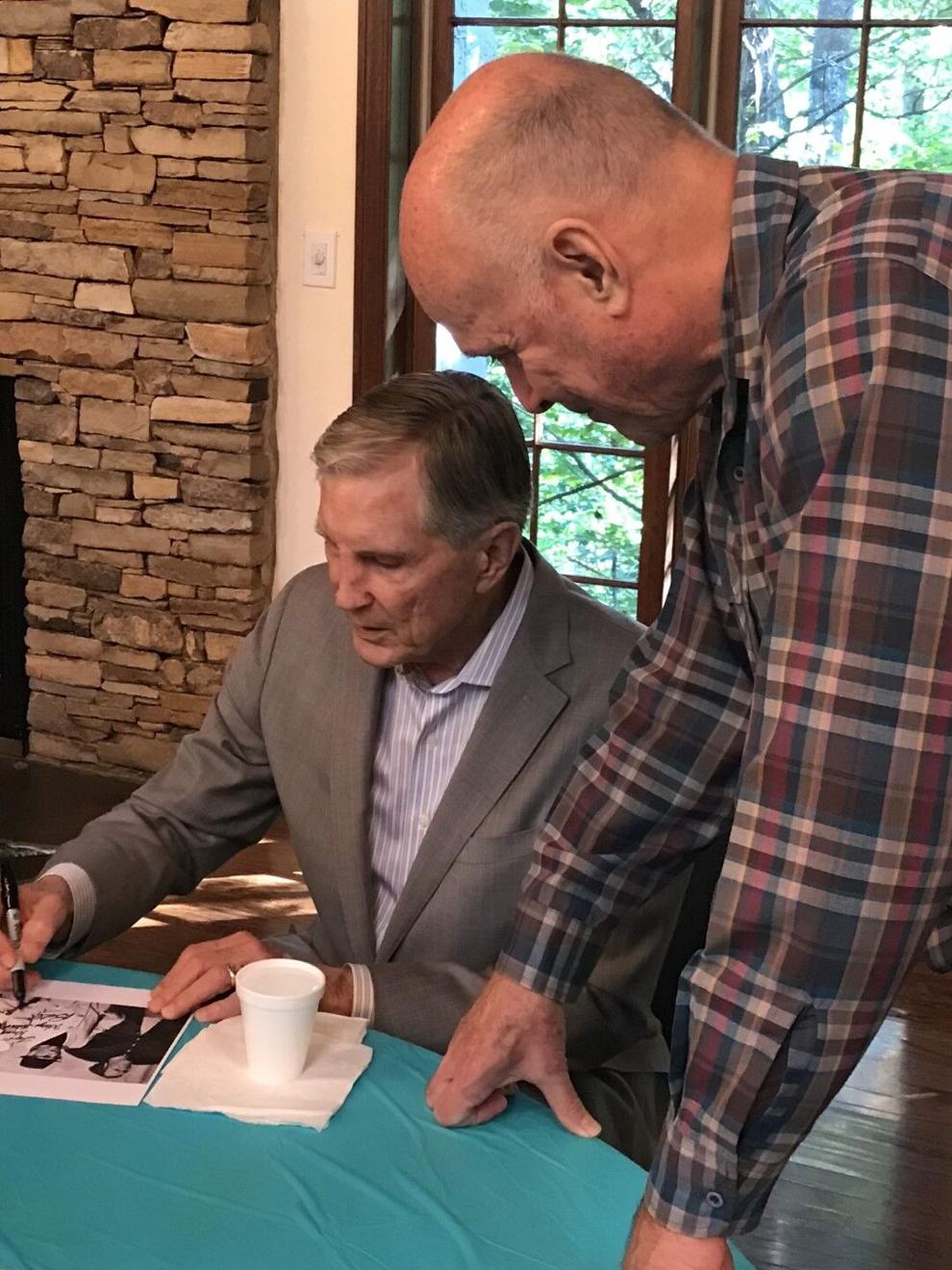 On Sept. 23, the Big Canoe Men's Fellowship and guests were treated to a presentation by a man whose experience spans six decades of football at the highest level of competition. While football was the focal point of his playing and coaching career, his lessons learned and then taught to others were much more important than the scoreboard.
Born in College Park, Georgia, Bill Curry played his college football at Georgia Tech. His NFL career included stops in Green Bay, Baltimore, Houston and Los Angeles. The amazing part of his playing days is he was selected in the 20th round of the NFL draft. Yes, there were 20 rounds in the 1964 draft.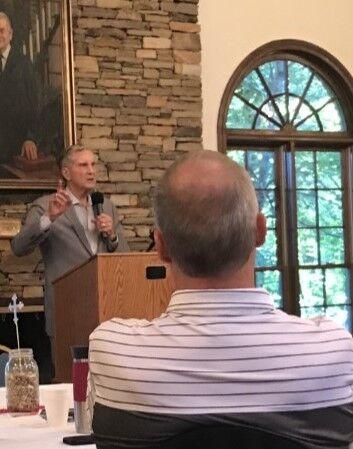 He still has a love for high school football but not because he follows recruiting or other elements of the modern game. "Friday night is when America huddles," said Curry. "Lots of people sit together on Friday night who don't sit together at any other time. Our huddle is not working very well in America these days. We need to search our souls and think about what we are bequeathing our children." He believes we can all learn from champions and boils it down to six traits exhibited by those who invest totally in whatever they do.
Trait number 1: Champions show up ready to do the job. They also love and respect those who seemingly least deserve it.
Trait number 2: Champions have singleness of purpose. When Curry was playing center for the Green Bay Packers, his team trailed Detroit 21-3 at halftime. As Detroit defensive lineman Alex Karras walked past Green Bay coach Vince Lombardi on the way to the locker room, Karras used some profanity-laced language, basically taunting Lombardi. Curry said at halftime the legendary Packers' coach did not come into the locker room until less than 5 minutes remained before the start of the third quarter. Curry said Lombardi's so-called halftime speech was just one simple statement. "Men we are the Green Bay Packers." Green Bay came back to win the game and, in fact, many of those players won three NFL titles.
Trait number 3: Champions are unselfish. Curry learned that before the 1964 draft Lombardi told the personnel department to "do something humorous with the 20th-round pick." Veterans were likely to ignore whomever that was, yet star quarterback Bart Starr sought out Curry and invited him to church and Sunday dinner. In 1996, Curry was relieved of his duties as head coach at Kentucky. Shortly after that, Starr arrived in Lexington and Curry asked him the reason for his visit. In fact, Curry was the reason for the visit. Starr was there when his friend needed him.
Trait number 4: Champions are tough and demanding. When Curry went to the NFL he had never been in a huddle with an African American teammate. The great Willie Davis befriended Curry, telling him, "I think you've got a chance to make our team and I'm going to help you."   
  Years later, Davis told Curry the reason for his gesture. "The reason I did that for you was my Christian faith." It was during this time that Curry learned something about dedication to your craft. "There are two pains in life, the pain of discipline or the pain of regret." 
Trait number 5: Champions are smart. This has nothing to do with one's IQ. It simply means preparing for the game, or the test, or the jog is the smart thing to do. One time Curry was observing the great quarterback Johnny Unitas and receiver Jimmy Orr working hard on a hot summer day long after the organized practice was over. Curry asked Unitas why he did that. Unitas responded, "You're a long time dead." In other words, don't waste your life, don't waste time, prepare so you don't look back and wish for different results.
Trait number 6: Champions don't quit. Curry summed this up with one Latin word: magnanimitas, greatness of spirit.
During his playing days at Georgia Tech, legendary coach Bobby Dodd told his players, "Men, we're going to go to every class." Curry, however, decided his four-days-a-week, 8 a.m. chemistry class was just too much and skipped it one day. He then found himself assigned to run the stadium steps at Grant Field in the wee hours of the morning. "My football coach loved me too much to let me self-destruct."
There's no doubt that lesson was handed down to many players many times during Curry's 36-year coaching career.
Randy Waters has been a TV/radio sportscaster since 1973 in Lexington, Louisville, Pittsburgh and Atlanta—WXIA/11 Alive (1984-2013.) He hosted Falcon's programming on CW69 and is the color analyst for Georgia Tech/IMG basketball radio network, 1994-current.