Editor's note: Parts one and two can be found in Smoke Signals' March 2021 and April 2021 editions.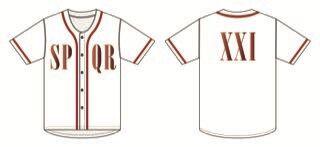 As the Cubs' last third of the season wore on, the effects of aches and pains became more noticeable. When asked how a player was feeling, common replies were: "Well, I'm vertical" or "I'm still on the right side of the grass."
With others nursing injuries, I played first base, second base, third base, left field and center field, depending on that day's lineup. Moving around defensively due to injuries is common in senior softball.
At this writing, my left foot aches, as does my left knee, right arm and lower back. However, none of my aches and pains are critical or chronic, perhaps, because, unlike the "Ancient Mariner," I did not kill an albatross.
For many years, I played well at shortstop, with and against men 10—even 20—years younger than me. The opposition called me the "old shortstop who catches everything." My teammates, more affectionately, named me "Gramps."
Slowing down may be inevitable, but it saddens me, nonetheless. A friend's attempt at cheer added to this dismay: when describing my ability at shortstop, he noted my previous great range could only be described as, well, range.
Power hitting has taken a similar knock. When I was younger, not scoring a home run each game equaled a batting slump. Now, I rejoice at one or two a year.
We finished the regular season with 15 victories and five losses, holding on to second place. After a first-round playoff win, 17-16, we lost in the second round, 15-17. The Cubs made nine errors and committed two base-running blunders. I batted .554 for the year, a hit or two lower than my norm.
Ironically, the first-place team also lost in the second round, leaving the third- and fourth-place teams to compete for the league championship. This ended 22-15 in favor of the fourth-place—the healthiest—team.
During the season, a league friend suffered a massive heart attack and endured triple bypass surgery. Thank goodness, he will be alright. COVID-19 took its toll. The games are fun but, in the scheme of life, they are not really important. My thoughts on whether it's worth the effort are balanced by pondering how many folks in their mid-70s can move and play even as well as I do? I have decided I am truly blessed.
I hear there is a league for men and women over 85 years of age somewhere. I have got to look into it—perhaps I can have some fun and add some new friends when I join.
That is why I play.