The Big Canoe Hiking Club's annual Overnight Camping Adventure will be April 20-22, at Cloudland Canyon State Park. Canceled last April because of COVID-19, the club is returning to Cloudland Canyon after a very enjoyable trip in 2017.
Cloudland Canyon State Park is in western Georgia near the small town of Trenton. It is easy to find with Google maps. The most direct route is via GA-136 out of Jasper. Our campers have grabbed the available cabins, and a few adventurous folks will be staying in yurts. Hopefully, we will not have any thunderstorms this time out—thunderstorms in a yurt can be a bit too exciting!
Our first hike will be Tuesday after arrival. Then we will meet for dinner. On the second day, we will have the opportunity of two hikes. We are hoping for spring flowers and waterfalls. The club will go out for dinner the second evening, as well, but there is always the option to eat in if that is a hiker's preference. However, the club's vaccination rate is high, and we are feeling fairly safe. It has been too long.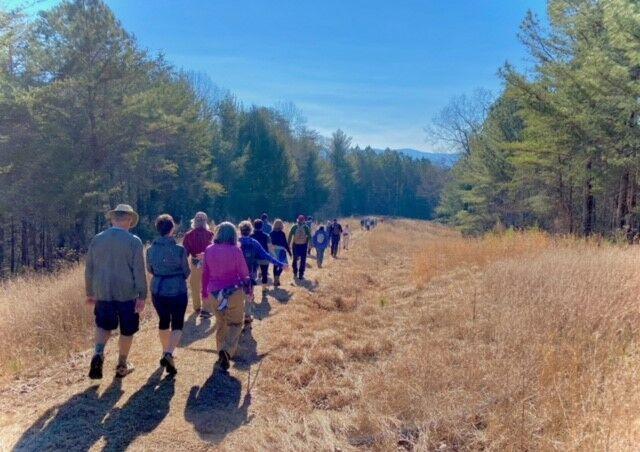 On March 24, the club ventured to the Len Foote Hike Inn and back. At 9.6 miles, this was the longest planned hike in 2021. It is a well-traveled path with a gradual elevation change. A shorter alternate hike was also offered, which was approximately two miles one way up the Len Foote Trail to a viewing area and a reverse course back to the upper parking lot at Amicalola State Park. The day of the hike, participants decided which option they would take.
In February, 33 hikers visited the Cartecay River Loop Trail. This was our best turnout in a year. It was a pleasure to be out on the trail that day, as the pictures attest. For more information on the Big Canoe Hiking Club, contact Laura Smith, lauramcsmith@gmail.com.
As always, happy trails.