As fall begins, the arrival of cooler weather will make hiking more pleasurable. On Sept. 21, the Big Canoe Hiking Club will visit Brasstown Bald. The route to the summit begins at Jack's Gap parking lot and uses Jack's Knob Trail. At the summit, hike leaders will offer a cookout with brats and burgers. It is a 6.6-mile, out-and-back hike with an elevation change is 2,230 feet described as "hard." This sounds like a very steep hike, but the break and good food in the middle will sustain us on the return trip.
In August, the club returned to Raven Cliff Falls. This popular hike has a moderate degree of difficulty. The trail is 5.8 miles out-and-back with multiple waterfalls and a mountain brook. The trailhead is in National Forest land, so a National Parks pass or $5 is needed for parking. One reason this trail is popular is because it is close to Helen. Several hikers headed that way after hiking to have lunch, stroll the streets and pick up some fudge.
On Aug. 23, the club sponsored a potluck dinner at the Beach Club. Approximately 50 members shared salads, entrees and delicious deserts. This event is always enjoyable as we have a chance to converse and share hiking adventures in the beautiful North Georgia Mountains.
On July 20, our hikers returned to the nearby Cartecay River Loop Trail off Mulkey Road, about 20 minutes from Big Canoe. There was a good turnout for this hike even though it was a very humid day.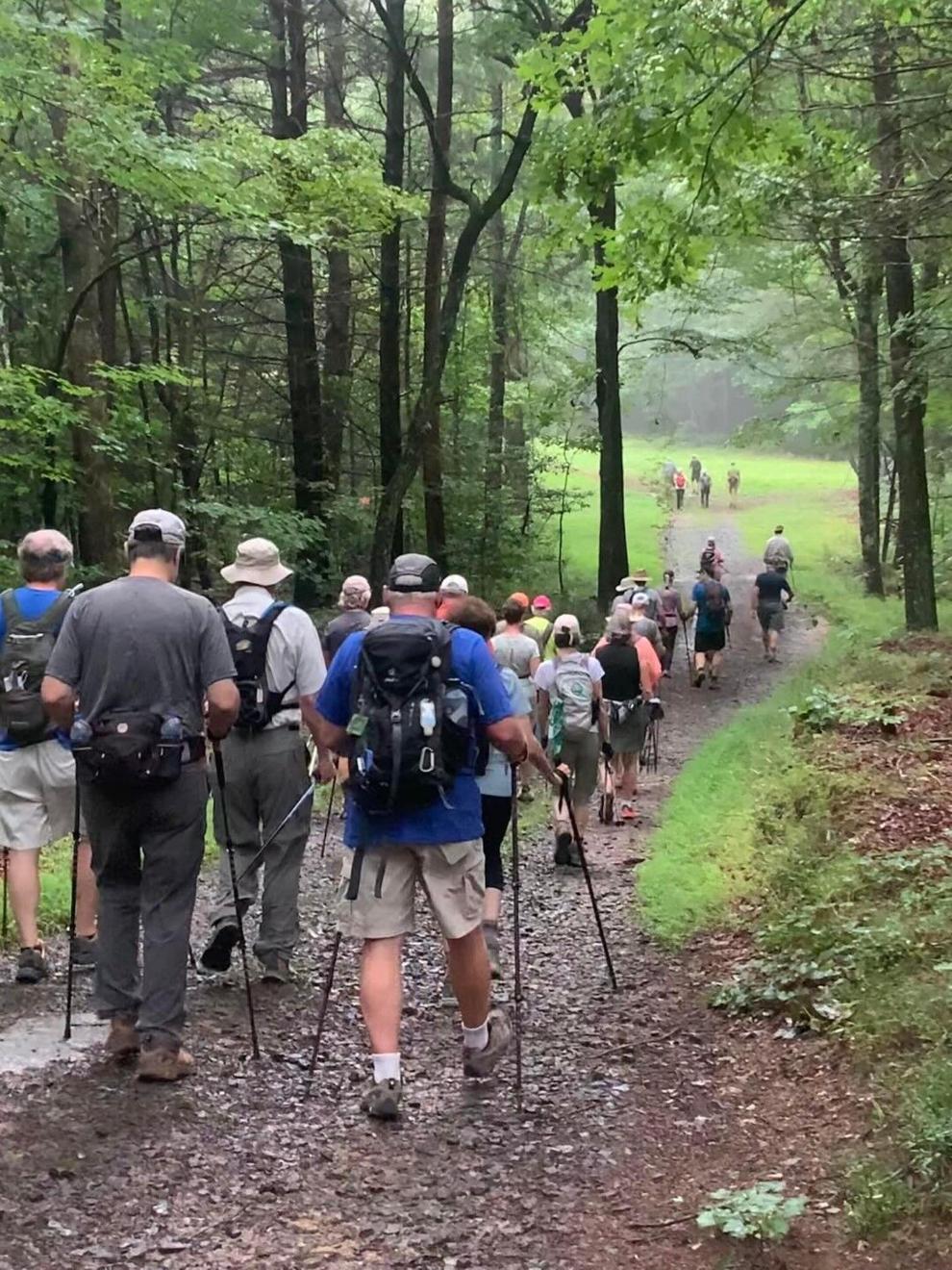 Beware of yellow jackets
It is the height of the season for these mean wasps. Yellow jackets are scavengers and are always on the lookout for sweets. They live in colonies, often in burrow holes in the ground but also in trees, buildings and abandoned cars. By summer's end, the nest is about the size of a football with around 800 yellow jackets or more. When yellow jackets attack, they can sting multiple times and don't lose their stingers. They also release an attack pheromone that alerts other yellow jackets to join the attack. For some reason, yellow jackets tend to be more aggressive late in the year. The good news is, except for the queen, yellow jackets do not live over the winter. However, the queen is fertile and starts a new colony in the spring by laying many eggs (Terry W. Johnson, "It's Yellow Jacket Time," Georgia Wild, August 2022). Be careful on your walks this time of year. Last year, this writer was walking two dogs that "woke up" the jackets, which then attacked the writer. Not fun, my friends. Thank goodness for Benadryl.