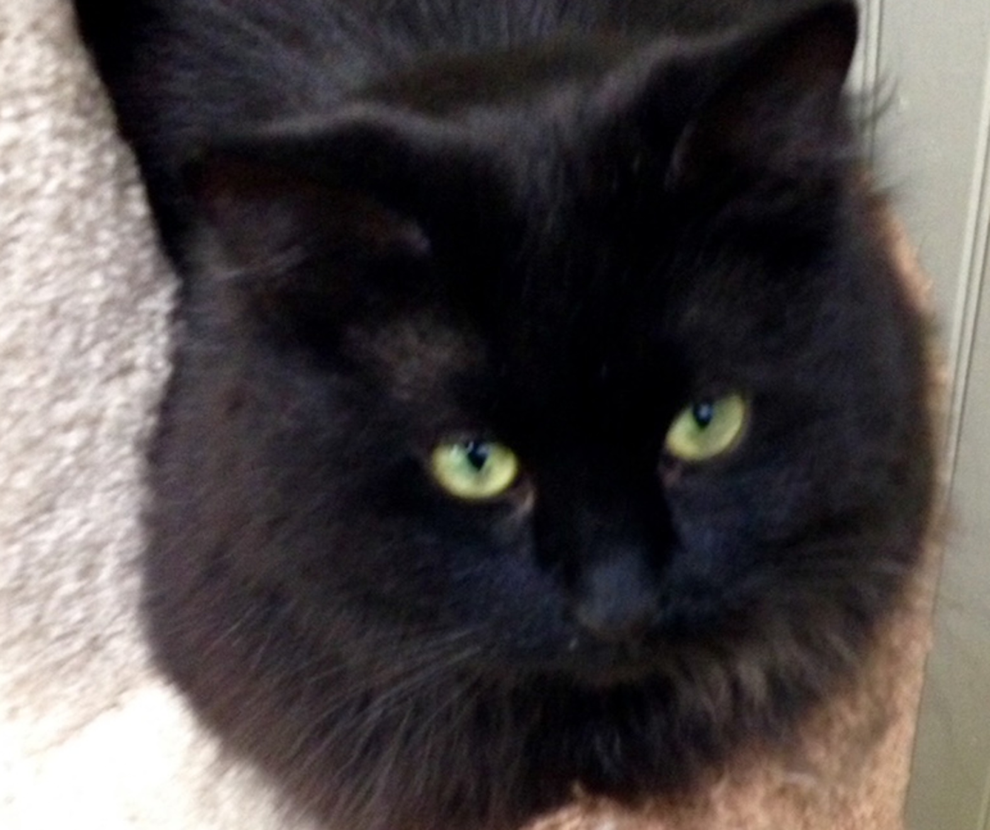 It was the best of times, it was the worst of times . . . It was late November 2020, the beginning of the holiday season—usually a happy time, but, in the middle of the COVID-19 pandemic, we had decided not to be with family. I opened the digital version of Smoke Signals and clicked on an image of a beautiful, black Manx cat with golden eyes at Big Canoe Animal Rescue. Her name was Shadow.
Mind you, we already had a beautiful black cat from BCAR, one we'd had since August 2016, who considered herself an "Only Cat." We'd named this fluffy, green-eyed feline India, and she was the center of our household. And rightly so, in her opinion. The pandemic confirmed that, since we rarely left home.
Everything was purrfect, as far as India was concerned.
I'd wanted a second cat for a while. BCAR's Pat Kraft would entice me with photos of "sweet cats who might get along with India." Pat knew this was critical because India had a Garbo-like reputation as a loner. She'd spent her days at Maggie's House on a high perch, gazing down in queenly repose.
There was a time, however, when India was neither alone nor queenly. She and her sister had been unceremoniously dumped on the porch at Maggie's House in a carrier. Both were terrified when anyone came near them, and India, whom the staff named Loretta, had matted fur. A trip to the vet for a check-up revealed the sisters were Ragdolls, a long-haired breed often described as "puppy cats" for their attachment to their owners. Lady Luv, a white Ragdoll, was adopted relatively quickly, but India remained on her perch, except for short stays with soft-hearted volunteers, for seven months.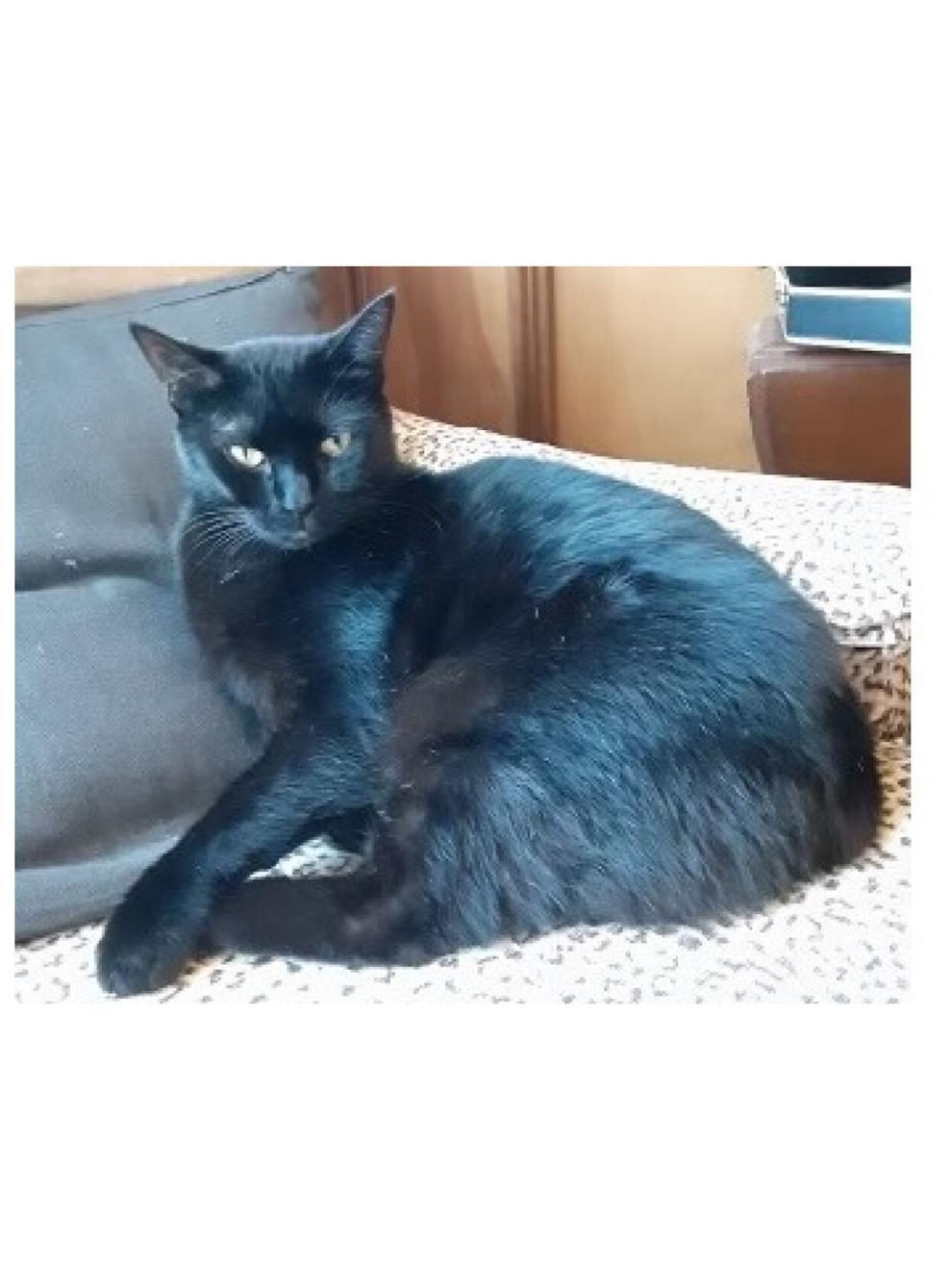 Bill and I went to Maggie's House in search of a kitten, but we couldn't take our eyes off Loretta and signed the adoption papers immediately. Though initially extremely shy, India soon revealed her Ragdoll character and began following me from room to room, crying whenever I left the house, according to Bill, and hurrying to greet me when I returned. Finally, she was ours.
But, we were also hers. When we brought Shadow home, India was appalled. I put Shadow, whom we re-named Spanx due to her tailless, truncated rear, in my office. She could look out through the French doors, and India could see her from the entry hall. We hoped, fools that we were, this would lead to a beautiful friendship.
India could see me playing with Spanx, who, despite her age, loved the toys India had rejected. Attempts to let Spanx out of my office failed miserably, so we relocated her to a downstairs bedroom. Although we spent time with her during the day, Bill insisted upon sleeping there with her. For weeks, every time Spanx ventured upstairs, she was met with hissing, spitting and a swiping claw. My dream of a two-cat house was vanishing, and I was in danger of losing a darned good husband.
It was time to call for backup.
Pat Kraft and Cecilia Fraschillo, our BCAR fairy godmothers, soon appeared on our doorstep. India took one look at them and hid under a couch, looking guilty as sin. The ladies toured the sleeping/food/litter box areas and carefully observed Spanx as she rolled around on a catnip mouse, played with her toys and struck funny poses. We were vastly relieved when they declared her to be a happy cat, despite her downstairs exile. They prescribed aromatherapy, providing us with calming pheromone diffusers to ease the two cats into being around each other.
Within two days, India and Spanx became housemates, if not best friends, content to be in the same room. Within a week, they were touching noses and eating from each other's food dishes. India has begun to join Spanx and me when I get out the cat toys. We think she likes having a sister again and Spanx is part of a family that loves her. I now have two kitties following me from room to room, and they sit with us on the couch as we watch TV at night. Most importantly, we all sleep together in one bedroom.
I hope this story will encourage anyone who might be hesitant about adding other animals to their families, especially older ones like India and Spanx. You won't regret it!
Come see us
BCAR's Saturday Open House, closed for several months due to the pandemic, will reopen on a trial basis, May 22 and 29, 11 a.m. until 2 p.m. Plan to visit us then. For an appointment at another time, call 706-268-1346. One of our volunteers will contact you.
- Call BCAR at 706-268-1346.
- Check the BCAR adoption postings in the Big Canoe postal facility.
- Go to www.bigcanoeanimalrescue.org.
- Check us out on Facebook.
BCAR is a 501(c)(3) nonprofit, no-kill shelter for homeless dogs and cats found in the Big Canoe community, providing them with a safe, healthy, and positive environment until they are adopted into their safe, forever, loving home.