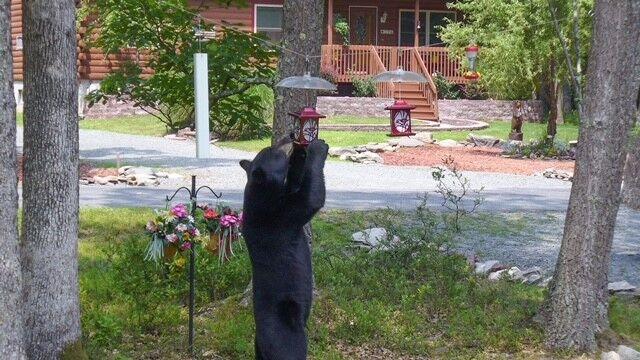 December, January and February are special months for Big Canoe's bird lovers every year, since those are the only three months outside bird feeders are approved for use on our porch decks or property.
That winter window on our calendar makes good sense for a couple of reasons:
- Our native birds are hungry then, especially since the flowers and shrubs that are food sources in warmer months are not available during winter's cold shut-down. The birds love the goodies we conveniently provide for them, and we enjoy the variety of species and colors that grace our windows.
- You already know the largest critters in this mountain region are not up and active during this time of year. Black bears are into their southeastern "soft" hibernation right now, the females nesting in dens as they prepare to birth new cubs in a month or so, and the males only venturing out occasionally.
It's the best time for our bird feeders! Good for the birds, and also good for the bears because they are not around to be attracted to birdseed outside our homes.
In other times of the year, bird feeders are bear magnets. Other than open garbage dumps, there are no places easier to find with so many calories for so little work. A simple tube of sunflower seeds, or even a sugary hummingbird feeder, can provide thousands of calories an adult bear can consume in a few minutes.
If a bear enjoys the fare at your house, guess who's coming back again for dinner on your deck? Your black bear neighbors. Their strong sense of smell and sharp memory will draw them to your home for second servings—over and over.
That's where the real problems arise. An attracted bear can become a destructive menace to your home and a serious threat to everyone's physical safety. Those dangers obviously cannot be acceptable, and the end result is likely to be the trapping and death of the bear, which nobody wants. That's why there are serious fines in our Big Canoe regulations against feeding wildlife.
So, please enjoy feeding our winged friends during December, January and February, but—for the sake of our bears—put away the bird feeders during other months.
Continue to help our Black Bear Project spread its bear message to your guests, visitors and new neighbors. Point out the heavy bear-proof trash cans that have been installed at trail sites and in park areas. Share the pamphlets and information about bear safety available at 20 kiosks and activity sites in the community. When your family dines at the clubhouse, enjoy the activity sheets and crayons for your youngsters to learn about our bears. And please thank our entry gate staff and rental agencies for distributing colorful Black Bear Project door hangers to all visitors who rent property here.
You have made all these things possible with your enthusiastic support of wildlife and bear issues inside the gates and beyond. Thank you.
Have a Bear-y Christmas and a wonderful New Year!    
Postscript: Virgil's "Aeneid" warned about the deception and danger of the Trojan horse with this famous line: "Beware of Greeks bearing gifts." In a Big Canoe context, what he meant to say was "Beware of bears eating Greeks who are bearing yummy things to eat."
Nighttime cameras and daytime eyes are confirming bears are still around our neighborhoods in the relative warmth of this late-arriving winter season. Please do not leave foods bears like (that's almost anything edible and aromatic} outside your home. Pumpkins at Thanksgiving, holiday fruits, and even fresh food from Door Dash or Chewey are clear invitations for a large, furry uninvited guest to come knocking at your front door.