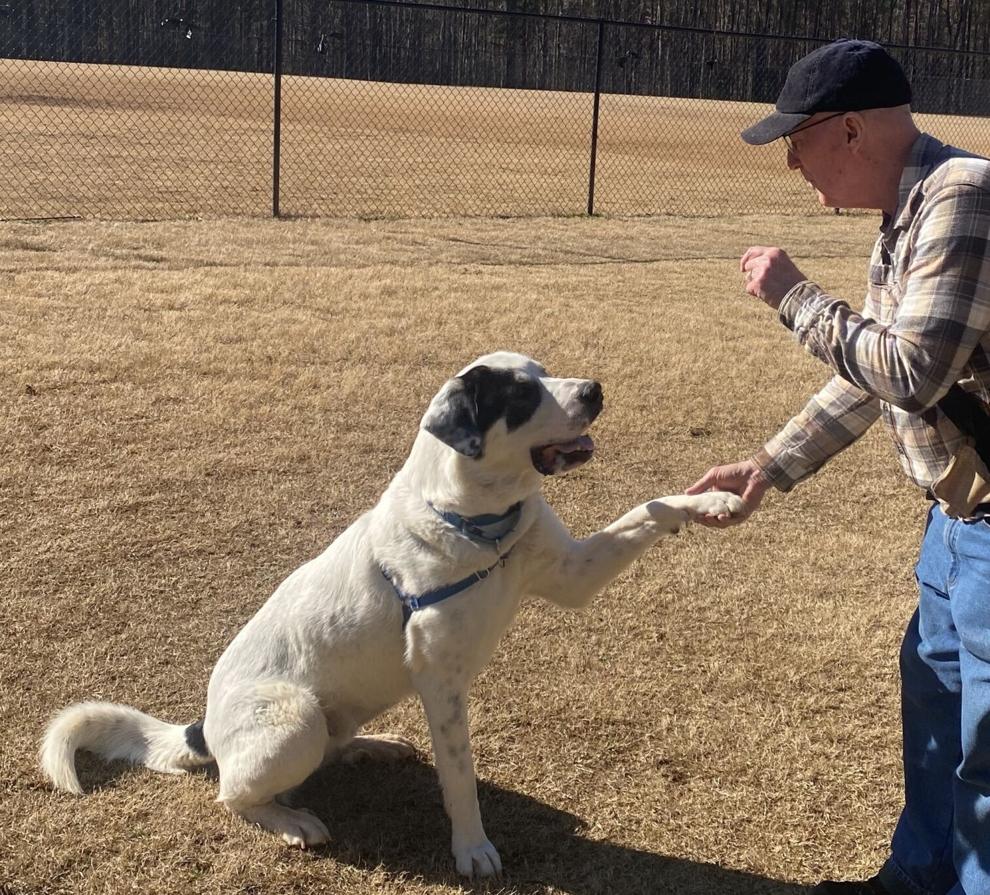 BCAR adopted out eight dogs during January and the first half of February, including the four beagles and the three Chihuahua-mixes we had! This left five dogs at BCAR, but not for long.  We just took in five more dogs from the Pickens County Shelter. One is a 7-pound, 2.5-year-old Chihuahua-mix named Belle, and the other four are Lab-mix puppies: Linus, Kensie, Bear and Confetti. These adorable, well-behaved puppies are 17 weeks old and already weigh 32 to 37 pounds; they are going to be large dogs.
The focus of this article is the five dogs that have been at BCAR awhile, a very friendly and happy group of dogs. We put the BCAR dogs into Diamond Dog Park together each weekday morning and Sunday afternoons during field training and watch the fun begin. They show such joy running around the field chasing and wrestling with each other and begging treats off the volunteers.
I love to watch the beagles, now adopted, chase Marshall, the 110-pound Great Pyrenees. The beagles run at full blast and Marshall just lopes along, being gentle with them. I also love to watch Brody run. If not chasing another dog or being chased by another dog, Brody runs for the joy of running. Last week, I watched Elvis, the 35-pound beagle/basset hound-mix (since adopted), wrestle with Indy, the 70-pound black Lab. Not an even match between them weight-wise, but you would never know it. Indy rolls around on the ground and Elvis jumps on top of him. It is like watching two puppies play together. No one ever gets hurt; they are just having a great time together.
I have divided these five dogs into two groups: movers and shakers.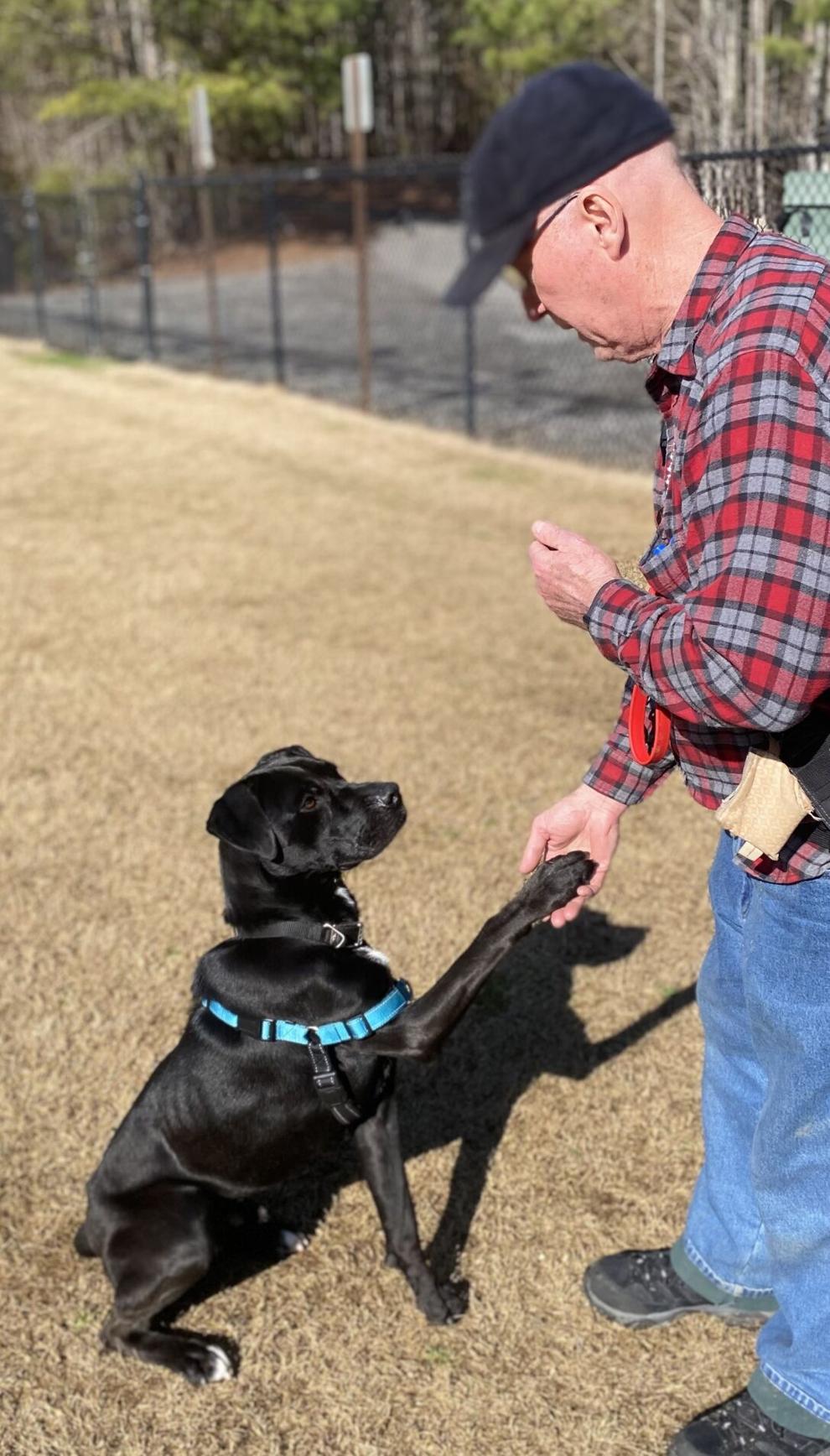 Shakers
Marshall is the best of the shakers. He is ambidextrous; ask for his left paw and he gives it to you; ask for his right paw and he gives that to you. Marshall's previous owner trained him well. He knows quite a few cues. (I understand we do not call them commands anymore.) When Marshall drops his paw into your hand it feels as if someone handed you a brick. Marshall is a white-with-black, 110-pound, 22-month-old male Great Pyrenees. DNA testing shows him to be purebred. He is a great dog—a gentle giant—and prefers being outside.
The next best shaker is Odin. Odin has also had some training; he is smart and eager to please. He is the black, 69-pound, 2-year-old male Boxer-mix recently found wandering around the Summit Drive area of Big Canoe. He is a sweetheart. I played with him in the BCAR office one rainy day for about half an hour. He never stopped wagging his stub of a tail. We both had a great time! Although Odin loves people and gets excited around the volunteers, he does not do very well yet with the other dogs and cannot go into the dog park with them. I am sure his aggression is fear-based, and we are currently working with him on this.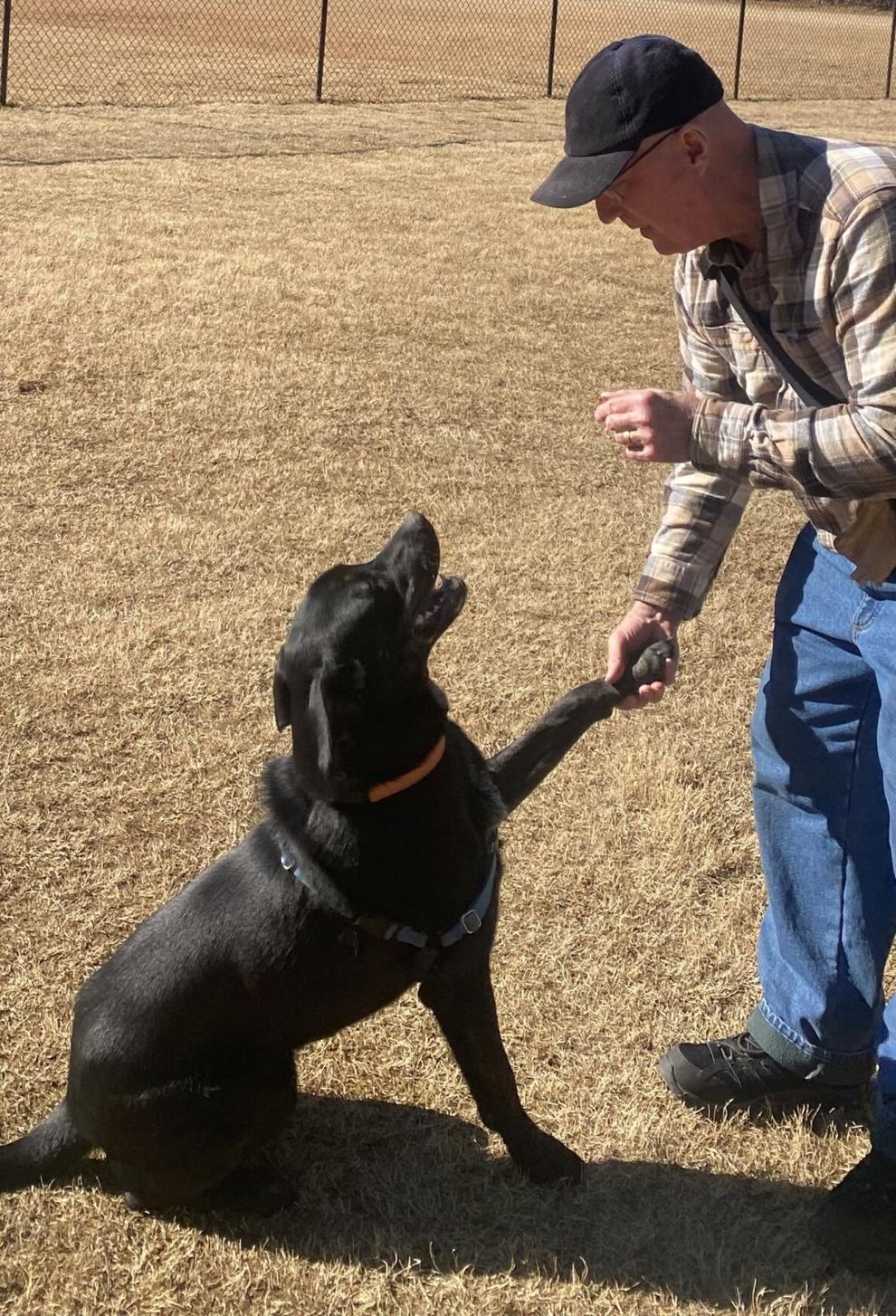 Indy is another great shaker. He is also very eager to please, has had some training, and loves being with people. Indy is a black, 57-pound, 2-year-old male Lab. He has the characteristics of a true black Lab; he will be a happy puppy forever. Like most Labs, Indy is always one meal away from starvation. He is a sweet dog and would make someone a great companion.
Movers
I already mentioned the best mover at BCAR: Brody. Brody is a very handsome brindle, 50-pound, 3-year-old male Plott hound (the state dog of North Carolina, originally bred and trained to hunt bears). Despite his earlier problems with a broken hip and the resulting 12 weeks of physical therapy, none of the dogs at BCAR, past or current, can keep up with Brody. When another dog chases him, you can tell Brody is just leading them along. They are running at full tilt and Brody is cruising. You can definitely tell when Brody puts on his afterburners. It is as if he shifts into a lower gear. However, if Brody runs too hard for too long he begins to show signs that his hip is hurting him. Brody can be very stoic, a nature of the breed. However, spend enough time with Brody and you will discover a sensitive and loving dog.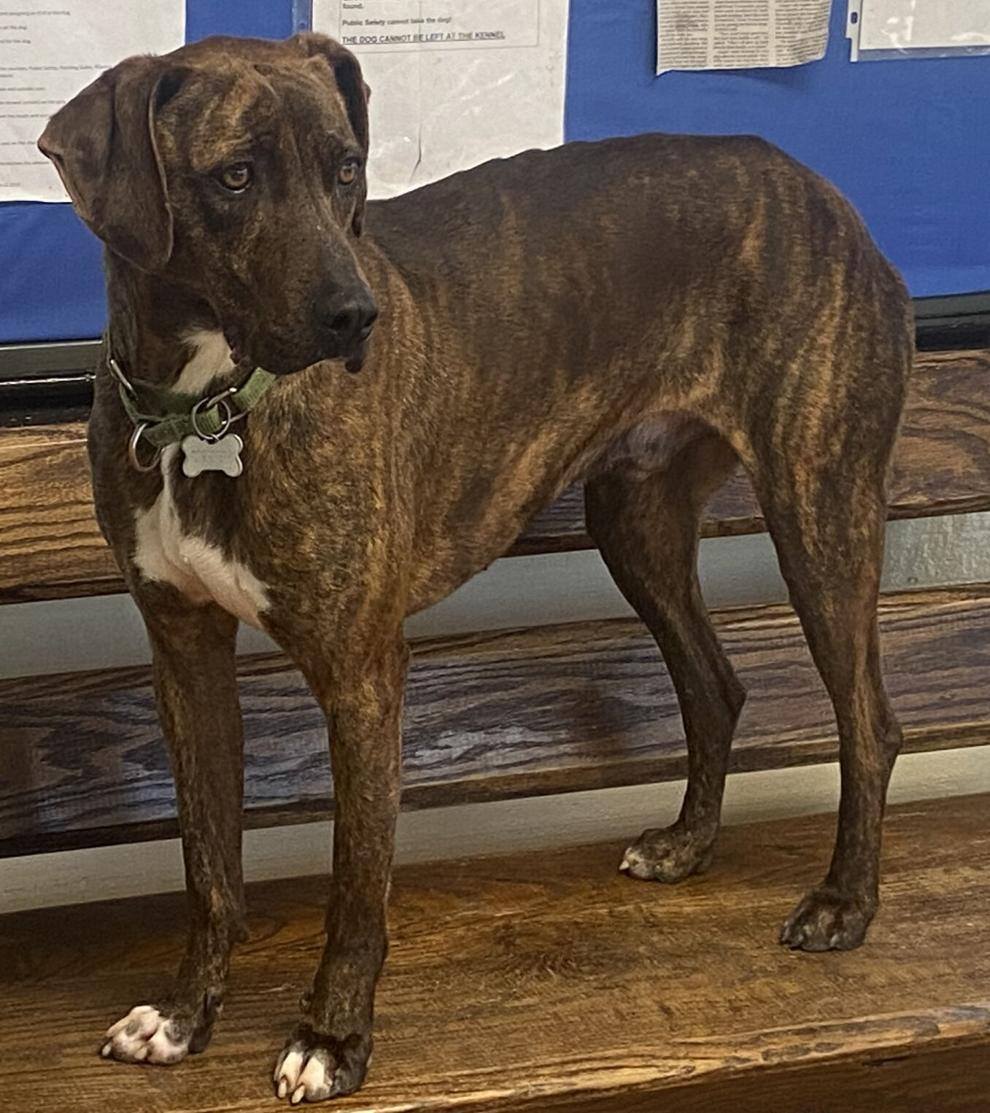 Zoey is the surprise mover of the group. She is small at 29 pounds, and just had a litter of six puppies four months ago. However, this girl can run! Zoey is a brown-and-white, 29-pound, 2-year-old mixed breed. My iPhone app tells me she is an Australian cattle dog/Jack Russell terrier/Corgi-mix. What I know for sure is she is a cutie. When we first put her in the dog park with the other dogs, she was somewhat apprehensive. Perhaps she had never been a member of a pack before. However, that lasted about 5 minutes, then she was running with the best of them and having a great time. Her joy and enthusiasm at playing and running with the other dogs is obvious, and contagious. Dr. Habermann's staff told me they think Zoey is the sweetest dog ever. Even Dr. Habermann noted in his medical report, "Nice dog, high energy but sat still for exam very well."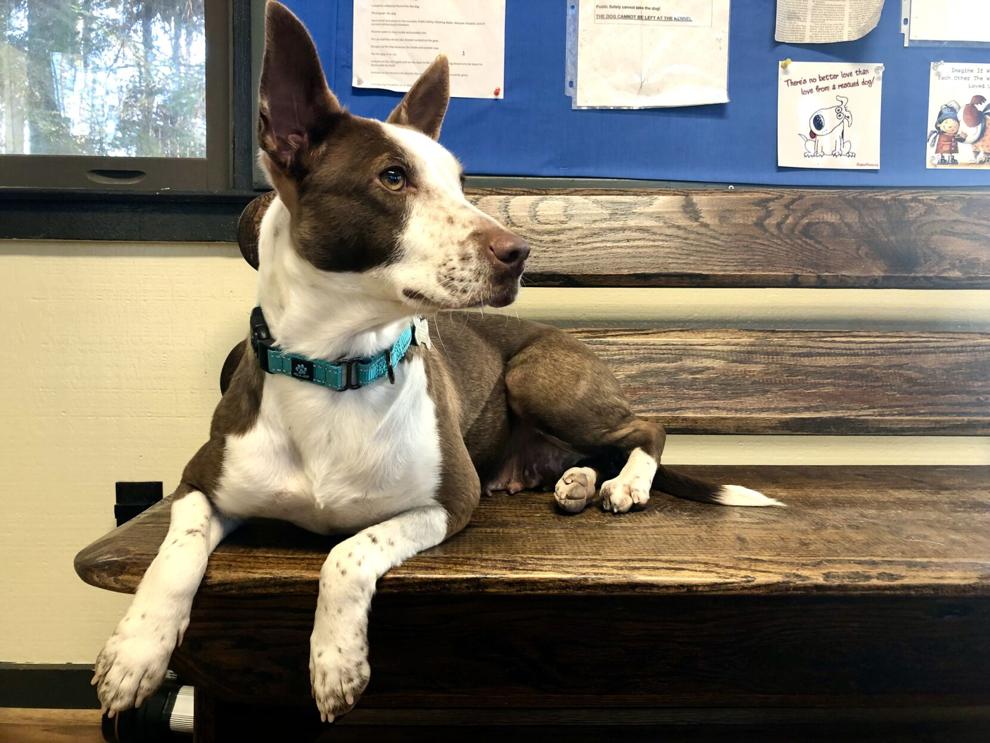 Come to Open House at BCAR this Saturday to meet and shake hands with one of our three shakers.
Call BCAR, 706-268-1346.

Check the BCAR poster in the Big Canoe postal facility.

Go to the bigcanoeanimalrescue.org website.

Check us out on Facebook.

Come to our Open House every Saturday, 11 a.m. to 2 p.m.

Volunteer!
BCAR is a 501(c)(3) nonprofit, no-kill shelter for homeless dogs and cats found in the Big Canoe community, providing them with a safe, healthy and positive environment until they are adopted into their forever, loving homes.