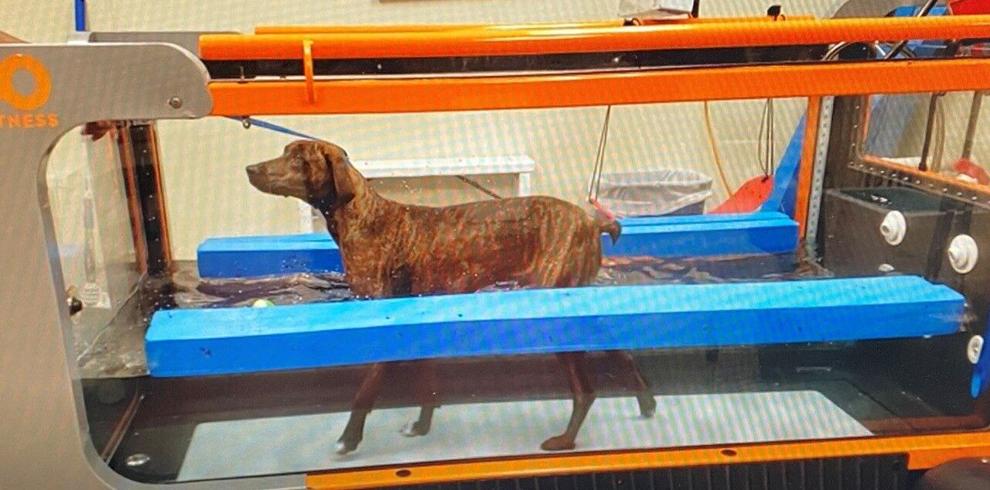 In the July 2021 edition of Smoke Signals, I introduced Brody, the very handsome, 1-year-old male brindle Plott hound mix weighing 40 pounds. He was found at the Exxon Station at the end of Yellow Creek Road at Highway 53. X-rays showed Brody had fractured his pelvis four or five months earlier, and it had healed on its own. Dr. Habermann said, "Brody has a grade 3/4 lameness in his right hind leg. It is painful when both the stifle and hip have pressure applied to them." We noticed Brody favored his right rear leg if we walked him too far.
Dr. Habermann referred Brody to the Veterinary Referral Surgical Practice on Holcomb Bridge Road in Roswell. In the July article, I stated Brody would be going in for a consultation in a few weeks. Here is the update: The surgeon, Dr. Filer, said he could not clearly see operating would do Brody any good and, therefore, did not recommend surgery at this point. I know, right? A surgeon not recommending surgery! He noted Brody's muscles at the top of his right hind leg had atrophied and recommended physical therapy to try to develop these muscles.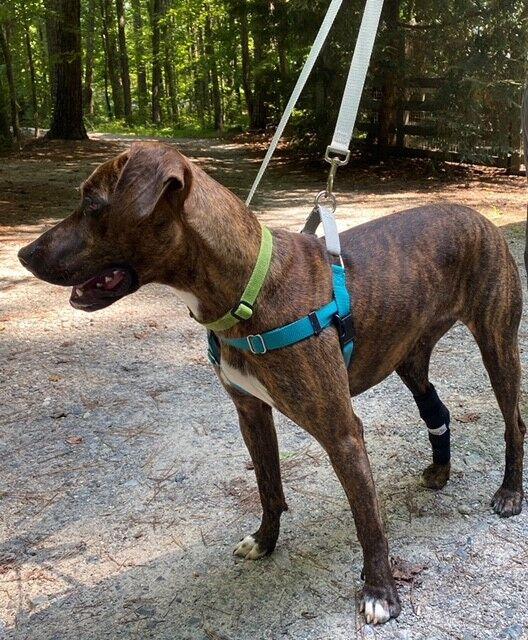 The next week we took Brody for a consultation with the Atlanta Animal Rehabilitation & Fitness, also on Holcomb Bridge Road. Dr. Amy told us most dogs put 30% of their body weight on each of their front legs, and 20% on each of their back legs. Testing revealed Brody was putting 36% on his front left leg, 31% on his front right leg, 23% on his left rear leg, and only 10% on his right rear leg. Brody compensates for this lack of muscle by rolling his right hind leg out when he walks, a very odd gait that will eventually lead to problems with his knee and his ankle. Two physical therapy sessions a week for three weeks were recommended to hopefully move these percentages closer to where they should be. Brody will be retested at the end of the six sessions.
Dr. Amy also suggested we put Brody on an anti-inflammatory, Dasuquin with MSM (a joint supplement), fish oil and Vitamin E. We put Brody's water and food bowls in an elevated stand to force him to put more weight on his back legs. We walk all the BCAR dogs Monday through Friday starting at 10:15 a.m. However, before walking Brody we go through the following routine:
- A heating pad on the top of his right hind leg for 5 minutes.
- Four or five stretching exercises. We extend his bad leg and hold it for a count of five, then scrunch his leg up close to his body and hold it.
- Apply a tarsal brace on his right rear ankle to keep it straight while he walks and discourage him from rolling his bad leg out and hurting his knee and ankle.
- Use a special harness and a short lead to try to keep Brody's head up, thus encouraging him to put more weight on his back legs. This is not how a hound wants to walk. They look more like a vacuum cleaner when they walk, moving back and forth!
- We cannot let Brody run, jump, walk up stairs or walk on slippery surfaces. After his walk, we ice his bad leg for 5 to 10 minutes.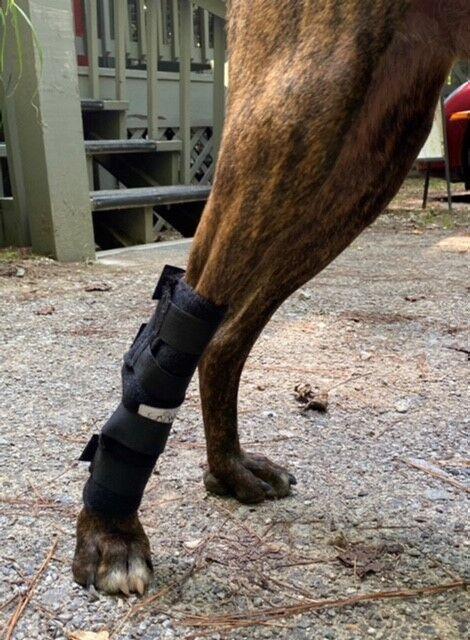 Dr. Amy and her staff love Brody. During his first session, they said Brody was very curious and had to look in all their cabinets. His half-hour sessions include cold laser therapy and walking on their underwater treadmill. Dr. Amy said Brody really likes walking on the underwater treadmill and the treats. Jim Hughes, Liz Wintter and I take Brody to and from these sessions. Brody loves getting out of the shelter and rides well. The only problem is he barks at motorcycles. When Brody barks in an enclosed car, it is loud! He usually sleeps on the way home.
Brody is very compliant during these sessions and our heating/stretching/massaging/icing routine. He is a very sweet boy. He rarely gets flustered or tries to resist anything we do with him. One day, after 4 minutes with the heating pad on his bad leg, he did get very aggravated with me and went as far as to start nibbling my shirt. However, he quit when I asked him to stop. During one trip to a physical therapy session, Brody rested his head on the top of my head while I was driving. It felt like a 15-pound weight had been put on the top of my head. He left it there for about a minute each time. I think this describes Brody nature well; he is a gem. He is also a BFF of Guinness, one of Molly's 4-month-old puppies.
To find out more about Brody or any of the other dogs or cats at BCAR,
- Call BCAR at 706-268-1346.
- Check the BCAR poster in the Big Canoe postal facility.
- Go to www.bigcanoeanimalrescue.org.
- Check us out on Facebook.
- Come to our open house every Saturday from 11 a.m. to 2 p.m.
- Volunteer! Take Brody to a physical therapy session.
BCAR is a 501(c)(3) nonprofit, no-kill shelter for homeless dogs and cats found in the Big Canoe community, providing them with a safe, healthy and positive environment until they are adopted into their forever, loving homes.