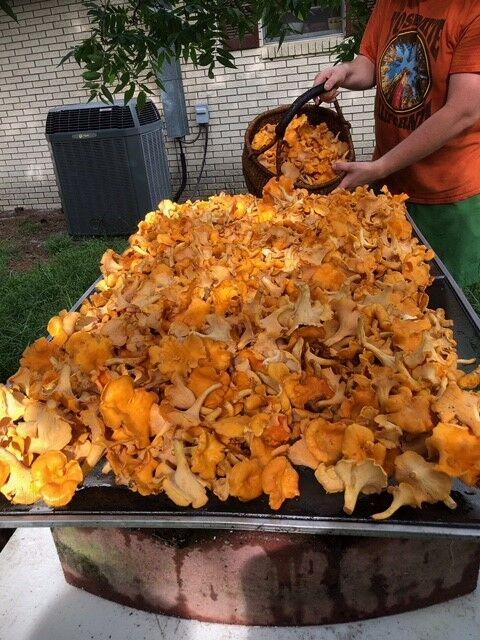 Whether you are an avid outdoors lover, hiker or simply enjoy a stroll in your neighborhood, you probably have noticed quite a few mushrooms popping up this rainy summer. We have a great diversity of mushroom species in Georgia, but, if you have been tempted to collect or eat some, be cautious and check them out with a mycologist (a plant pathologist) before consuming.
A mycologist may need samples rather than photographs to identify a particular mushroom and you can expect questions like whether the mushrooms or conks have gills, teeth or pores. You will also have to describe the environment where you found the mushroom and whether it is from a tree or on the ground. Be assured our state has quite a few edible mushrooms that might become a favorite delight in your next recipe.
The safest and best way to hunt for local mushrooms is to learn more about them from an expert. Ancil Jacques, owner and operator of Swampy Appleseed in South Georgia is one such resource who hosts "riveting introduction hikes to Fungi at his trailhead, followed by a 1- to 2-mile hike hunting and identifying wild mushrooms." You can also purchase hand-selected mushrooms on his website, www.swampyappleseed.com. He welcomes anyone who wants to learn more to sign up for email updates. Send him a picture at swampyappleseed@gmail.com and he will help identify the mushroom for you. To see some stunning time-lapsed videos and photos he has collected, visit his Instagram, Facebook and YouTube channels.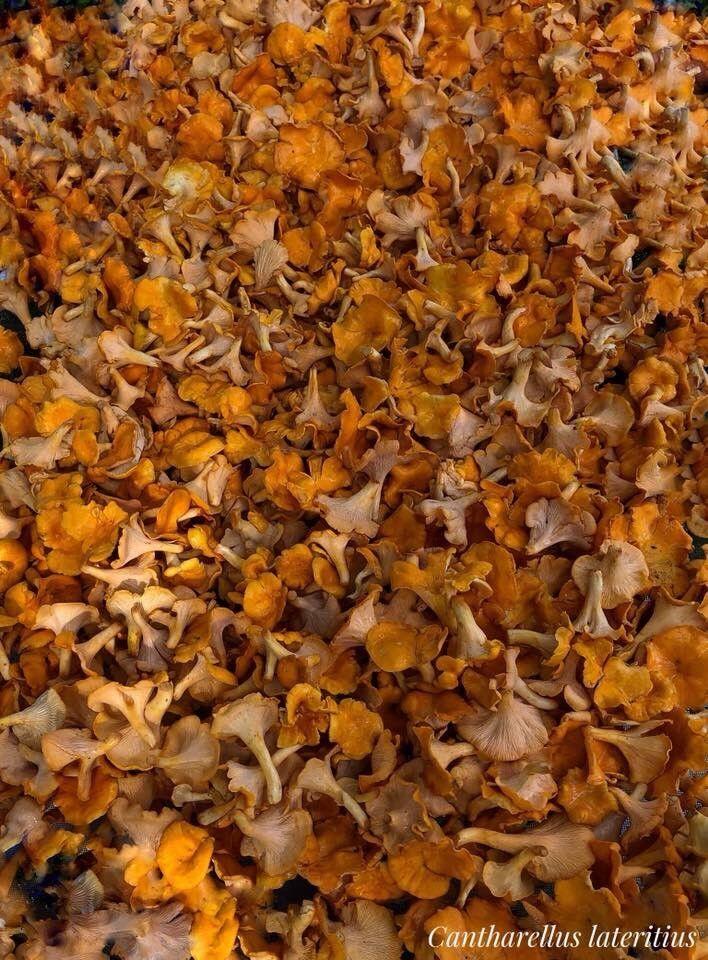 Golden chanterelles, in particular, are renowned for their taste. Their orange and yellow caps with blunt gill edges are easy to spot because they grow in clusters in mossy areas around oaks. The flavor of chanterelles is often described as fruity or peppery. They are excellent with meat or fish and very popular with eggs or as a crepe filling. Here is a simple recipe to try.
CREAMY CHANTERELLE SAUCE
 Servings: 2 
- 1 tablespoon clarified butter/frying oil
- 1 small onion
- 3 garlic cloves
- 14 ounces chanterelles, 400g
- 1/2 cup heavy cream, 30-36%
- 1/2 cup vegetable/chicken broth
- 2 teaspoons Worcestershire sauce (or a splash of dry white wine)
- 1 to 2 teaspoons flour (can be omitted)
- Salt and pepper, to taste
- 1 tablespoon chopped parsley or dill
Rinse and dry chanterelles. Cut large mushrooms into two or three parts; leave smaller mushrooms whole. Cut onion into small cubes; chop garlic very finely. Heat butter in a large frying pan, add onion and cook over low-medium heat about 5 minutes, until translucent. Add garlic and cook another minute. Add chanterelles, cook over high heat 2 minutes. Add cream, broth, Worcestershire sauce/dry white wine and cook another 2 minutes. Add flour (if using), bring sauce to a boil, take pan off the heat. Season with salt and pepper, stir in chopped parsley/dill. Enjoy!
- To clean and dry chanterelles, rinse mushroom thoroughly under water, then dry using a salad spinner or patting the mushroom gently with paper towels. Or wash chanterelles, leave them in the refrigerator overnight to dry out and cook the next day.
- This versatile sauce will go well with many dishes. Serve it with ricotta/potato gnocchi; pasta, like spaghetti, or pasta with pan-fried chicken breast, pork chops, steak; or potato dumplings.
- If you don't have Worcestershire sauce, skip it altogether or add a splash of white wine (just after adding the garlic).
(Recipe from www.everyday-delicious.com)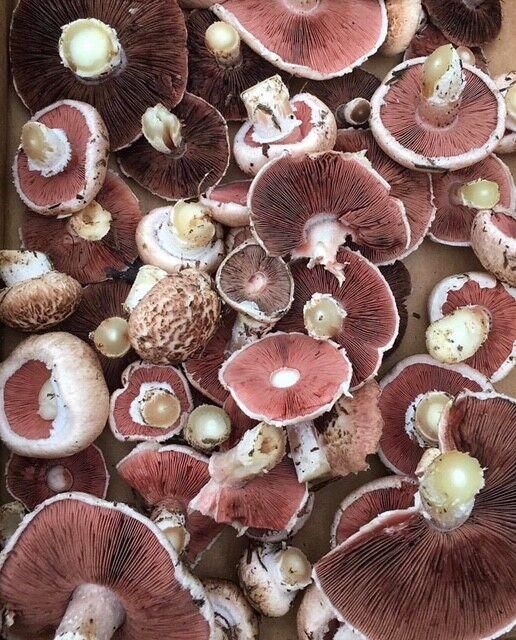 Meadow mushrooms, found during the fall season, are also a delight and have white to brown caps that are slightly convex with crowded gills and cylindrical stalks. Meadow mushrooms look similar to the ones you are used to purchasing at the store, but they have a lot of look-alikes, so be careful. One sure-fire way to tell them apart is to cut one in half; if the gills are pink inside, you found a meadow mushroom. If they are pale or white, you haven't. Consider this delicious mushroom pie for your next dinner.
CREAMY CHICKEN AND MUSHROOM PIE
Servings: 6
- 1 tablespoon salted butter
- 1 tablespoon olive oil
- 2 tablespoons all-purpose flour
- 2 (6-ounce) skinless, boneless chicken breasts, cut into 1-inch cubes
- 1/2 cup chopped mushrooms, or to taste
- 3 1/2 ounces fully cooked ham, cubed
- 1 stalk green onion, chopped
- 1 teaspoon crushed garlic
- 1/4 cup milk, or more as needed
- Salt and ground black pepper, to taste
- 1 (17.5-ounce) package frozen puff pastry, thawed
Preheat the oven to 350 F (175 degrees C). Melt butter in frying pan over medium heat. Add oil. Add chicken; cook and stir until browned, 5 to 7 minutes. Add flour and stir until chicken is coated in flour. Stir in mushrooms, ham, green onion and garlic. Slowly add 1/4 cup milk while stirring. Cook until mixture is creamy, adding more milk if needed. Season with salt and pepper. Cook and stir for 2 to 3 more minutes, then transfer to a medium casserole dish or divide into separate small ramekins. Wait until the mixture has cooled slightly, 5 to 10 minutes. Put puff pastry over top. Bake in preheated oven until pastry has browned, 10 to 15 minutes.
(Recipe from www.allrecipes.com)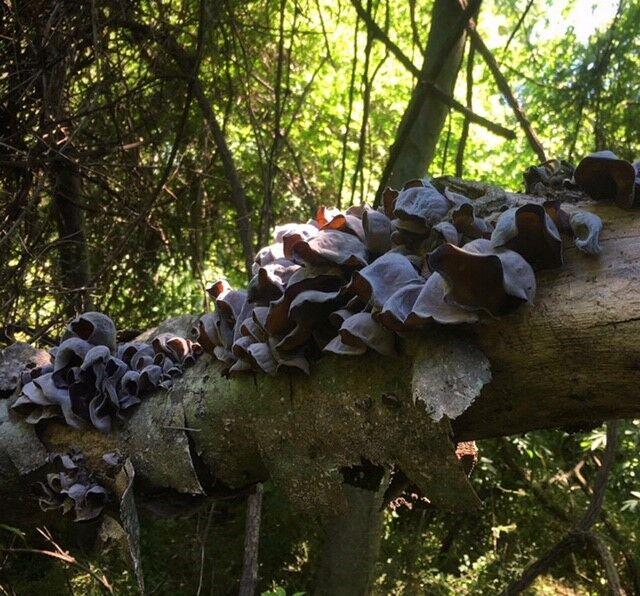 Wood ear mushrooms, aptly named for their ear-like shapes, have very impressive health benefits and add a snappy texture popular in stir-frys and soup. Their favorite growing spot is decayed logs in moist areas. They are a great source of many important vitamins and minerals, including copper, pantothenic acid, selenium and riboflavin. Studies have shown the disease-fighting antioxidants of the wood ear mushroom can help fight cancer cells, support heart health and help alleviate the pain of rheumatoid arthritis. So, what are you waiting for? Try this healthy beneficial recipe soon.
WOOD EAR MUSHROOM STIR FRY
Servings: 4
- 1 tablespoon vegetable oil
- 1 cup bean sprouts
- 3 inner celery heart stalks, cut on the bias 1/4-inch thick
- 4 to 6 medium dried shitake mushrooms, soaked in warm water 2 to 3 hours
- 1 medium carrot, cut into 1/4-inch thick strips
- 1/2 cup dried lily flowers, soaked in warm water for 30 minutes
- 1/2 cup dried wood ear mushrooms, soaked in warm water for 30 minutes, cut into 1/4-inch strips
- 1 cup Chinese cabbage or baby bok choy, sliced
- 8 snow peas, trimmed and cut on bias 1/2-inch wide
- 1 tablespoon soy sauce
- 1 tablespoon water
- 1 teaspoon Shaoxing wine, sherry or dry Marsala wine
- 1/4 teaspoon sesame oil
- 1/8 teaspoon white pepper powder
- 1/4 teaspoon kosher salt, optional
Preheat wok over high heat until wisps of smoke rise from the surface. Swirl in vegetable oil and heat for a few seconds, until it starts to shimmer. Add all vegetables: bean sprouts, celery, shiitake mushrooms, carrot, dried lily flowers, wood ear mushrooms, Chinese cabbage or baby bok choy, and snow peas. Stir-fry for about 90 seconds and add soy sauce, water and Shaoxing wine. Stir-fry about 1 minute. Add sesame oil and white pepper powder. Stir-fry for about 30 seconds more to combine. Turn off heat. Taste for seasoning. If you think it needs a pinch of salt, add kosher salt and stir to combine. Transfer to serving dish.
(Recipe from www.tfrecipes.com)
So, start hunting for some of our local fungi and turn your next delicious dinner into a special entrée that surprises and satisfies your family and friends. Bon appetit!