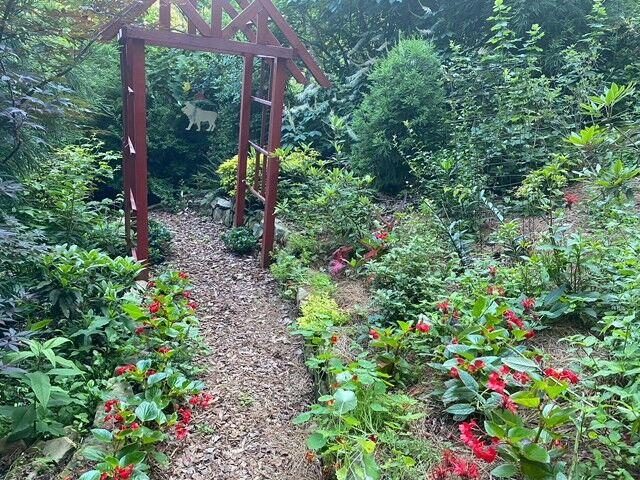 A decades-old memory of an ancient, vivid, red 'Don Juan' rose clambering up an equally ancient stone wall inspired me to once ask Jim Gibbs: "Have you ever considered creating a monochromatic red garden?" He gave me a tremendously valuable seminar on the use of red in the garden. I continued to challenge him to find a small space and create a totally red garden somewhere. Later, he told me he planned to use red to draw the visitor along in his new conifer and azalea garden.  
My memory of that 'Don Juan' rose included only red plants at its feet and somehow that intrigued me to try all red in a confined space. I must confess I have killed three 'Don Juan' roses in this effort. But I have collected lots of great red supporting plants. Should you be somewhat bored with simple mixed borders, here are my learning experiences.
The challenges
First and foremost, not all reds get along well together. Until you see the bloom or leaf in your garden's light, expect to be surprised. Secondly, some propagators and nursery owners hate red, making it sometimes hard to find worthwhile red. Thirdly, there are no early spring bulbs other than tulips that present as what I began calling real red. So, my red garden will be similar to Gibbs' daffodil garden, closed when not in season.
The seasons
Spring begins with the unfolding leaves of the red Japanese maples, the red new growth on Pieris japonica 'Mountain Fire' and a fairly new quince, Chaenomeles speciosa 'Double Take.' Red buckeye and red honeysuckle vine show up in time for the hummingbirds' arrival in April.  By May and June, my favorite red rhododendrons present color, first the selection 'Bibiani,' then 'Damozel' and 'Romany Chal.' There are several, great, red Encore azaleas that are included as well.
By summer, the annuals and perennials begin to show color and, as well, I found one summer bulb that fits, Brodiaea laxa coccinea. In future years, it may choose to present in the late spring but this year I was still planting bulbs in March, so it was early summer before it gained adequate strength to throw up its lovely blooms. There are also great, repeat-blooming shrub roses that bloom prolifically in late spring as well as in summer.
By mid- to late-summer, the dahlias are taking off and Monardo 'Jacob Cline' struts its stuff. I also have two red (and treasured) native perennials, fire pink, Silene regia, that drapes over a stone wall and a swamp hibiscus, Hibiscus coccineus, that stands tall like a sentry on the edge of a path.
Fall presents with the Japanese maples growing more vivid and the Encore azaleas blooming again. The native red cardinal flower and a favorite old salvia referenced as 'Pineapple Sage' present prolific blooms just before the hummingbirds depart to winter south of the border. The 5-foot tall sage is regarded as an annual here in Big Canoe, but placed on a south-facing slope near stone, it has survived winter and regenerated from the roots, as have all the red dahlias in this warm garden spot.
Supporting cast
The red garden is surrounded by tall, dark-green evergreens. Being on a steep slope, stone retainer walls were required. Creating a dry stack wall without mortar, we have been able to plant between the stones. Early in spring, I poke red nasturtium seeds and sprigs of lime-green oregano and thyme into the spaces between the stones. The evergreen leaves of the pieris, azaleas and rhododendrons act as bones for the garden when the perennials go dormant.
In conclusion
Whether you use the color red as I have in a monochromatic scheme or as Jim Gibbs does to draw the visitor along, be aware that it is a hot color. Tone it down with lots of green. Also, if I visit your garden and discover you have a great red plant, please know I will be wanting a piece of it. A girl can never have too much red in her life.
Happy fall gardening.
 Cynthia Hendry has lived and gardened in Big Canoe for more than 30 years. Her landscape design work includes Best of Show for Big Canoe Street of Dreams, as well as Big Canoe Show Homes for Southern Living and Atlanta magazines.