Jim Gibbs has always told me, "Cynthia, no matter how hard you work at design, people love color." Strolling through his intricately designed garden, I always see the truth in that statement. Not only does my eye center on the color presentations, but I also see most visitors focusing their cameras toward the most abundant hue in the garden. For Big Canoe gardeners, color can be a challenge.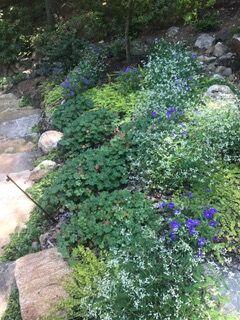 The challenge
In Big Canoe, the deer enjoy many of the colorful annual plants, and our covenants encourage us to utilize as many native plants as possible. Unless you live in one of the neighborhoods with a low deer density or you are willing to protect vulnerable plants, it is best to present color in containers on your deck or porch.
A further challenge is sunlight. Because we don't cut trees to offer abundant sunlight, we are limited, to some degree, to part-shade and shade plants. However, over the years, I have found a gardener can cope with the shade issue, as well as the desire to have natives, by knowing the color presentation of natives and by tucking in a few annuals to the mix, echoing the native bloom color. Many annuals will carry the scheme most of the summer.
Containers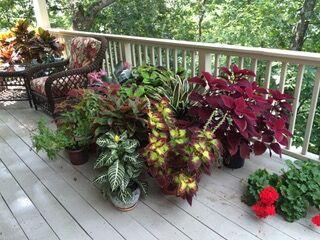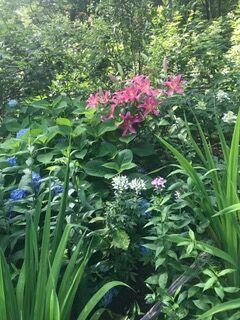 Many Big Canoe gardeners have lovely gardens on their decks or entries. Bill Hickman on Ridgeview is famous for matching his annual flower color with his deck furniture. Debbie Dickson and Bonnie Plikaytis welcome guests with containers matching their home's color with front window boxes.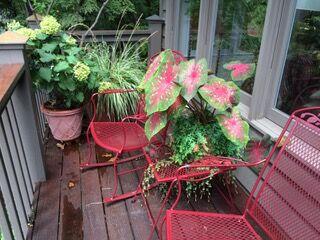 To eliminate replacing the entire container's planting each season and to minimize watering, I like to use 24-inch or bigger containers and take up some of the space with an evergreen conifer that can go to the landscape when it outgrows the pot. Those containers will only require new potting soil in the front where the color goes. I have included a few pictures of Big Canoe container gardens in this Smoke Signals' edition.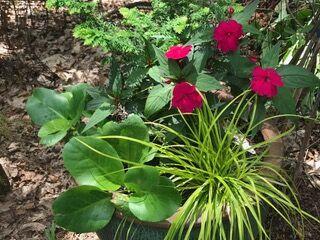 Planting out
As mentioned above, it is important to know the bloom time and color of your natives and other landscape plants. Most of my readers know I am fairly neurotic in my effort to create color echoes in bloom presentation. Over the years, I have rearranged almost everything in my garden and, finally, have garden rooms where I focus on colors I like together and/or monochromatic schemes.
Choosing a color scheme is usually driven by preference, but some landscapes, like the Heaphy's on Blue Sage in Wildcat, have such a distinctive color on their house, so it makes sense to reference that color in the plantings. Then the site can drive the decision in other ways. Deeper shade areas of the garden beg to lighten things up with as much white as possible. Including variegated shrubs and perennials with a white- or cream-edged leaf can make these areas come together.
Long-lasting color
Seasoned gardeners know most perennial plants and shrubs only present color for a few weeks. Once you establish their color and know when they bloom, be aware of what they look like when not in bloom and how they should be maintained or cut back. This allows the gardener to optimally place them so they are not an eyesore when not in bloom. Care and optimal presentation time can drive the placement of annual color.
Generally, I place most of the annual color near the front of the border. Depending on the depth of the border and the number of native perennials included, I sometimes tuck in taller annuals— like coleus and cleome—to continually echo the front's color. I wrote several columns in 2020 discussing the merits of specific plants for both long-lasting color as well as their capacity to screen declining plants and bulbs.
Cheap color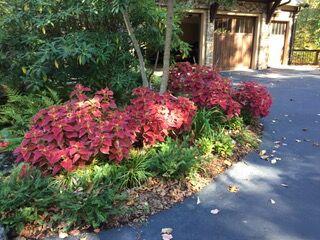 If you have four or more hours of sunlight somewhere in your scheme, some of the cheapest color can be planted from seeds. One of my favorites is nasturtium. I also treasure various vines like morning glory or moon vine. Also in that same family is red cypress vine. These big fat seeds can be punched into the edge of a container, a dry stack-stone wall, between perennial plants or at the base of an arbor, trellis or fence.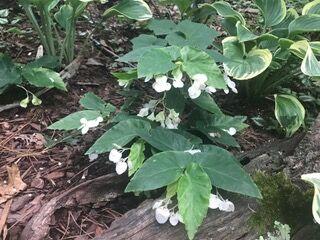 If you have not sipped a late afternoon wine while watching the satiny white blooms of moon vine open, you have something to anticipate. They can be combined with morning glory for a full day of action. A few years ago, one of our neighbors planted the beautiful blue 'Morning Call' morning glory on their property marker sign at the foot of the drive. It greeted the morning beautifully.
Conclusion
Looking forward to spring and the schemes I can create next season causes me sleepless nights in winter. I encourage each of you to color up your garden with some of the easy plants pictured in this edition and look forward to summer and their happy faces.
Happy spring gardening!
Cynthia Hendry has lived and gardened in Big Canoe for more than 30 years. Her landscape design work includes Best of Show for Big Canoe Street of Dreams, as well as Big Canoe Show Homes for Southern Living and Atlanta magazines.