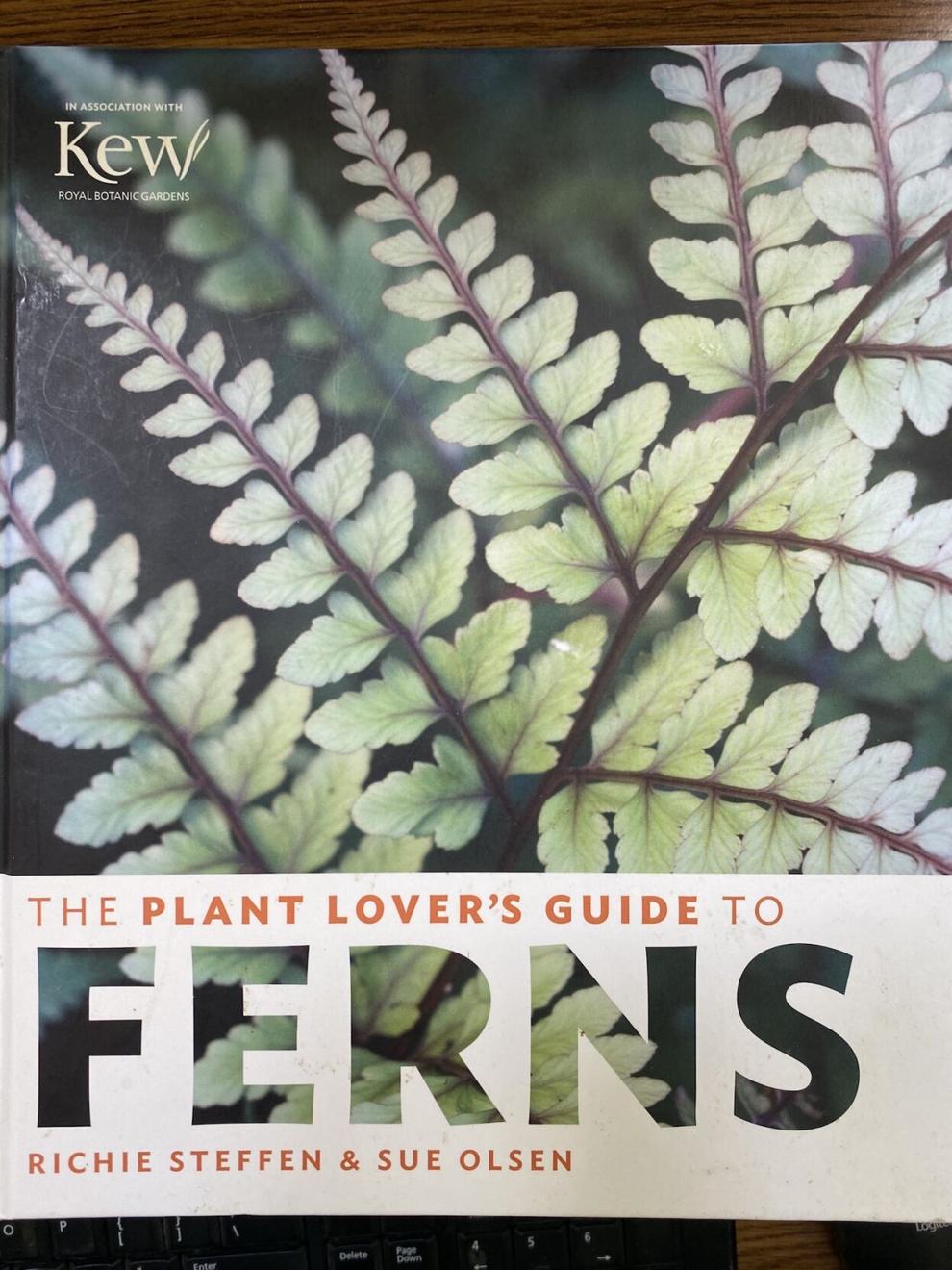 Is there a better plant to grow in the acres of cool shade of Big Canoe's landscapes than ferns?  If you were fortunate enough to visit Bonnie Plikaytis' garden last month during the Wildflower Bunch Garden Tour, you saw how these wonderful plants can be used to create beautiful vignettes in the landscape that would rival Monet's work. Bonnie simply loves ferns and combines them with other plants with an eye for form, color and texture contrast.
Bonnie's favorites
I knew the answer to a recent question to Bonnie—"What are your favorites?"—would include deer fern. A smaller evergreen that maintains a tight clump, it can be maintained without division for many years. Both Bonnie and I adore the bolder frond presentation of the shaggy shield fern. Its distinctive, blackish, new growth makes it a striking focal point specimen. Bonnie made it a centerpiece of her first stumpery design.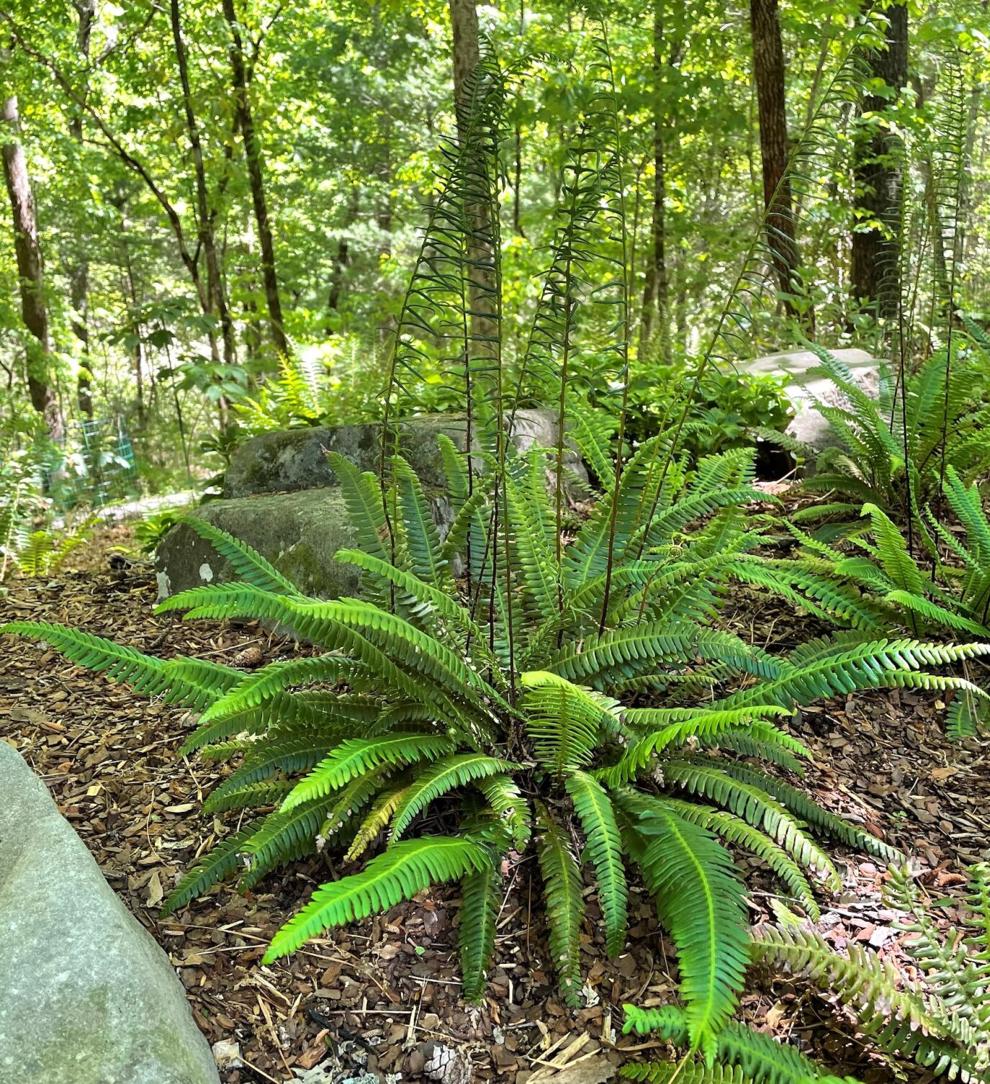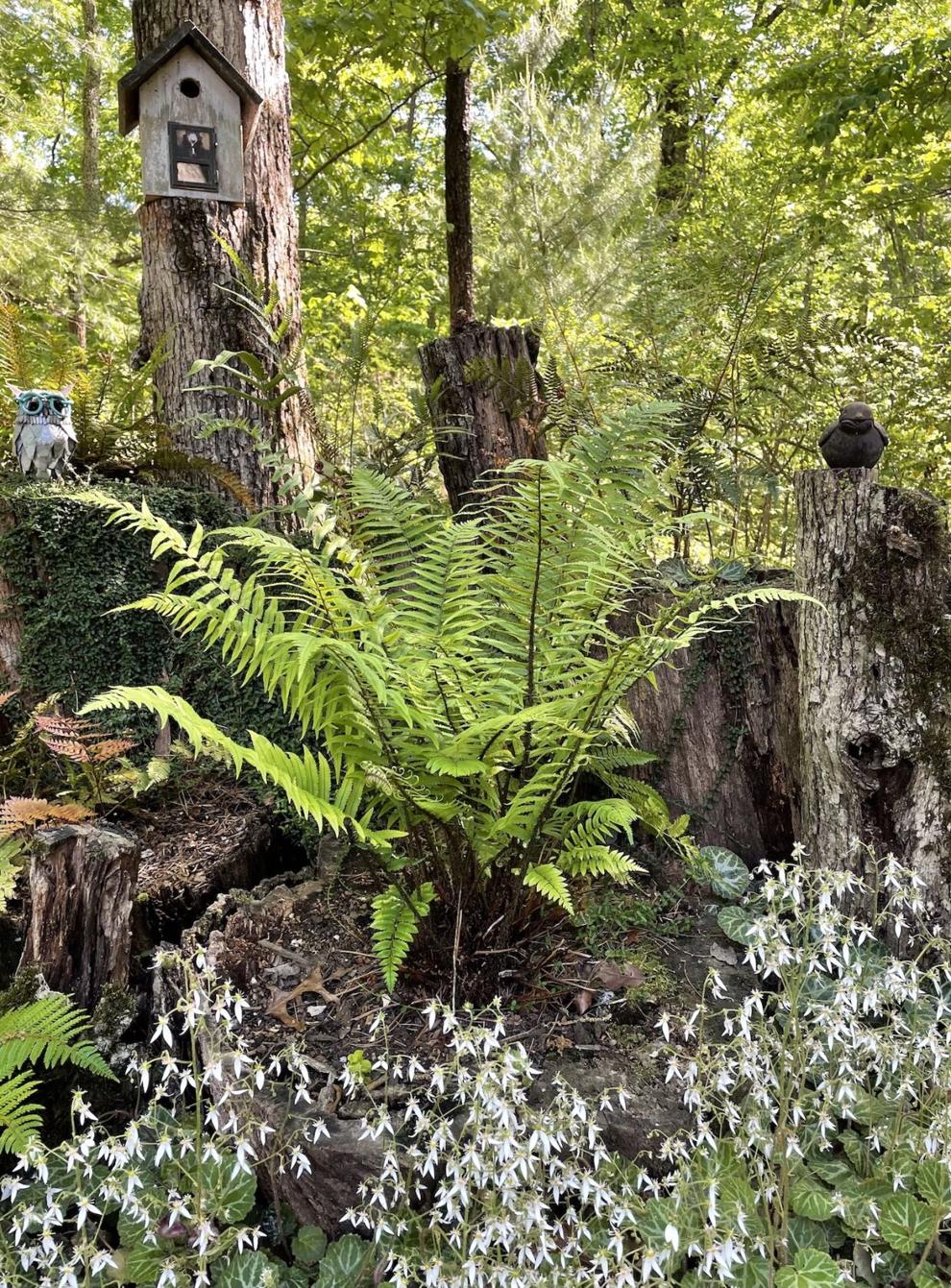 Another eye-catcher because of its upright form and size, is cinnamon fern. Requiring a little more soil moisture than many other ferns, it can be dramatic in the edge of a dry stream bed or on the edge of a water feature. Another favorite is royal fern. It works well in tight places or in a spot requiring a tall upright form.
Evergreens
Many new homeowners want evergreens for their initial landscape additions. The fern world can accommodate that need. One of the most popular as well as one of the most available in the trade is autumn fern. Unless we have heavy snow, it holds up well through the winter. New growth on this 30-inch fern is bronze red, thus the name. It can be grown in sun with ample water.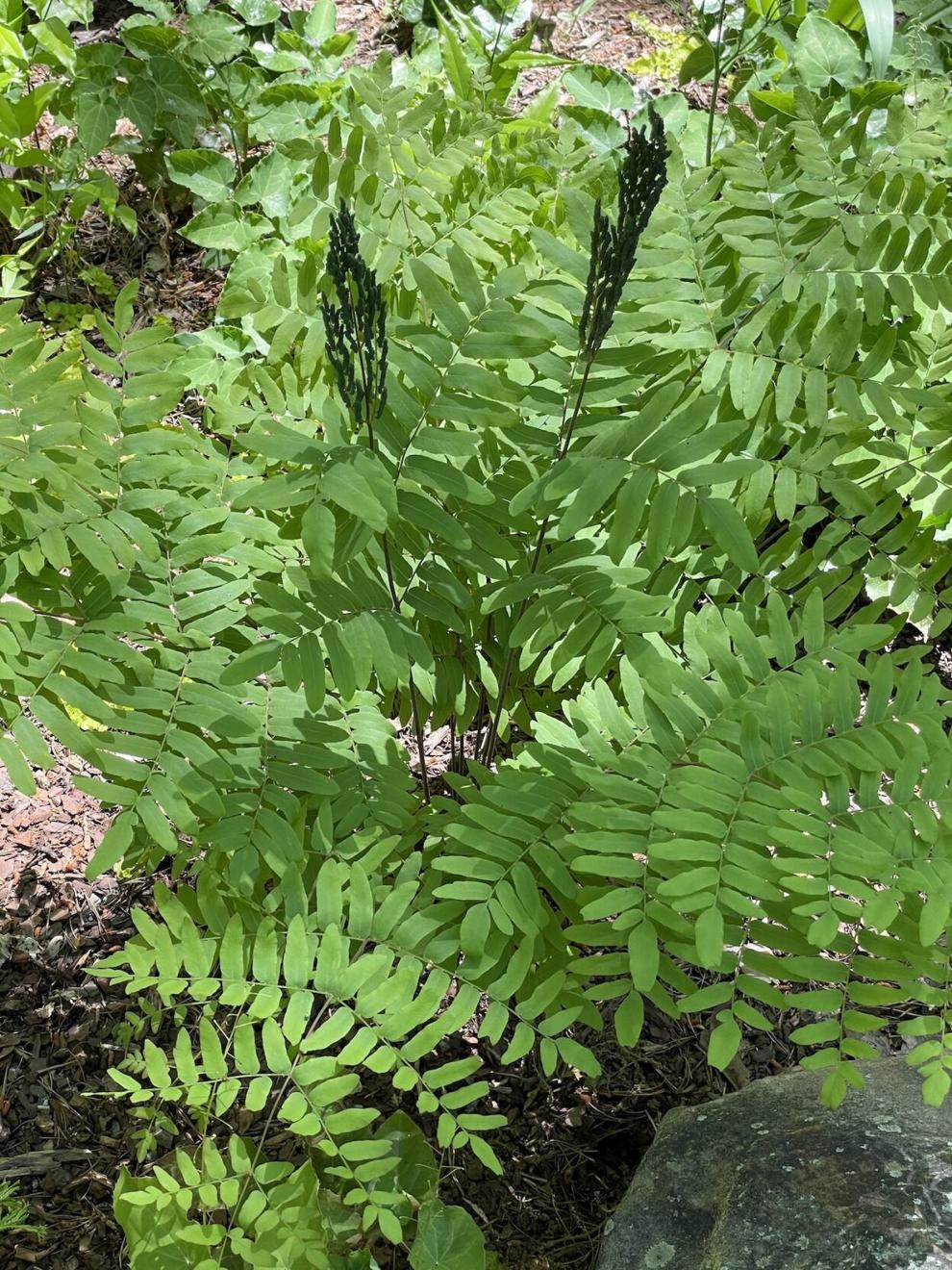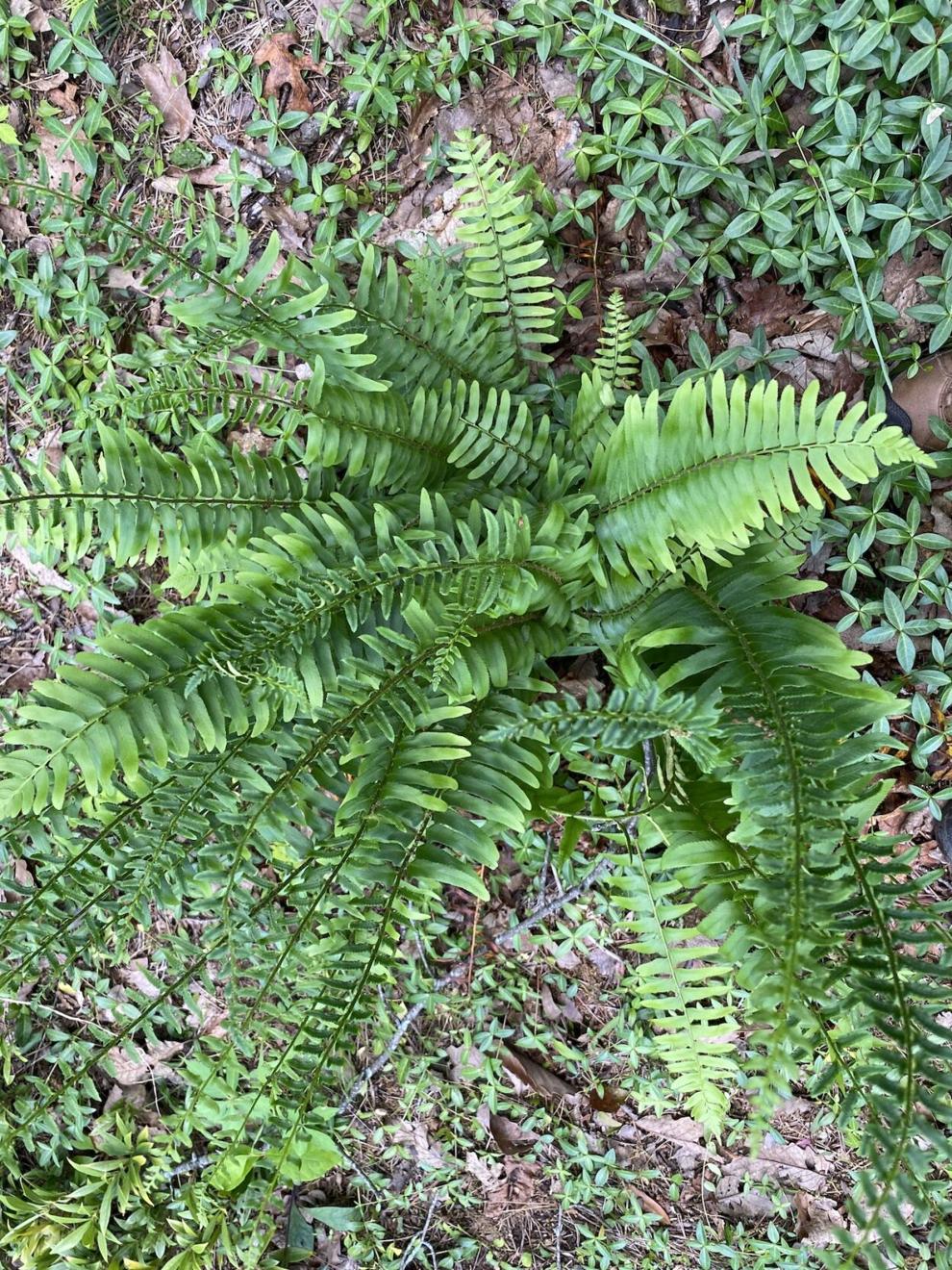 One of the most common, indigenous, evergreen ferns in Big Canoe forests is Christmas fern. Driving along the north slopes of Big Canoe, one will see it hanging onto the steepest slopes. It can also tolerate of sun with some moisture. An island of Christmas fern along your driveway's shade can be lovely yet easy to grow.
Why deciduous?
There are many deciduous ferns native to Big Canoe. In many sites, Mother Nature wisely uses them as companions for spring ephemeral wildflowers. As plants like trillium, windflowers, and anemone go into summer dormancy, the ferns pop up to fill the void.
As readers of this column know, I love to experiment with spring and early-summer bulbs. Deciduous ferns effectively cover their declining foliage and fill their voids in summer as well.  I am currently experimenting with the Victoria lady fern and Green Cliff brake fern for this purpose. Both are slow to emerge in spring. Hopefully, they will work for filling the voids from my late spring bulbs.
For me, lady ferns emerge earlier in spring and I plan to begin mixing them with the daffodils. The 'Lady in Red' has dark-red stripes and lime-green foliage. I have it planted with the native pachysandra; the foliage color is a nice echo.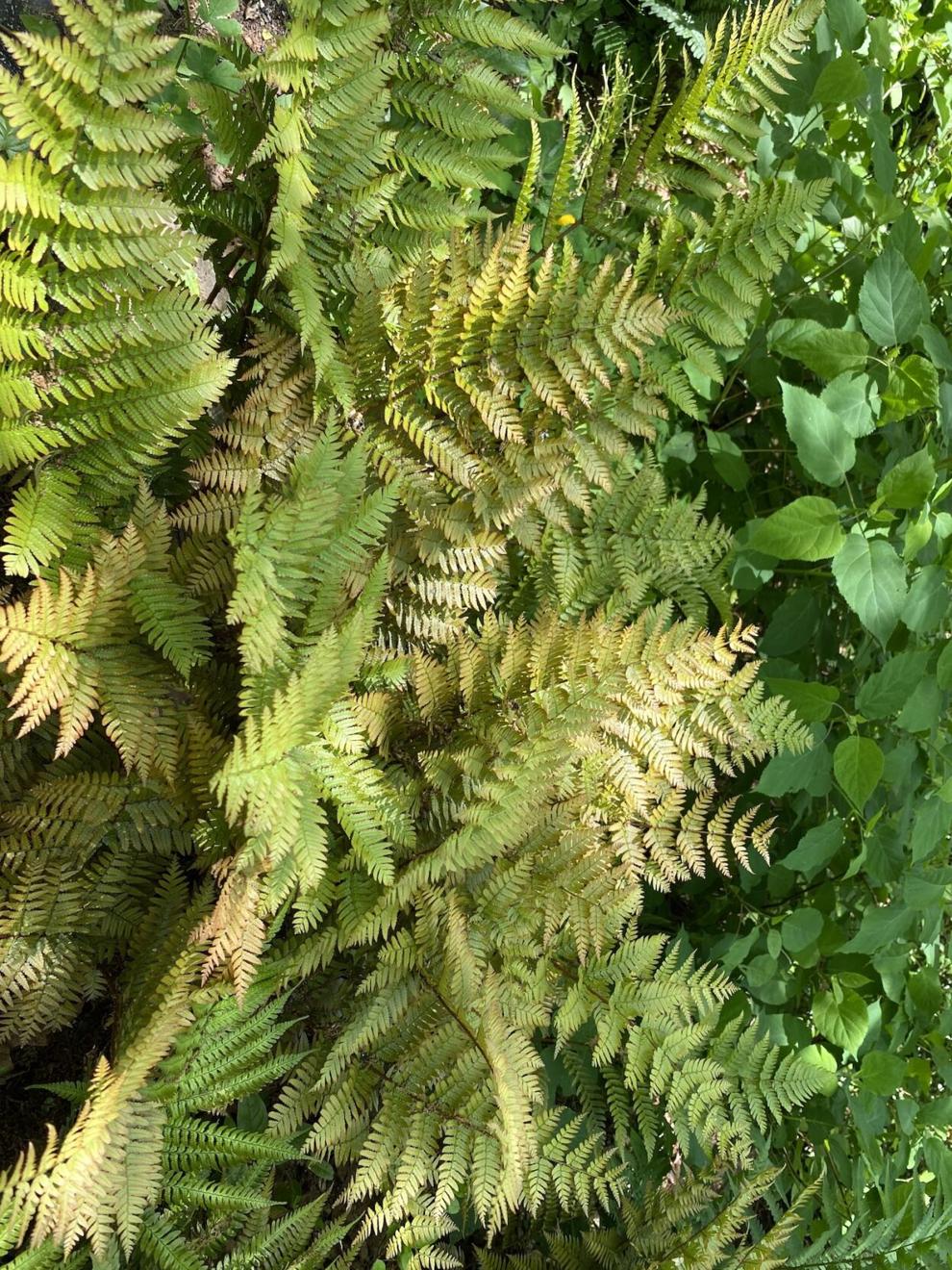 Resources and vendors
A good source for studying the merits and use of 150 ferns is the 2015 publication of "The Plant Lover's Guide to Ferns." Loaded with photographs and advice, it provides information and inspiration to get out and find some unusual ferns.
In Big Canoe, Bonnie Plikaytis inspires me to get serious about less-common selections. She periodically opens her garden for guided tours.
One of the best resources in the Southeast is Elinor Craig of Fern Ridge Farms near Cedar Bluff, Alabama, about a two-hour drive from Big Canoe. Elinor came for the recent Wildflower Bunch Garden Club plant sale and has done many programs for the club in the past. She can be contacted via her website, www.fernridgefarms.com. She does mail order as well as tours of her nursery.
In conclusion
It is impossible to cover the subject of the vast world of ferns in one book and definitely one column. Included in this edition, are pictures of some selections that have weathered the landscapes of Big Canoe. My thanks to Bonnie Plikaytis, who, as a good scientist, researches and keeps excellent records and pictures of her garden as seen with this article.
Happy summer gardening!
Cynthia Hendry has lived and gardened in Big Canoe for more than 30 years. Her landscape design work includes Best of Show for Big Canoe Street of Dreams, as well as Big Canoe Show Homes for Southern Living and Atlanta magazines.