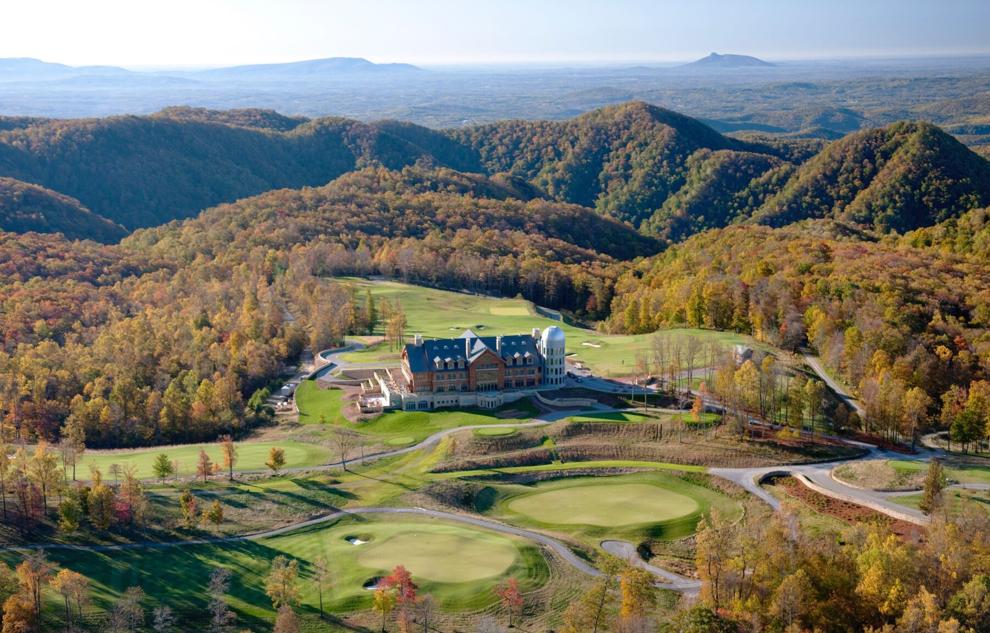 The fall of year beckons for leaf color, apple butter and the subtle travel back into simpler times. Where can you find this vibrancy, cozy luxury, spectacular outdoor adventures and history at the same time? Come with me to Primland, a 12,000-acre spectacular European-inspired mountain resort in the Blue Ridge Mountains of southwest Virginia.
Primland is about a six-hour drive from North Georgia, continuing through the Appalachian Mountain range. The property rises above the Dan River Gorge, between the Pinnacles of Dan and the Meadows of Dan. The area was named Dan in 1728 by Colonel William Byrd after the Bible reference, which names the northern boundary of the Promised Land as the Land of Dan.
The drive there is true to the intention of this column "Sideroads", as my husband Jeff and I found out on the excursion. From the main road, we took a side road then another side road. Soon we came to a gate. We drove eight miles beyond the gate. And then—when we arrived—we had arrived!
Premier golfing—some of the finest in the world
The resort is named for its founder, French-Swiss billionaire Monsieur Didier Primat, the grandson of Marcel Schlumberger, oil industry giant. In 1977, Primland began as a logging operation and evolved into a retreat for hunting, fishing, horseback riding, and outdoor recreation.
The Donald Steel-designed golf course—dubbed "The Highland Course," because it resembles the Scottish Highlands—was added in 2008. The course would later win awards such as #5 in the U.S., #1 in the South, #70 in the world and Golfweek's #31 in the Top 100 Courses to play. We played the magnificent course and turns out, it was a typical day for a Primland golfer: wild turkey on the second, deer on the seventh, smoked brisket on the turn, and a black bear on the seventeenth hole.
Bruce Boje, brother to Big Canoe resident Brian Boje, has played both Primland and Big Canoe courses. He told me, "Big Canoe is gorgeous. Primland is Big Canoe on steroids." Need I say more?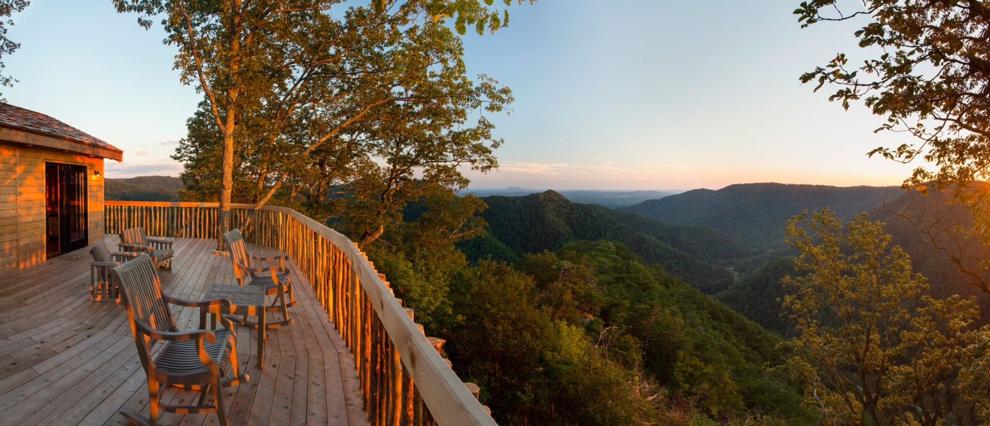 Lodging at Primland
The luxury lodge, which is Leadership in Energy and Environmental Design (LEED)-certified, has a spa and a dome that boasts its own Celestron CGE Pro 1400 series telescope. Due to the night sky's low light pollution, guests can experience the spectacular sky walk from the observatory then choose the parts of the universe they want to see and the guide will take them there. 
Many of the lodge's interior walls are blessed with wormy chestnut, the remains of a highly valued hardwood that is native to the area but, due to a blight that decimated the American chestnut from 1904-1925, no longer survives. The suites are exquisite. The lighting is labeled and controlled by touch, depending on mood: welcoming, reading, TV viewing, dimming for sleep. The bed and bath linens are luxurious. 
Additional lodging includes mountain cabins (some are pet-friendly), pinnacle cottages and treehouses atop the gorge, only accessed with four-by-four vehicles which can be provided by Primland. Standing on the deck with my hand on the giant oak around which the treehouse was built was captivating. 
Working up an appetite
Those who want something a little more off-grid can opt for the rough terrain vehicle (RTV) trail ride. We climbed mountains, jumped rocks, slid through mud and creeks getting fabulously filthy. With 100 miles of trails, our guide accommodated our need for adrenaline. 
For hikers, the original Appalachian Trail (AT) ran through the property from 1936-1948. This area of the AT, the Pinnacles of Dan, was known as one of the two most difficult parts of the entire trail, second only to the northern terminus in Maine, at the top of Mount Katahdin. There were many twists and turns on the evolution of the trail, but essentially it was re-routed during this time as a response to a major commercial development along the trail's path, road development that overlapped with the Appalachian Trail in Shenandoah National Park. Parts of this original trail are marked and accessible in Primland today. 
The food at Primland's two restaurants exceeded our expectations. There's casual pub dining and the upscale Elements serving local beef, pork, and fish entrees, with vegetables and herbs from local farms. The restaurant's signature Pig Candy (bacon seasoned with maple syrup and cayenne) is amazing. "The Legend" starts with an edible chocolate bowl that's filled with 10 scoops of local creamery ice cream, sorbets, and whipped cream created by pastry chef Cindy Carter. This is where I embarrassed myself.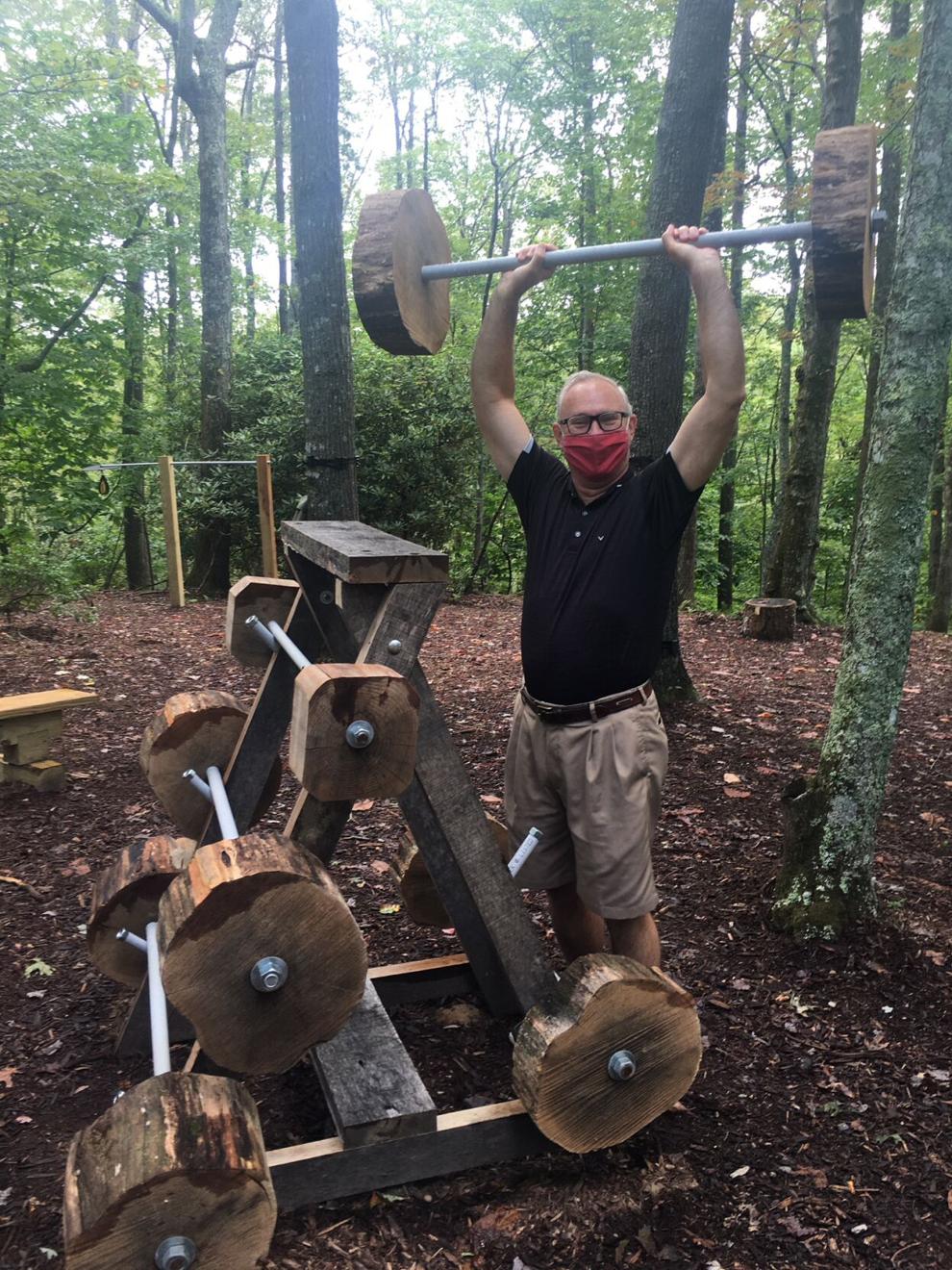 Luxury has a sense of humor
Moonshining history abounds and whisper has it, moonshine still flows somewhere in these parts. With a sense of humor—and in response to the coronavirus protocol—Primland created the Bootlegger's Outdoor Gym. It's been so popular it's likely to stay put. Primland is taking great care regarding coronavirus safety. Its website outlines two pages of precautions being taken. Their welcome packet not only includes an itinerary, water and baked items, but also a mask and hand sanitizer. It's 2020 after all.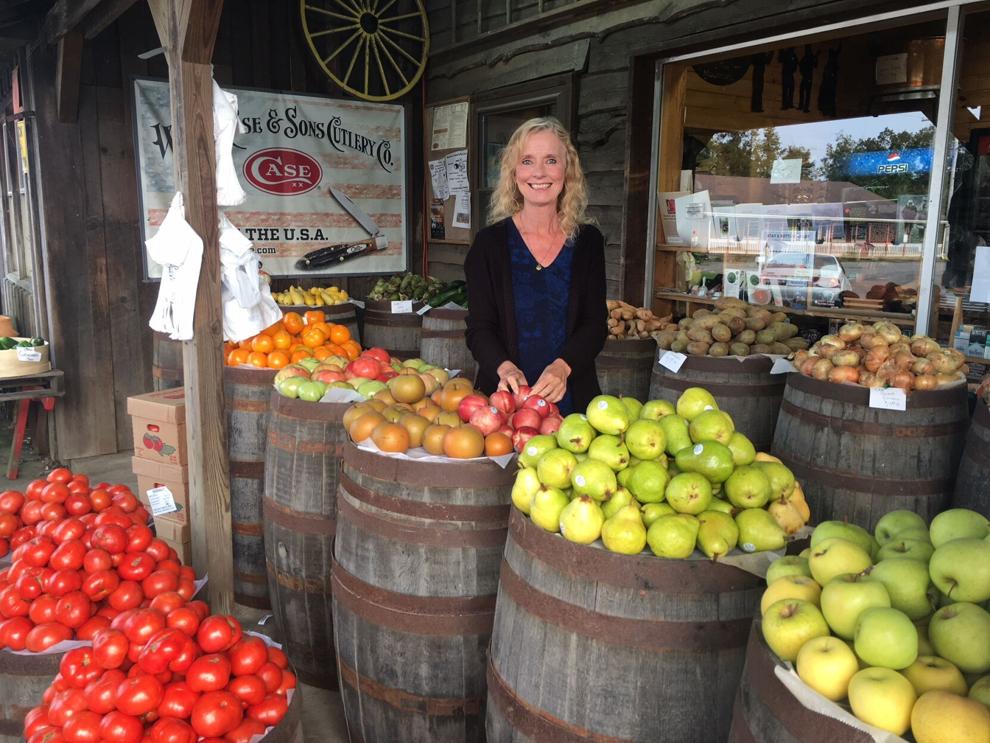 Appalachia beyond the gates
The area is soaking rich with Appalachian history, bootleggin' remains and the Blue Ridge Parkway's points of interest. Mountain locals preserve the simple way of life by living it. Farms are worked by generations of the same family, stores still sell hoop cheese and wrapped candy, lunch is still pintos and corn bread and people still put peanuts in their soda pop.
 Head out the north gate of Primland to the parkway and The Mayberry Trading Post. The building might be leaning but the history is strong. Built in 1892, it originally housed the Mayberry Post Office. Any relation to Andy Griffith's Mayberry? Ask Peggy Barkley, an employee for 56 years. "We know that Andy's grandparents traded (as farmers) here. And Andy was born close by at Mount Airy." 
Peggy's family makes apple butter on site every October. And don't ask her if the apples are local. There aren't any other kind. There's no phone and they don't take credit cards. But there are books written about the store and they're for sale. It's an authentic old general store. After the frost, you might find someone knitting socks. 
Go a few more miles and visit the Poor Farmer's Market. "It's nothing fancy," said Felecia Shelor, the owner and sole proprietor for the last 36 years. "But you can sit on the porch, have great food, and feel a simpler time." Along with the deli they sell groceries like local creamery butter and cheeses, Virginia's Best Flour, dried beans, local produce, canned jams and necessities like fuel. If you want mountain cabbage straight from the fields, this is where you get it. And some of the best chicken salad (made fresh every day) I've ever tasted. 
The farmer's market has been open 365 days a year for 36 years—and counting. "We will always be open for the people," said Felecia, with tenderness. "One Christmas, a lady came in, ordered a hot dog, and sat in a rocking chair. She told us her husband died that year and she didn't want to be alone. She knew we would be open." 
I ordered my dinner and went outside to eat. There were several octogenarians on the porch talking. "Y'all come here often?" I asked. After a chorus of "yesses" Edna Ann added, "Every single day. I don't want to be home alone." I joined them and wiled away some time. 
On milepost 176, is a return to 1903 and one of the most photographed sites on the parkway—Mabry Mill. Cultural demonstrations and Sunday afternoon old time music fill the air with sights and sounds of rural Appalachia. The mill still grinds corn and the restaurant serves their famous buckwheat and sweet potato pancakes.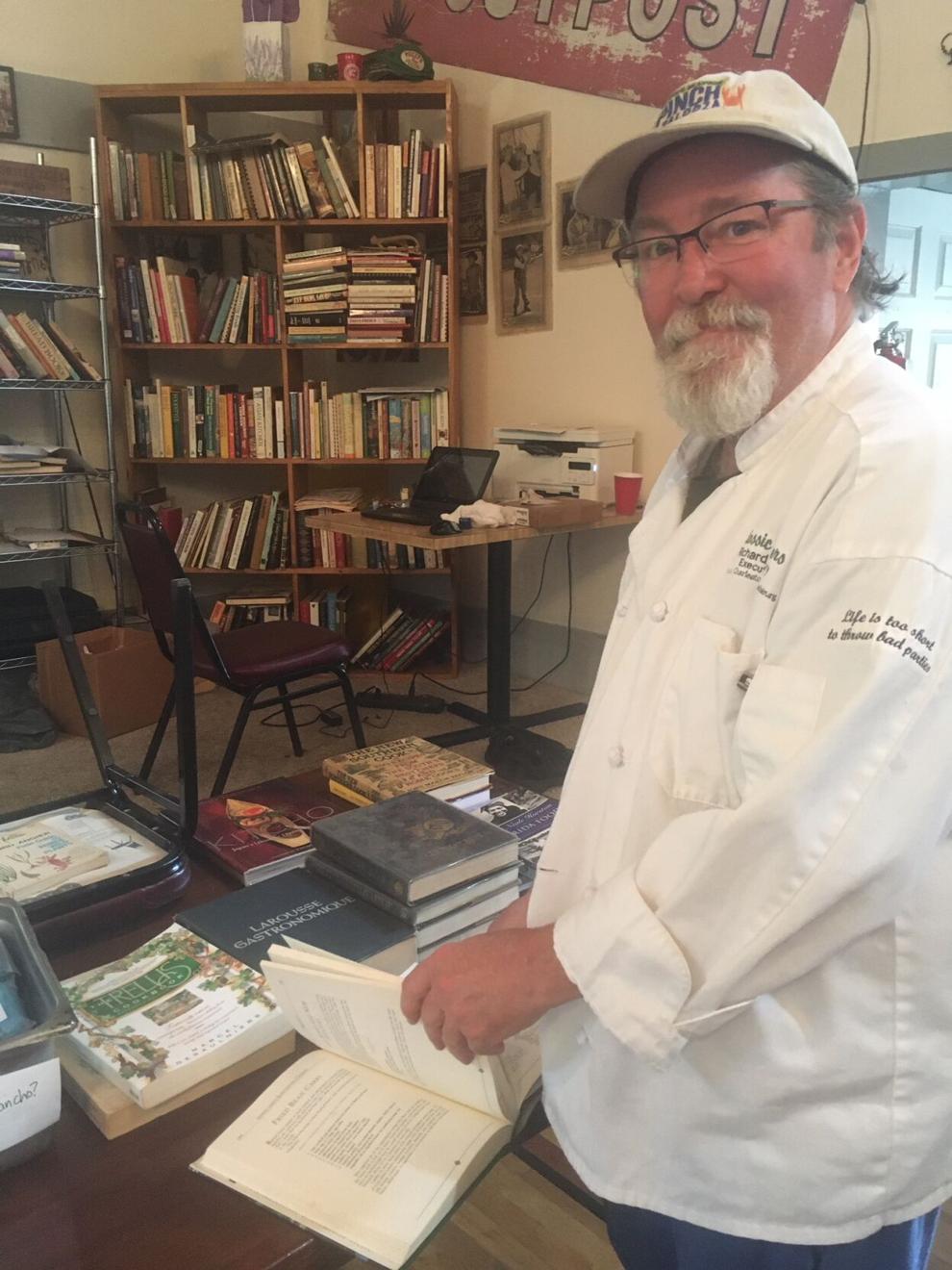 Farm-to-Truck-to-Table
Those lucky enough to enjoy Chef Richard Perry's culinary creations by the abandoned Dan River Queen riverboat are lucky indeed. Diners won't find a more unique setting or a better ACF certified chef. Richard, who calls himself the Nomadic Chef, began collecting cookbooks and Kitchen aids in elementary school. He had, after all, been cooking since age five. 
"I've been smoking things too, no pun intended, since I was 10," Richard said. He has traveled the world, been an executive chef, opened restaurants, published recipes and now calls Longfin Grille at Cockram Mill home. Go there and try the smoked salmon (the best I've ever eaten), the frog legs (he sells 6,000 legs a year), and the grouper Reuben (he makes his own sauerkraut and fermented Asian slaw).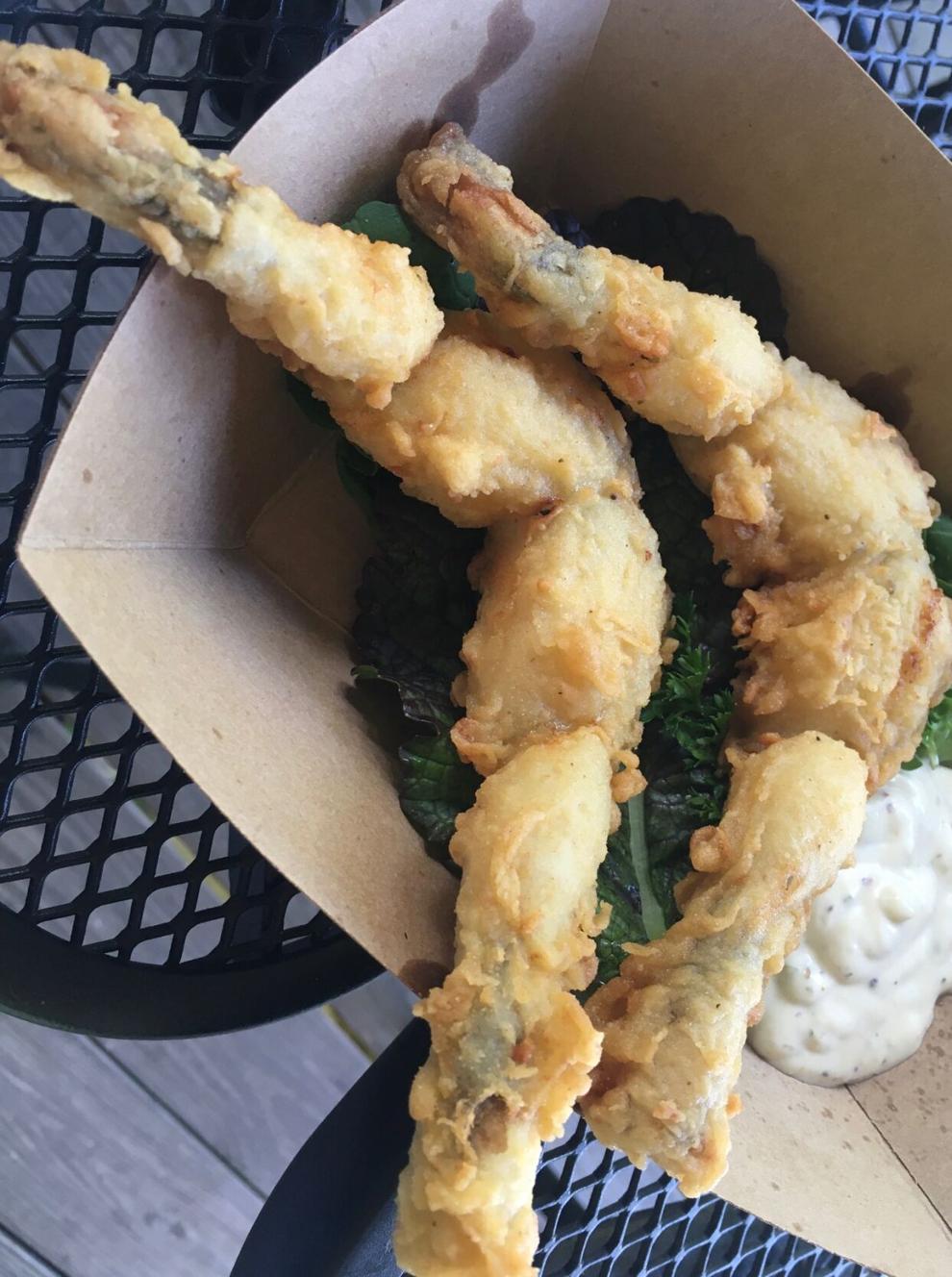 "I really love to cook," said Richard. He has studied cultural influences on food and nutrition. "Catching food, family preferences, lack of ingredients, and seasoning—it's how recipes are created." The day we met, he'd collected mushrooms from a local farm at 7a.m. "Get 'em while you can," he said. Richard is a culinary artist, scientist, historian, educator, and (in my words not his) a culinary genius. Guests can eat on the back porch beside the waterfall or get it to go. Head up to Rocky Knob with a blanket. Picnic at the park or one of the overlooks that are open for free-range humans. After eating, hike or sleep under a shade tree or in a grassy meadow. You'll fill your belly and your spirit. 
Put southwestern Virginia in your GPS. And I'll see you next time, just off the next exit.
Get to know Southwestern Virginia with these important links
Features:
https://www.facebook.com/poorfarmersmarket/
Shout outs:
https://mabrymillrestaurant.com/
https://www.blueridgeparkwayoverlooks.com/
nps.gov (national park service for Rocky Knob)