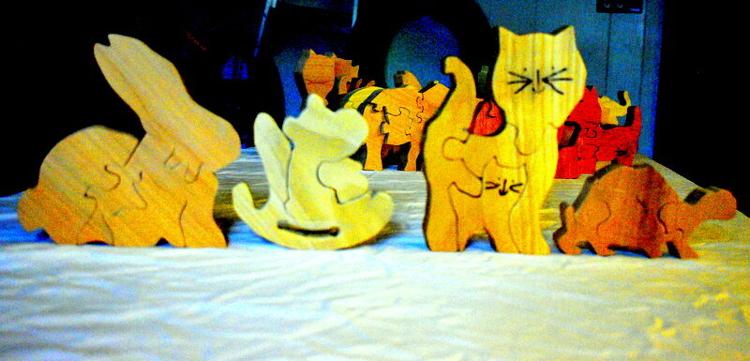 Ken Kidd is another one of Santa's helpers from the Big Canoe Woodworking Club. This year he's making nine different puzzle designs for needy children in Pickens County. His puzzles include puppies, bears, kittens, ponies, elephants, turtles, rabbits, hippos and snails. His personal favorite is the snail puzzle.
 His puzzles are designed to delight young children—and they do, but there's an added benefit. The process of putting puzzles together is good for young minds, according to child development experts.
 Puzzles are an excellent toy for young children, according to "Why Puzzles Are Good for Your Child's Development"  by Pam Myers. "When children flip, turn, remove or move pieces of the puzzle, they are learning the connection between their hands and their eyes . . . the brain, eyes, and hands work together to find the [right] piece, manipulate it accordingly, and fit it into the puzzle accurately," she wrote in an article for the Child Development Institute.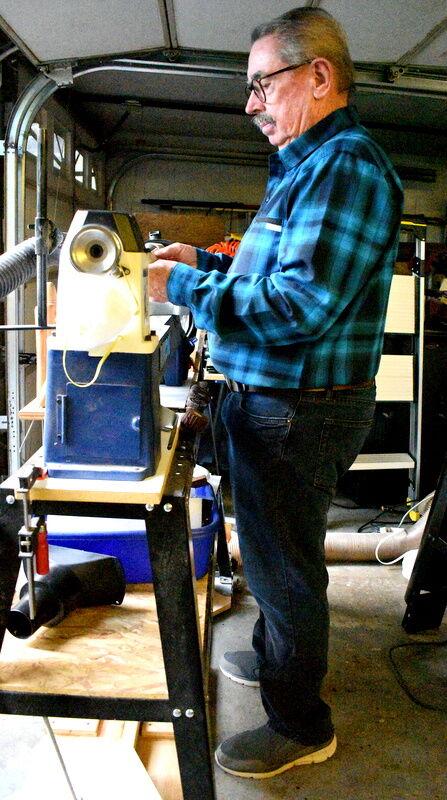 Big Canoes' woodworkers are so skilled they can create a unique, handcrafted puzzle from a simple piece of wood in an hour or two. "That includes patterns, layout, cutout, sanding, and finishing," said Kidd. The snail puzzle is the most challenging to make, he said. He uses several board feet of different woods, including cherry, mahogany, poplar—whatever he has on hand or receives in donations.
 "I spend approximately 50-60 hours making the various puzzles for the Pickens Toys for Tots project," he said. "This will be my third year in helping the woodworkers make puzzles." So far this year, he's completed 36 hand-crafted puzzles—and may add a few more to that number by the time the woodworkers stop making puzzles and begin packing them up for the U.S. Marine Corps Toys for Tots program—U.S. Marine Reserve units are Santa's Helpers too—big time.
 The woodworkers not only make the puzzles they usually buy their own wood and materials. Woodworker Cecil Schneider is especially grateful for a recent and very generous donation from W.M. Cramer Lumber Company in Ball Ground.
 The U.S. Marine Toys for Tots program in Pickens County collects and distributes toys across the county to help as many needy children as possible have a joyful Christmas. The program's impact on the community is profound: in 2019, 9,835 toys were distributed to 1,829 needy children throughout Pickens County. That's a lot of Christmas joy and happy children.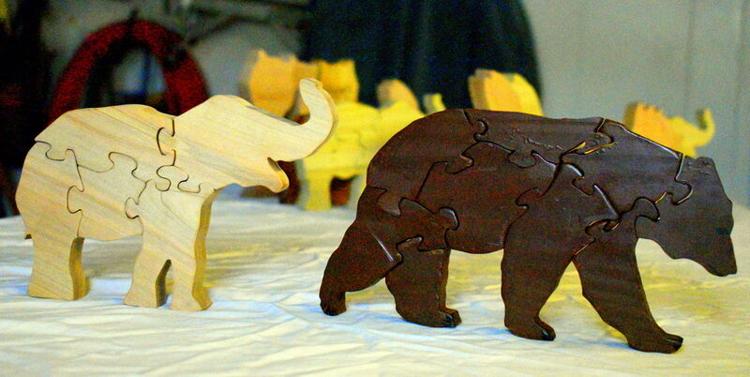 Toys for Tots began in 1947 when Major Bill Hendricks, USMCR, and a group of Marine Reservists in Los Angles collected and distributed 5,000 toys to needy children. The idea came from Bill's wife, Diane. In the fall of 1947, Diane handcrafted a Raggedy Ann doll and asked Bill to deliver the doll to an organization, which would give it to a needy child at Christmas. When Bill determined that no agency existed, Diane told Bill that he should start one. He did," according to the U.S. Marine Toys for Tots website: https://www.toysfortots.org/about_toys_for_tots/toys_for_tots_program/chronology.aspx
 "The 1947 campaign was so successful that the Marine Corps adopted Toys for Tots in 1948 and expanded it into a nationwide campaign. Toys for Tots has given Christmas toys to more than 313 million toys to 151 million needy children since the program began.  Since its inception 60 years ago, the U.S. Marine Corps Reserve Toys for Tots Program has distributed more than 313 million toys to 151 million children. The U.S. Marine Corps Reserve is committed to bring the joy of Christmas to America's needy children."