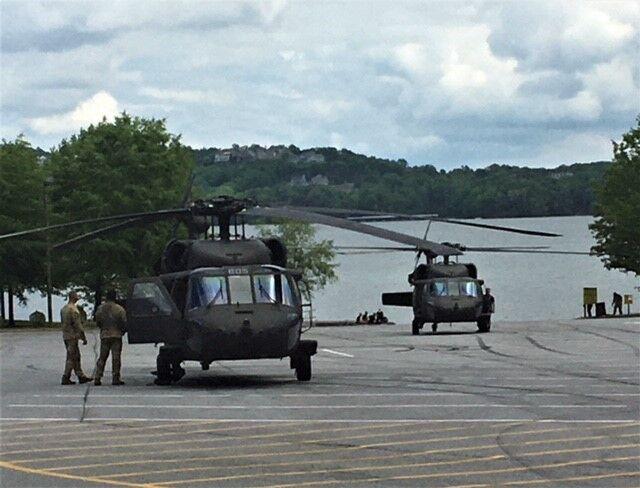 Friends, families and curious onlookers gathered at War Hill Park, Dawsonville to experience the annual U.S. Army training exercise on May 5. The event was delayed due to weather issues according to Lt. Col. Christopher Green, commander 5th Ranger Training Battalion. "We had to wait until about 2 p.m. to begin jumping because the ceiling (height of clouds above the ground) had to be 2,000 ft and that didn't happen until early afternoon," Green explained. 
Once the weather cleared, the exercise went very well, with all 115 jumpers in just under four hours without injuries, Green said. There were over 200 personnel involved in the training exercise, which has taken place at Lake Sydney Lanier for at least the last 30 years, possibly longer, but the actual start date remains unknown. 
The three phases in Ranger School start with the Benning Phase at Fort Benning, near Columbus, Ga. Soldiers who successfully complete that portion of the training continue to the Mountain Phase, held at Camp Frank D. Merrill, near Dahlonega. At the conclusion of the Mountain Phase, students head to the Swamp Phase, at Eglin Air Force Base in western Fla. The course is 61 days in duration. 
Jumpers during the May 5 exercise were cadre, or specially trained individuals.
"The jump is to build proficiency in the cadre for airborne operations," Green explained. "There are three contingency landings we rehearse for every airborne operation we conduct: tree landing, high voltage wire landing, and water landing. The water landing is the only one we can safely practice. Giving our soldiers this experience gives them a concrete reference to train future airborne soldiers who haven't had that type of experience." 
Soldiers jump out of Army UH-60 Black Hawk helicopters, engage their parachute and land safely in the water. Motorized Zodiak boats then transport the paratrooper and gear back to the shore of Lake Lanier. While most of those participating in the exercise were members of the 5th Ranger Battalion, there were also some from the 4th and 6th Battalions as well as from the National Guard Warrior Training Center at Fort Benning. The diver support came from 4th battalion and the boats came from 6th battalion, Green said. 
Not only is the military exercise a training day but it is also an opportunity for local agencies to provide collaboration throughout the practice. Green said the Rangers had support from Forsyth, Dawson and Hall County Sheriff and Fire/Rescue (EMS) offices as well as the Coast Guard Auxiliary and the U.S. Army Corps of Engineers. Support also came from Dawson County Parks & Recreation, Georgia Department of Natural Resources and Georgia Environmental Protection Division. "We could not have done this without their support," Green added. 
Also joining Rangers at the park were spouses and children, enjoying the water and beach, making it somewhat of a family day.
"This was the first chance that the battalion has had to invite families to training and truly get together since COVID this last spring," Green said. "It is important to foster that type of cohesion in our unit because of the type of training we do."