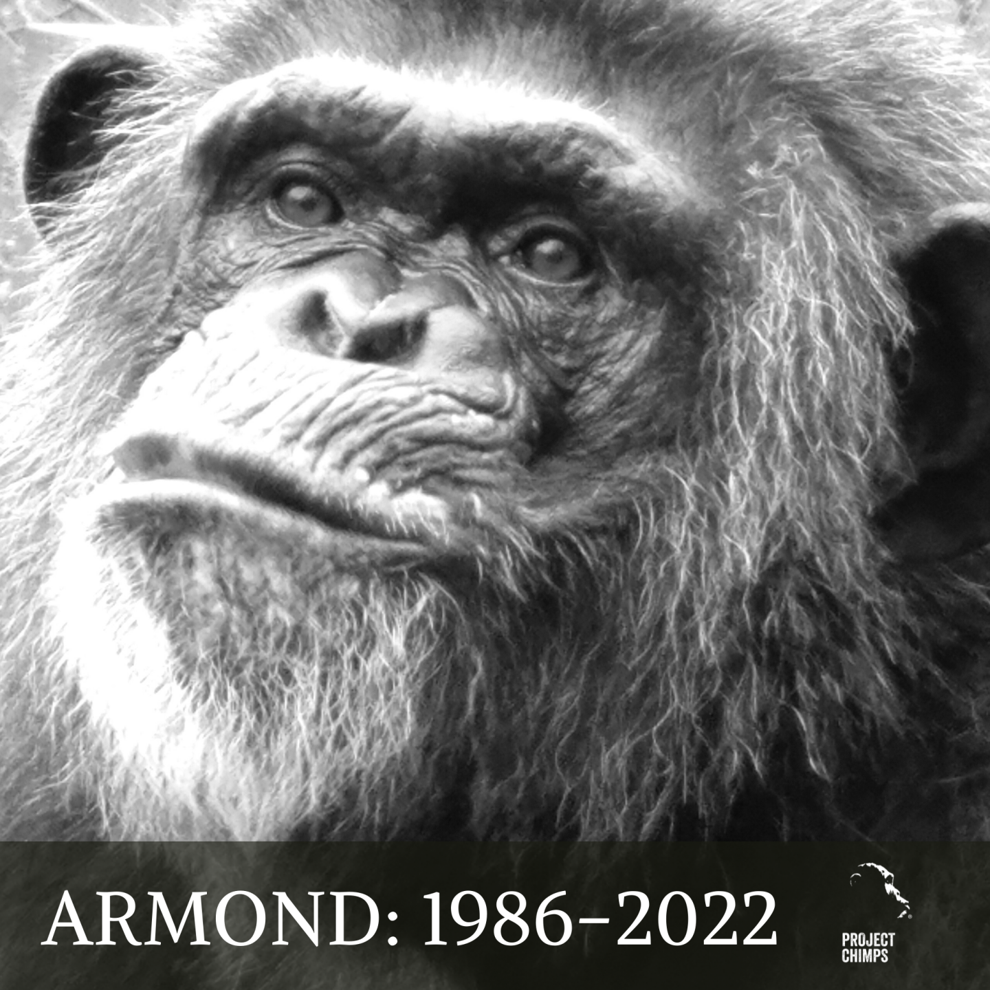 Wednesday May 4 was a sad day for the Project Chimps sanctuary located in the North Georgia Mountains. They said goodbye to Armond, a member a social group of 18 chimps that includes Kirk as alpha of the Chimps Ahoy Villa. 
Armond came to Project Chimps from New Iberia Research Center. After 33 years in a medical research laboratory, he was at Project Chimps just over 2 years.  
Last fall Project Chimps learned that Armond had severe issues in his leg and hip areas, as shared in this blog on their website and knew it was only a matter of time before those issues became severely disabling. Sadly, he was once again observed favoring his right leg, appearing to use his arms to steady himself to stand. The veterinary team at Project Chimps anesthetized him on May 4, 2022 to better assess his injuries. During this procedure, radiographs (x-rays) were taken and showed that his right femur contained a comminuted fracture. This means that the largest bone in his leg was broken in multiple places. These types of breaks are severe and recovery in these cases can take multiple surgeries followed by physical therapy, the average chimp would not likely have a successful recovery. While the decision was incredibly difficult to say goodbye, Armond was humanely euthanized. The staff at Project Chimps find comfort knowing that they chose what was best for Armond. 
While chimps can live into their 50s, according to the Lincoln Park Zoo ChimpDATA, the median life expectancy of a chimpanzee in captivity is 32.5 for males and 40.1 for females.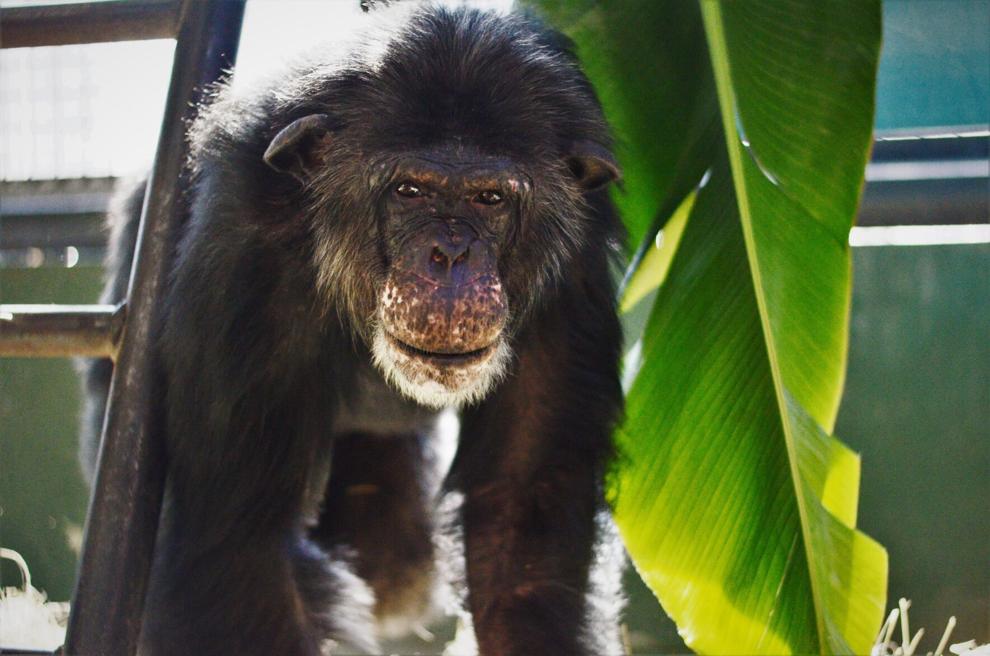 Caregiver Supervisor Tawnya remembers Armond fondly. "He touched many lives, not only chimp, but his care team as well. He was the perfect "chimps chimp". He was very good at letting the humans know if we did something that he felt that we shouldn't.  He would spit juice or water at us if he thought we were giving out food incorrectly or if we were giving an extra serving to him or another chimp. Once you proved that you were not a danger to his group, he was known to give a friendly head nod to let you know that you were accepted. He would back up any chimp that he felt was being targeted unfairly by another and would give a bouncing hug to a chimp that was upset and needed a hug." 
Armond's chimp family was allowed to view his body post-mortem, as is protocol for the sanctuary. He will be cremated and planted with a native/fruit tree on the grounds of Project Chimps in a future Remembrance Garden. The memorial site will be marked by a plaque with his name. Donations made in memory of Armond are welcome and can be made here. 
Project Chimps is the newest chimpanzee sanctuary in the United States and was founded to provide lifelong exemplary care to 200 former research chimpanzees at its sanctuary on 230+ acres of forested land in the Blue Ridge Mountains of north Georgia. Today, Project Chimps is home to 80 chimpanzees, and they are working to move over 110 more to permanent sanctuary. They are actively fundraising for the construction of two Estates. Each will house up to 50 chimps allowing them to successfully relocate all the chimps still waiting at the New Iberia Research Center. Learn more about the expansion plans here. The sanctuary is occasionally open to the public for special events and group tours including the upcoming Discovery Days event next weekend. 
Editor's note – For further information on Project Chimp, please click here to read the Smoke Signals article printed in the November 2021 edition.