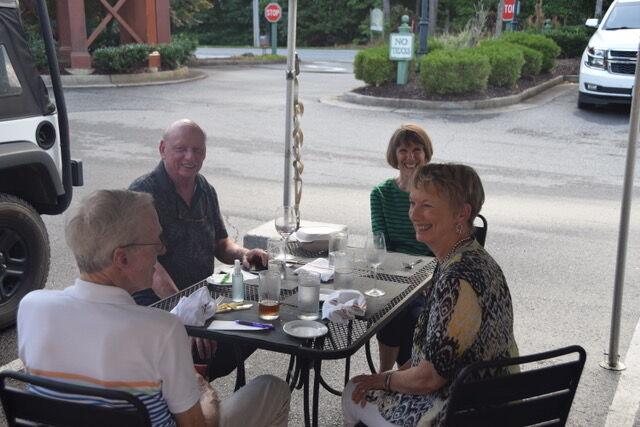 Sourwood at Northgate Station began expanded socially distanced outdoor dining Sept. 10 under two tents erected in the parking lot in front of the restaurant. Chef Rick Stack said the al fresco dining will continue through October.
"If this works out well, we will extend that to December," Stack said. "And if that works, I'll have an arbor constructed for outside dining in the spring."
The menu is simple with some of his customer favorites and lower priced comfort food such as meat loaf and his award-winning fried chicken and his full wine list, beers and cocktails. Stack said he also plans to have periodic special dinners.
"I have a kitchen staff now that is capable of preparing special meals along with the regular menu items," Stack said.
Sourwood will be open Thursday through Saturday from 5 until 9 p.m. and will continue to have "Wine Down Wednesday" events by reservation. If things go well, Stack says he will offer lunch at Sourwood Thursday through Saturday.
The Honey Dip Saloon will be closed and will become Sourwood Provisions, a wine and cheese shop with charcuterie, gourmet foods, etc.
"It will be like a mini Whole Foods," Stack said. "There will be sandwiches to go and meal kits that you can finish at home."
For inside dining, Sourwood will continue to offer dining with appropriate coronavirus safety procedures such as customer screening and required masks until diners are seated at a table. The restaurant also has a new air purification system that neutralizes air pollutants, bacteria and viruses, according to the system's manufacturer.
Sourwood, 60 North Gate Station Dr., Marble Hill, GA, 30148, Phone 470-695-3600.