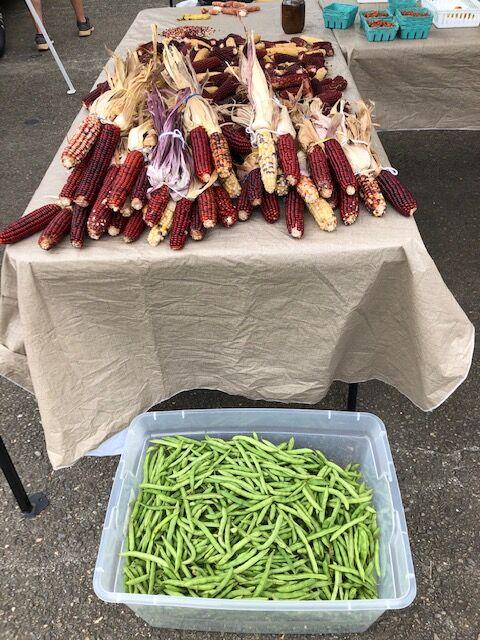 The market goes on rain or shine though, as of this writing, there is only a 20 percent chance of rain Saturday. Most of the farmers can't keep their produce for another week so they will be at the market Saturday. Some of the crafts people may not come if it rains but most of our favorites will be at the Jasper Farmers Market, rain or shine.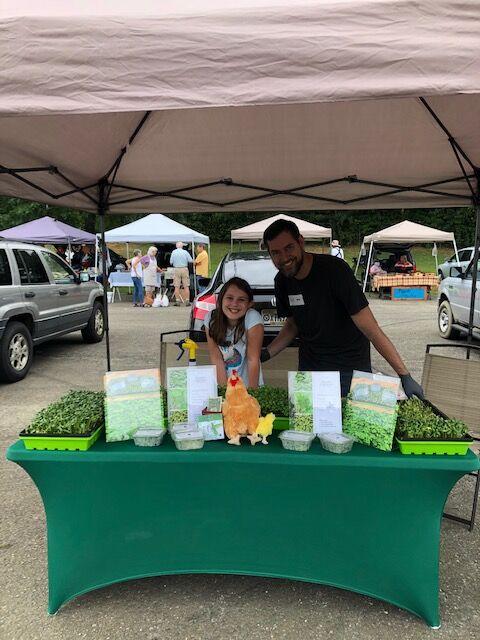 Vegetables: Zach Hensen plans to have beans, Lacinato kale, collards, eggplant, figs, goji berries, eggs and fig preserves. Clayton Johnson says he should have more kale, turnip greens, mustard greens and eggs. The Childers plan to have okra and maybe beans. Jenny Fellenbaum hopes to have okra as well and Juliet tomatoes. Paul Wagner sold delicious microgreens last week and I bought the broccoli ones that were great on a salad. Jeff had a truck load of Bartlett pears that are great for eating or canning.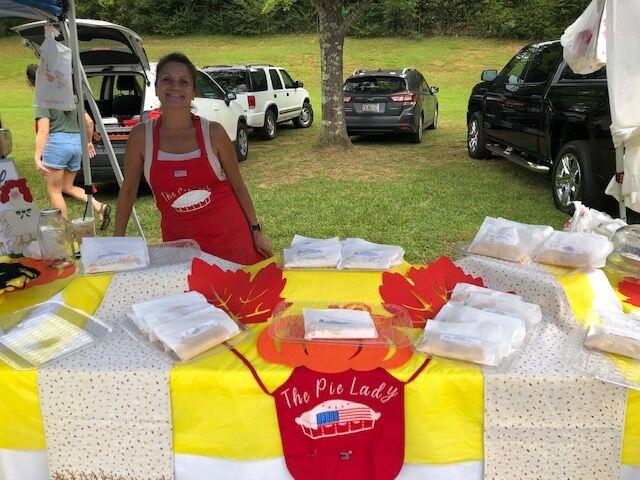 Paulette should have more muscadines, okra, peppers and maybe eggplant. I bought tons of produce last Saturday considering it is the in-between season. The Alexanders (Smoky Mountain Produce) will have arugula, cherry tomatoes, micro greens and muscadines. Their organic arugula is fantastic and the perfect balance of spiciness for my watermelon and arugula salad. The watermelons are still sweet so cube it, add the arugula, feta cheese, pine nuts and toss with a lemon vinaigrette. It is like dinner and dessert in a bowl! 
Local meat
Paulette (Sunny Side Farms) plans to be at the market this Saturday with her local beef, pork, lamb and goat. She also has a few vegetables and muscadines.  Paulette is a lovely woman that just makes you smile when you are around her. Big Ridge Farms won't be back at the market this month but you can still order grass fed beef and pastured pork from John Tatum 770-265-0072. They deliver to Jasper on Wednesdays. 
Bread: Jackie Carlisle won't be at the market this Saturday, Sept. 19 but should be there on Sept. 26. She better be because my friend might go into brownie withdrawals!  Chef Tony makes a wonderful olive bread that I usually preorder but I am now on a focaccia kick. You can preorder his wonderful bread by calling 404-525-4829 or email him at bakewurx@gmail.com.  Heavenly Acres makes a great artisan bread and goat milk fudge. 
Cookies by Corrine is a wonderful cookie baker. Though Corrine doesn't do social media you might want to preorder special cookies to pick up at the next market. Antonia (The Pie Lady) makes great fried pies but even better whole pies. I missed out on getting her pecan pie last week. I generally don't even like pecan pie but ordered it a few weeks ago for my friend. Antonia has made me into a pecan pie fool! She only charges $15 for her whole pies and I think $3 for her fried pies. Irene is back at the market which makes everyone happy. Her plum cake is fantastic! Several other bakers were at the market last weekend and it was hard to resist them. 
Vivian Tritt (best sorbet ever) had a wonderful Cookies N' Crème sorbet last Saturday.  The rain held off till 11 then everyone got soaked.  Vivian plans on being at the market this weekend, weather permitting. 
Soaps, pepper jelly and hand turned wood: Denise Seibel sold Asian pears, Pawpaws and her gorgeous goat milk soaps. It was my first Pawpaw fruit and I really liked it but it was the last of the season. Keep an eye out for them in the future. The fruit has a custard texture and creamy taste.  She plans on selling her best ever fig preserves and soaps this weekend (weather permitting). 
Sargent Peppers sells wonderful pepper jelly. They sell a wide variety of hot peppers and pepper jelly. Jenny Fellenbaum hand turns wood into beautiful art! I am thinking holiday gifts of soaps, preserves pepper jelly and Jenny's art! 
Market news: Tony Whitfield (knife sharpening) will not be at the market September 19, or 26. He will return October 3 so save those dull knives till then. The Jasper Farmers Market is open 7:30 a.m. until noon on Saturdays. Starting November 7 thru December 12, the market will have new hours of 9 a.m. until 1p.m.  Eat Local and support our hometown restaurants.