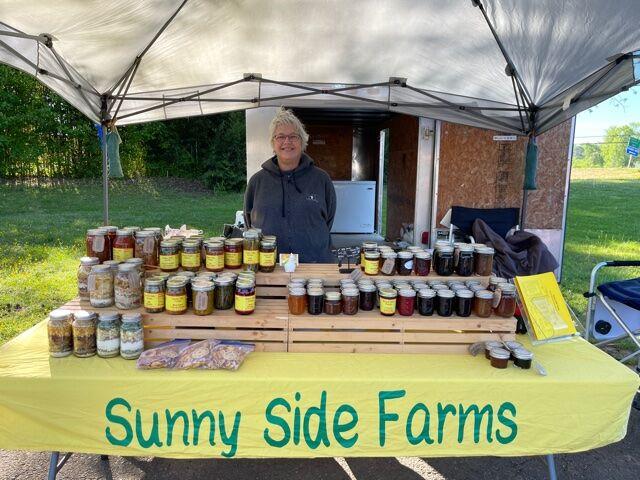 In other words it is still the "greens" season. We finally lucked out and had perfect spring weather for our Jasper Farmers Market with more nice weather forecasted for May 8.  There were over 50 vendors last Saturday selling everything from lettuce, herbs, eggs, micro greens, kale, local meat, flowers, plants, jewelry, hand knitted scarves, cookies, cakes, jam, bagels, focaccia, pasta, dog biscuits, woodwork and so much more. I expect pretty much the same this week. 
                             Lettuce, kale, mustard greens and more 
Zach Hensen plans to have lettuce, kale, mustard greens, rape greens, radishes, herbs, garlic scapes, eggs and maybe squash. Josh Tatum (Big Ridge Farms) hopes to have lettuce and spinach along with his grass-fed beef.
Steve and Becky Alexander plan to have lettuce, and a large variety of micro greens (broccoli, red stem radish, arugula, pea), cat grass and jams.
Clayton Johnson says he will have kale and collards (duck and chicken eggs too.) 
                                           Local beef, pork, eggs
White Oak Pastures says, "As long as meat passes through a U.S.-based inspection plant, and/or is blended with meat from animals born and raised in the U.S., it can be labeled as 'Product of the USA.'" Cattle can be born, raised, and slaughtered in another country, then the meat is shipped to the United States and processed. It's estimated that 75-80% of total U.S. grass-fed beef sales by value are imported. This greenwashing is devastating for American ranchers." 
This makes it all the more important to eat local beef and pork.  Luckily for us, we will have two fabulous meat vendors Saturday. Paulette (Sunnyside Farms) sells pork, beef, lamb and goat. Her Italian and breakfast sausage can't be beat. She also has great "canned" goods. 
Josh Tatum (Big Ridge Farms) sells their grass fed beef and pastured pork. They plan to be at the market on the May 8. Big Ridge usually comes to the market once or twice a month so I always stock up. They also sell great vegetables in season. When you buy meat from the Jasper Farmers Market you are truly buying real local U.S. beef! 
Blue Roo Farms has pastured duck and chicken eggs. I was able to score the last of his homemade pasta Saturday. It was fantastic! Clayton and Cole Johnson have both duck and chicken eggs ( kale and collards too!) Zach Hensen also sells wonderful eggs. Sargent Peppers recently started selling their pastured eggs.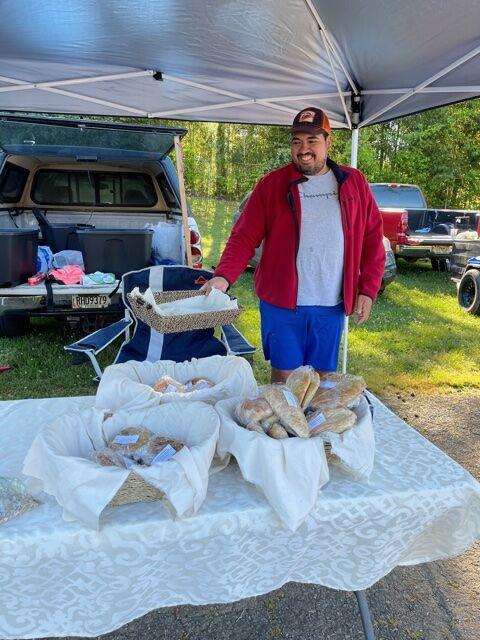 Bread, bagels, dessert and sorbet
Michael Bergerson makes wonderful bagels and organic sprouted whole grain bread. Tony Pisconeri is our go-to Italian baker. He bakes amazing olive bread, focaccia, cranberry walnut and pizzetties. 
Irene Neal, Burnt Mountain Pies, makes the best pies, cakes and cookies. This week she will have a double chocolate cake, strawberry rhubarb pie, fried apple pies and banana bread. Mother's Day is Sunday. Irene takes special orders and preorders. She flat out makes the best desserts in town. Irene's number is (404) 375-8040.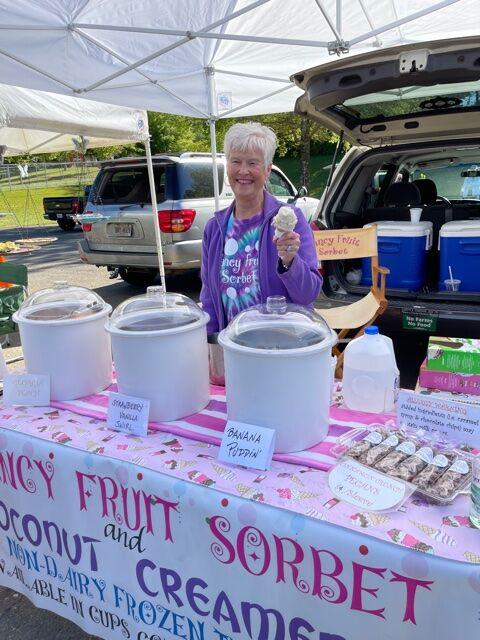 Vivian Tritt, best sorbet ever, will be scooping out Georgia Peach, Raspberry Chocolate Swirl and creamsicle. She also has tons of to-go flavors solidly frozen. Vivian has just prepared over 20 pounds of fresh Georgia strawberries for her amazing strawberry sorbet. You can special order larger quantities (770) 490-1890. Vivian also often sells hellebores and other shade plants. 
                                        Plants, flowers and more
Jenny Fellenbaum sold gorgeous irises last week and their rhizomes as well. She has been selling flats and packs of annuals too.  Perfect timing for Mother's Day!  Bunny Johnson sells tomato and pepper plants (I think eggs too). Last week we had at least five vendors selling an assortment of plants. Floyd Reed's wife, Karen, was at the market selling her crocheted items. Floyd died tragically last winter so it was nice seeing Karen talk to so many customers.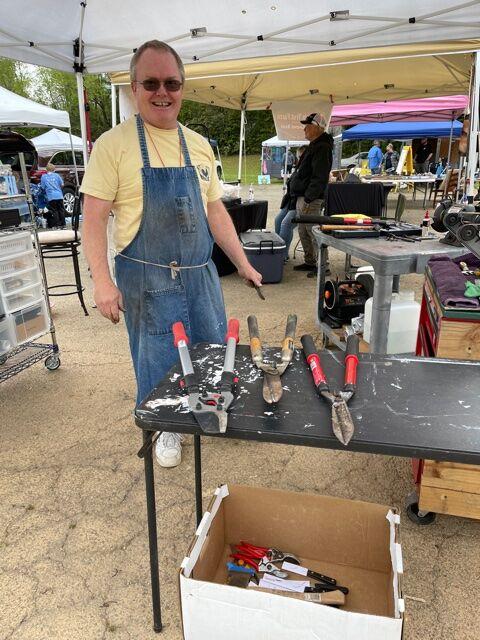 Knife and garden tool sharpening 
Bring your garden clippers and tools. Tony Whitfield sharpens everything while you shop. It is nice having sharp clippers and snips. 
The Jasper Farmer's Market is open 7:30 a.m. until noon on Saturdays. Follow them on Facebook as several farmers and vendors post their latest info. Eat local and shop local.