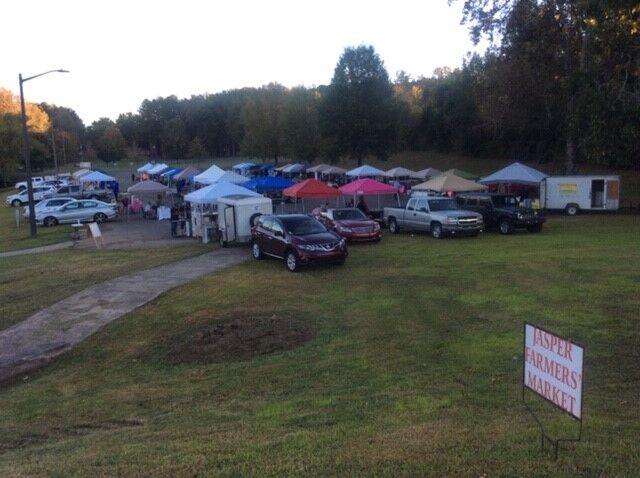 The Jasper Farmers market hours will be changing Nov. 7. The current market hours are from 7:30 a.m. until noon but effective from Nov. 7 through Dec. 12—the final market—the hours will be 9-1p.m. Finally, we will be able to sleep and eat healthy food! 
Rumor has it that there were 46 vendors last Saturday. I finally had to go back to work this past weekend. After having six months off I have come to realize that my job is really hard and I sorely missed going to the market and my friend! The market manager was able to fill me in on the latest scoop. Though it was cold initially, there were lots of vendors and plenty enough vegetables to buy. 
Vegetables and fruit
Zach Hensen plans to have about the same this week as last. He will have beans, radishes, turnip greens, Lacinato kale, mustard greens, Siberian kale, Swiss chard, eggplant, eggs and maybe figs. Steve and Becky Alexander (Smoky Mountain Produce) will have their fantastic arugula, radishes, microgreens and a couple of surprises. It is always fun to stop by their table and see what cool new produce they have. 
Paulette (Sunnyside Farms) not only has meat but vegetables too. Denise Seibel was at the market with persimmons. I am hoping she will be there this Saturday with more though someone has offered to buy her whole crop. 
Clayton Johnson had lettuce, turnip greens, mustard greens and collards. I am pretty sure he will have the same this week. Clayton's turnip greens come with big turnips attached. Though turnips keep a long time in the refrigerator, they also freeze well. You can freeze them whole on a cookie sheet then pop them into a bag or dice them and freeze. No self-respecting cook would make a vegetable soup without turnips and this is the best way to have them on hand during the winter. 
John Kuehl should still have heirloom pears till November. Don't forget to buy your microgreens. Paul Wagner and his adorable girls sell top notch microgreens that keep a long while in the refrigerator.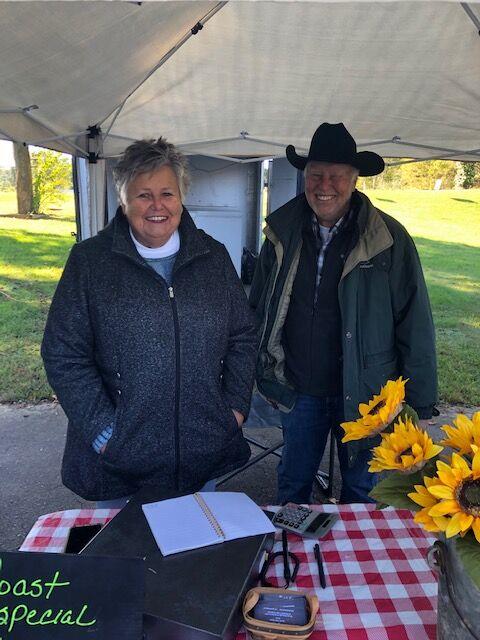 Local meats
Paulette (SunnySide Farms) always has great beef, pork, lamb and goat with canned goods and vegetables too. Jim and Cathy Raines (Possum Trot Farms) have pastured beef that has been finished on grain. Both of these farms sell high quality meats but what I find interesting is that they all are incredibly friendly with wide smiles. Maybe I should change jobs since raising cattle apparently seems to make people very happy. 
Bread and sweets
Jackie Carlisle says that she won't be back at the market this season. Personally I find this crushing since my friend is hooked on her brownies and I on her quinoa oat bars. The good news is that she will take orders and meet up with you. Jackie's number is 770-329-4372. I have several friends that plan to order her Ezekiel bread and freeze it. Heavenly Acres makes a delicious boule artisan bread. They only make a few; to preorder look them up on Facebook and message them.
Tony Pisconeri makes wonderful sourdough breads, focaccia and more. I always keep his olive and rosemary sourdough in my freezer. To preorder his special breads and treats call him at 404-525-4829. 
Irene makes great cakes and pies. She bakes them fresh on Fridays for the Saturday market. There frankly is no reason for anyone to bake pie when she makes the best apple pie around. To preorder her desserts call 404-375-8040. 
Antonia Guerra, aka The Pie Lady, makes every pie imaginable—fried pies too. It is a real toss up on who makes the best pecan pie around, both Irene and Antonia make wonderful pecan pies. To preorder Antonia's pies call her at 678-213-6416. 
Vivian Tritt (best sorbet ever) takes special orders for her sorbets in to go containers. Vivian's number is 770-490-1890.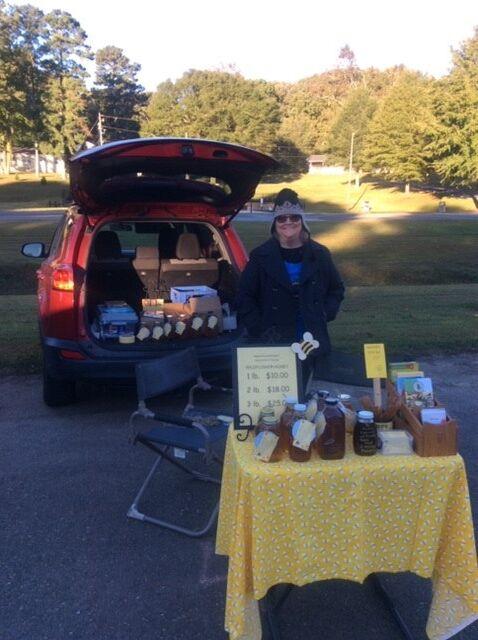 Honey and gifts
There were two honey sellers at the market last Saturday. Kenneth Kirk sold out but Victoria Champlin plans on returning in November. Many of us remember Bud the honey man, Victoria Champlin is his widow and she has since kept up his hives.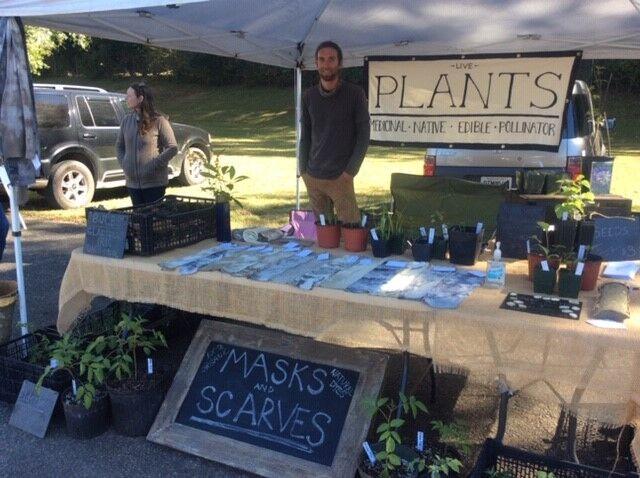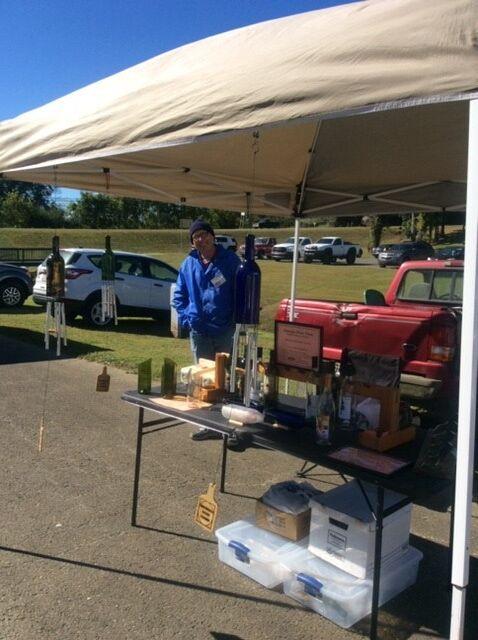 Bo's Dog Treats makes wonderful healthy dog snacks and Bo is awfully cute too. Dan Chambers makes wine bottle clocks and wind chimes with bottles from local vineyards. Caleb Arnold sells medicinal plants, tinctures and herbs. He is relatively new to the market and I heard rave reviews about his plants.
Dan Brown makes really great wooden utensils, pizza peels and art work. Jenny Fellenbaum certainly has the coolest votive candle holders around and wine stoppers too. Jenny hand turns the wood into gorgeous art work. There are many craft vendors at the market this time of year. I have already bought several Christmas gifts. It is so nice being able to buy a beautiful, handmade, local gift instead of a "made in China" gift from a big box store. 
Knife sharpening
Avoid dull-knife syndrome. To keep scissors, knives and gardening tools sharp leave them with Tony Whitfield while shopping at the market. Tony does a great job of sharpening for a darn good price.
 The Blue moon (Hunters moon) is October 31st and the time change is 2 a.m. Sunday November 1. Don't forget to shop local this holiday season.
---