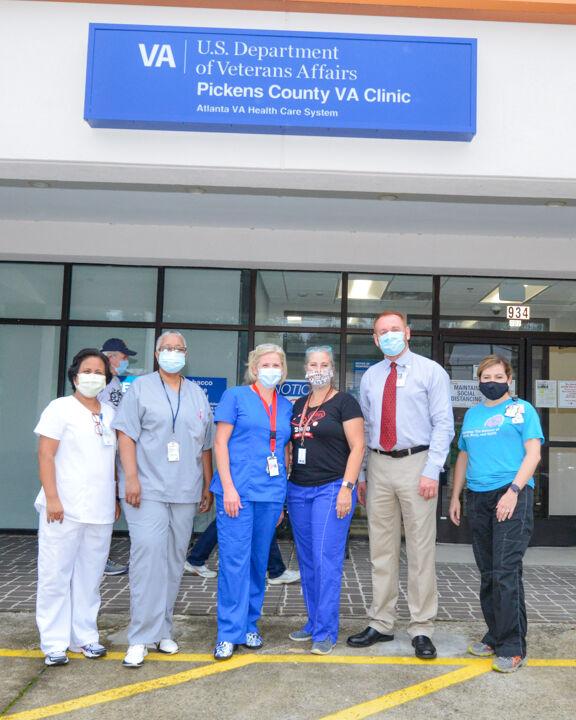 Underway for over five years, the Jasper Veterans Administration Clinic officially opened its doors on August 31. The clinic, located at 934 East Church Street in Jasper, offers primary care, mental health, telehealth visits and audiology services.
According to a VA release, penned by Greg Kendall, Public Affairs officer, due to current Covid-19 precautions, the Pickens clinic, along with all other VA outpatient and community-based clinics, are open for telehealth visits. Clinically urgent cases are being seen face to face, but require advance approval. Veterans who arrive without that pre-approval or without an appointment will be encouraged to schedule telehealth visits through the MyHealtheVet.
"The new Pickens County VA Clinic will increase access and ensure that our veterans continue to receive the high-quality health care that they have earned and deserve close to their home," stated Atlanta VA Health System director Ann Brown, through an official release from the VA.
"We are always trying to improve services for our veterans, and the new Pickens County VA Clinic helps us do just that," she added.
Five years ago, businessman and clinic landlord David Shouse undertook planning the clinic. His father, Daniel, is an 82nd Airborne veteran.
Shouse bought the strip mall in 2017, understanding that Pickens has a high density of veteran population driving to Atlanta or Ellijay for care.
"Americans have believed that veterans are old," said Shouse. "As I worked on this project, and started meeting young people, hearing their stories — the PTSD, brain injuries — I would walk around the site with tears in my eyes."
Over the course of planning, building and completion, "this became a humanitarian issue for me," said Shouse, recalling how many veterans he met in their 20s. In order to have urinals, said Shouse, he had to also build a lactation room. "There are veterans who are mothers. It is the nicest room in the place."
Shouse speaks of his fight to make the clinic full service, and not a satellite diagnostic and referral outpost. With delays and no construction start after a full year, Shouse described calling the White House in 2018, being placed on hold for hours, and finally talking to an aide, even emailing the president, to earn approval for the full-service clinic. "I even thought I might have to walk away."
Shouse initially believed building out the facility would be about a $500,000 investment, but it finished out to more than twice that cost, and construction time far exceeded the 220 days he agreed to in his original contract with the government.
"I learned so much," said Shouse. "Building this clinic was a blessing. It's a marvelous place."
According to Kendall's release, it is "always an honor to serve our veterans.
"Enrolled Veterans, with access to MyHealtheVet Premium, may use the link https://www.myhealth.va.gov/mhv-portal-web/home to send a secure message to their assigned patient Aligned Care Team (PACT) to request a transfer to this new clinic, or call the telephone sadvice line )TAP) 404-329-2222.
"We encourage all veterans not enrolled in VA healthcare to do so by using the following information:
"Online Enrollment: (VA Form 10-10EZ): https://www.va.gov/health-care/apply/application/introduction."
After submitting the form, a confirmation message will be sent; healthcare applications are processed within one week, added Kendall.
If more than one week passes from the application date, do not apply again; call 1-877-222-8387 for more information.
If web access is unavailable, use the telephone number 1-877-222-8387, Monday through Friday, between 8 a.m. and 8 p.m. to make a phone application.