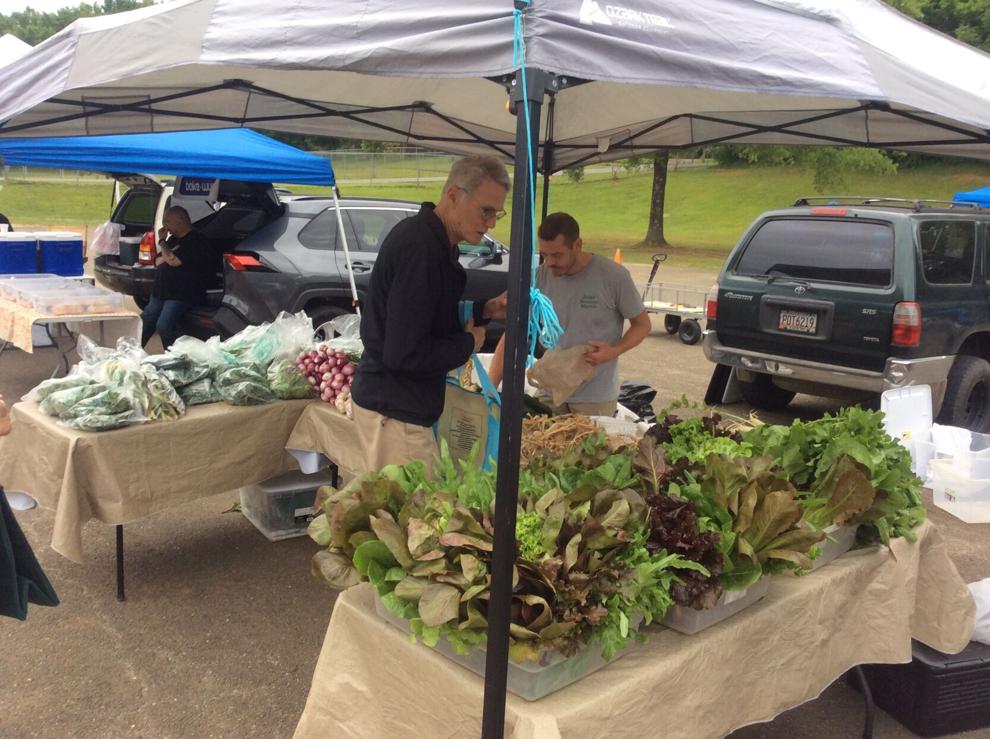 Onions are the vegetable of the day. All the onions I have seen at the Jasper Farmer's Market are grown using organic methods. Farm fresh onions just don't compare to store bought onions so I buy lots and freeze them. Onions are super easy to freeze, just dice or slice and pop them in a freezer bag, blanching not required. Think French onion soup this winter made with sweet farm onions.  It just doesn't get much better than that! 
                                          Vegetables and flowers
Zach Henson has onions, lots of beautiful onions. Zach plans to sell zucchini, squash, white and red onions, radishes, lettuce, collards, kale, rutabagas, broccoli and eggs. I just made a broccoli salad with his broccoli, red onion, radishes and cilantro. Whew it was delicious!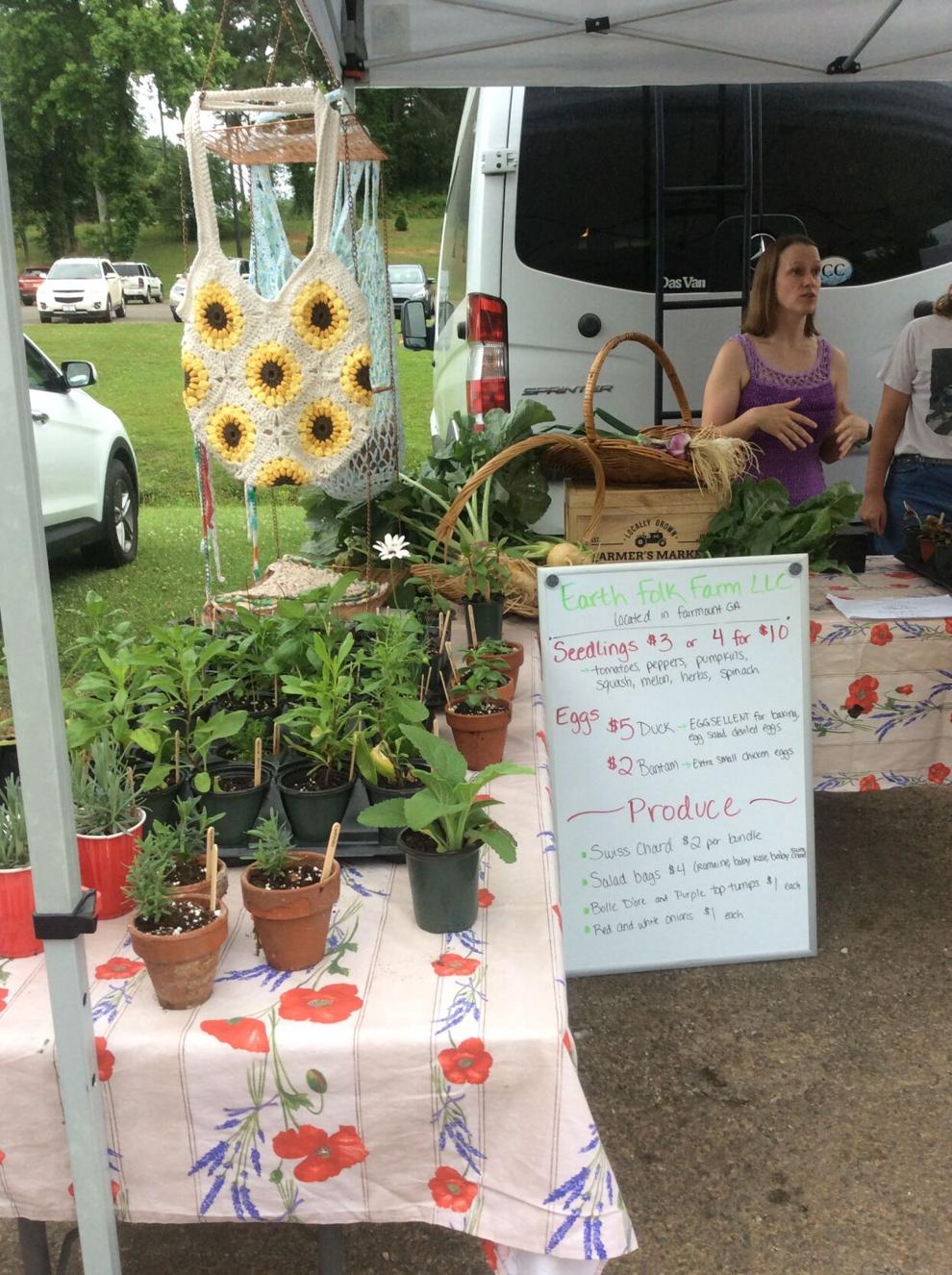 Earth Folk Farm—Cayln Chase and siblings—also plan to have onions. Earth Folks are one of our newest vendors and they are terrific. They also use organic methods and their cows provide the fertilizer. Cayln plans to have red and white onions, bags of lettuce, turnips, Swiss chard, duck and chicken eggs and if we are very lucky, beets. Earth Folks hens are pastured and that makes for healthier eggs.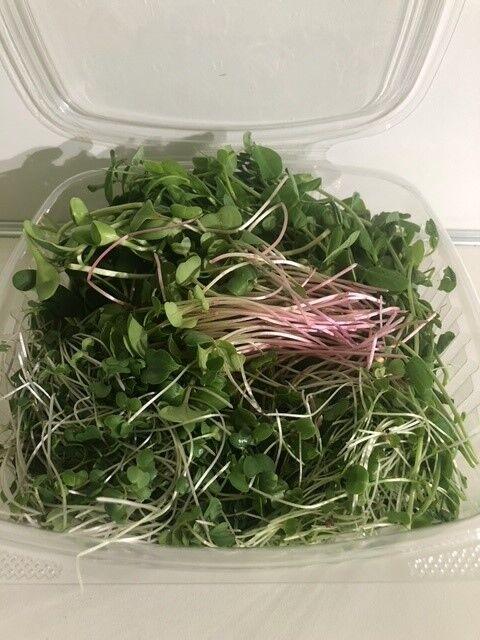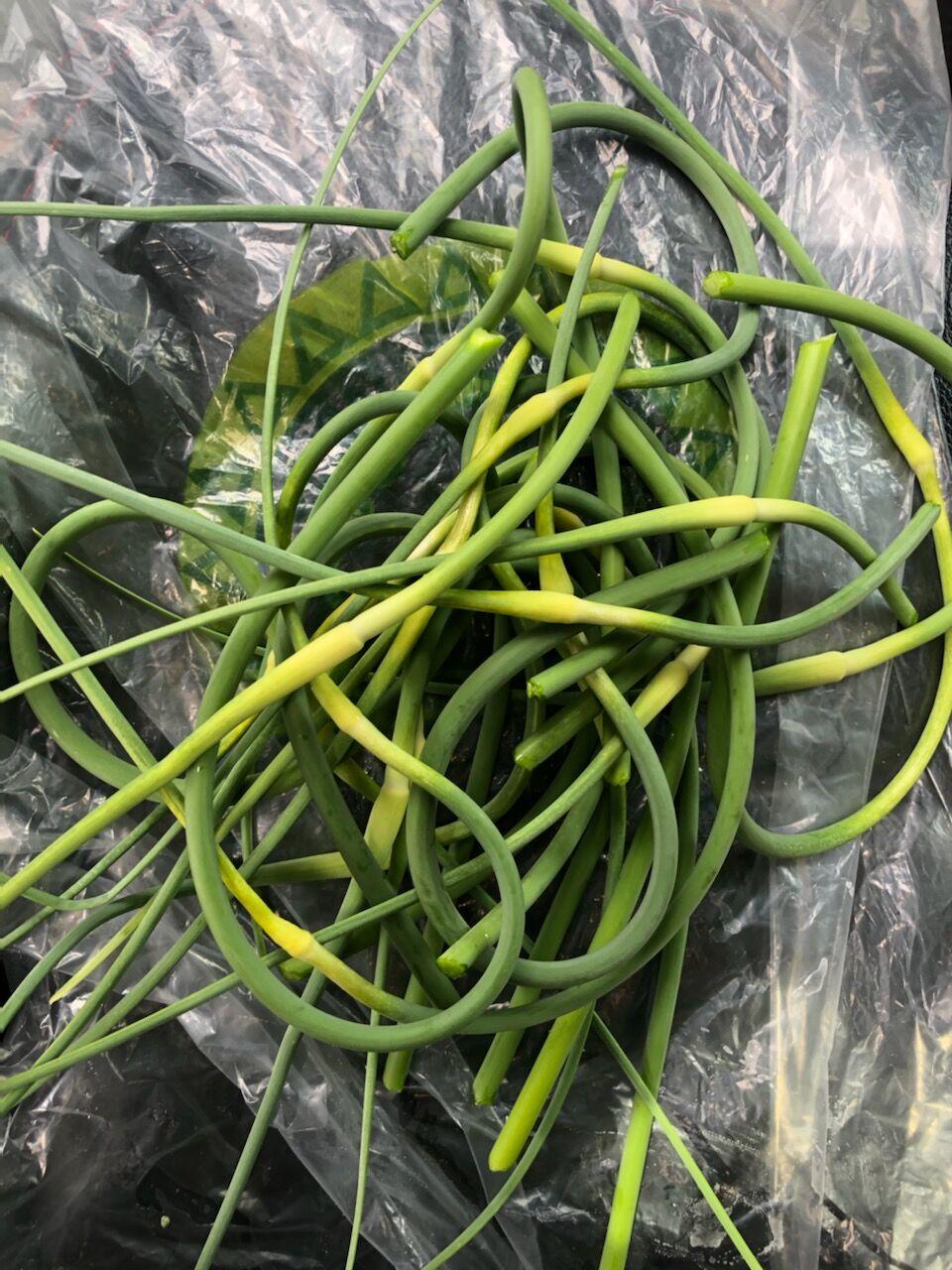 Smoky Mountain Produce uses organic methods and they are striving for their organic certificate, which is no small feat. Steve and Becky sell delicious arugula that is not too strong. I made a wonderful watermelon and arugula salad with their arugula. They also plan to have radishes, lettuce, garlic scapes, microgreens and cat grass. Garlic scapes are a wonderful delicacy. I have heard garlic scapes described as a vegetable and herb all in one small package. You can make garlic scape pesto, garlic scape hummus, scape soup or even grill these scapes. I put their microgreens in all my salads.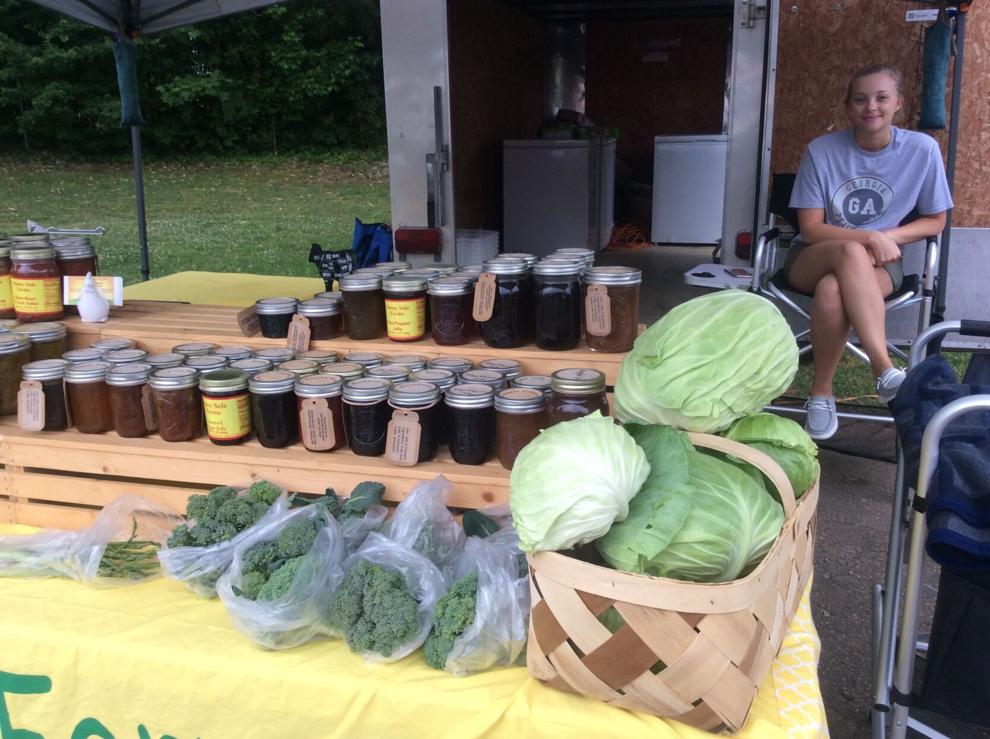 Roc-Ken is known for her bread and sweets but she also has lovely zucchini and squash.  The Anderson family had scallions and scapes last week. I never know what they will bring but it is always wonderful and grown using organic methods. Sunny Side Farms not only sells meat but vegetables too. Paulette had cabbage and broccoli last week.
Jenny Fellenbaum is our market manager. She sells fresh cut flowers for a song. Jenny hopes to have a little squash and cucumbers too (weather pending). 
                                                  Local beef and pork,
Sunny Side Farms (a.k.a. Paulette) sells beef, pork, lamb and goat. Her bacon and ground sausage are wonderful too. Paulette "cans" jams, pickles and more. A lot of folks pass her by if they don't need meat but she has vegetables too. 
June 19—save the date—Big Ridge Farms will be at the market with their pastured beef and pork.  Josh Tatum usually only comes to the market once a month so plan ahead. I stock up on his pork chops and bacon too. They often also sell wonderful vegetables. 
June 23 is another save the date. It is our first Wednesday market of the season. Possum Trott Farms often sell their local beef at the Wednesday market. 
                                       Sorbet, bread, sweets and treats
Vivian Tritt, the best sorbet ever, is scooping out sorbet into cups or cones. She also has dozens of "to-go" flavors. This week she is scooping almond joy, Georgia peach and very strawberry. She does not use high fructose corn syrup in her sorbet. Just another reason to love her real fruit sorbets. I buy extra to take on my trips and out on the boat. And if we are lucky, Vivian will make her cinnamon crunch pecans (great in a salad). Vivian's sorbet is found in some of the best restaurants in town. 
Tony Pisconeri, our Italian bread baker, makes killer focaccia, olive bread, cranberry walnut rolls and pizzetties.  You need to pre order the cranberry walnut rolls 404-525-4829. I usually pre order my olive bread too because he does sell out pretty quickly.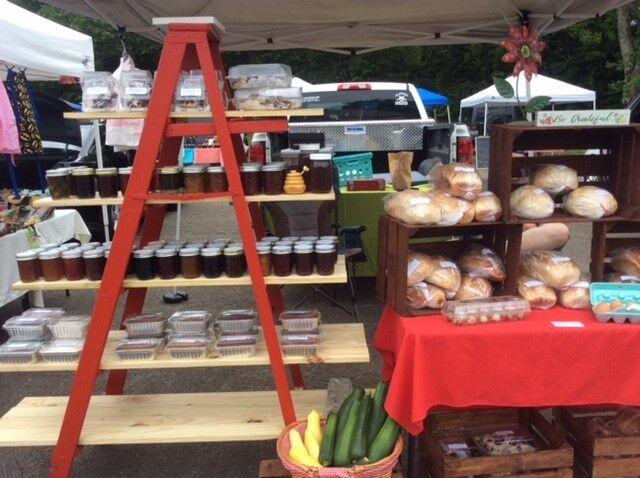 Roc-ken makes loaf breads that will be perfect for BLT's or sandwiches. Roxanne also makes a nice lemon poundcake, other sweets and jams. She often sells quail eggs and chicken eggs. The Cookie Lady (you guessed it) makes cookies. Beautifully decorated cookies. Bo's dog biscuits sells dog treats for your four-legged friends 
Irene Neal won't be at the market this Saturday but plans to be on June 19. Probably a good thing for me since I can't resist her cherry pies and desserts. You can preorder pies and cakes from Irene 404-375-8040. I imagine if you need anything before June 19, she would happily bake for you. You also might want to go ahead and order your Father's Day cakes and pies. Father's Day is June 20.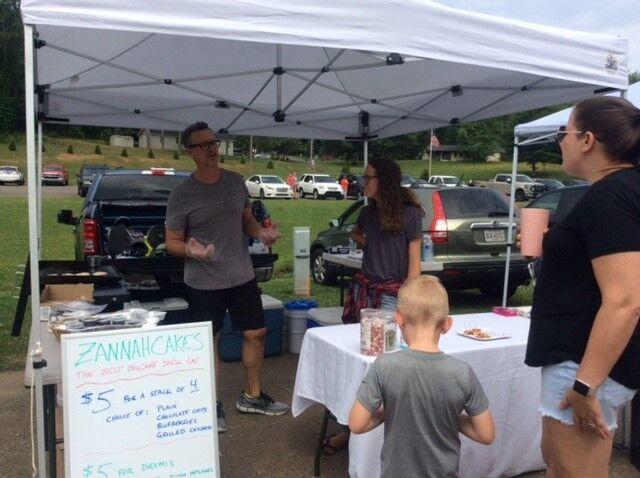 Zannahcakes is our newest vendor that was very popular last weekend. Marc Hutchins makes pancakes and rumor has it the blueberry ones were outstanding. He also makes plain and chicken pancakes (no that was not a typo). He also sells his pancake mix. You just never know who is going to be at our market. 
                                     Knife sharpening and laser engraving
Bring your knives and garden tools (chainsaw blades too.) Tony Whitfield sharpens while you shop. Just drop it off and shop till you drop. Tony Hammet does laser engraving. He can engrave a family photo on wood and other cool objects.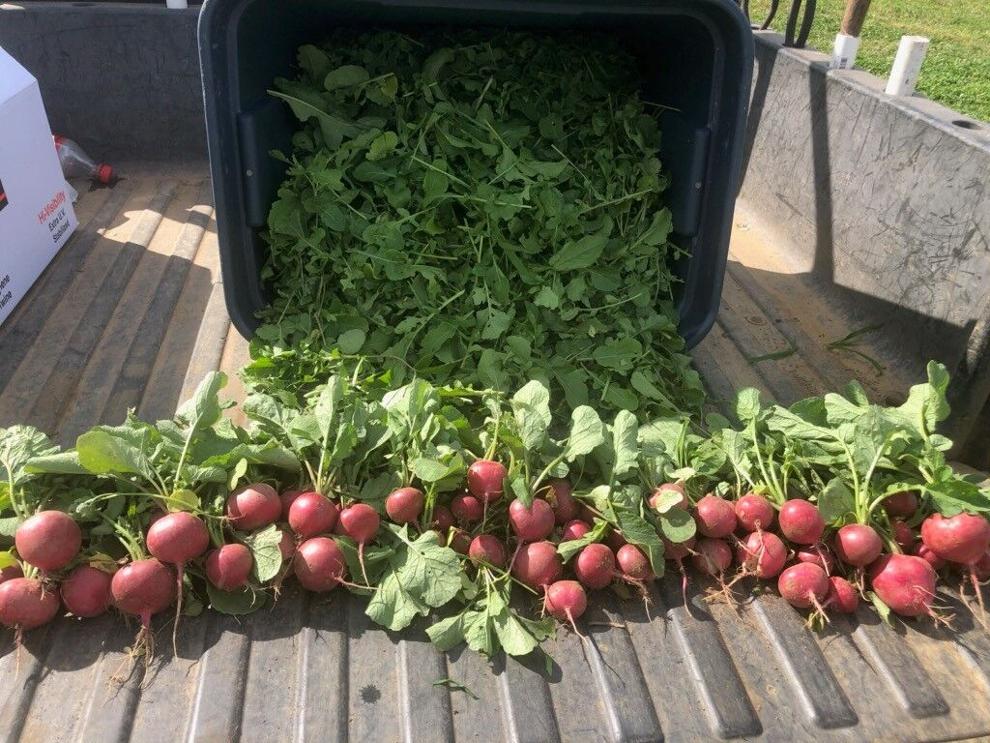 Wednesday market starts June 23
The first Wednesday market will be June 23; it starts later in the morning at 11 a.m. and runs until 2p.m. or till the farmers sell out. The Wednesday market is smaller but it has all the vegetables you need and Tony Pisconeri is usually there. What more can you ask for than great produce and bread? 
Our Saturday Market had 53 vendors last weekend. The Saturday hours are 7:30 a.m. until noon. It is located just about a half mile from downtown at the Park and Ride next to the Veterans Memorial Park.  Our market is the only 100% local farmers market around. Other markets allow resale, Jasper Farmers Market does not. You are buying the real deal at our local farmers market. 
After the market we often go to 61 Main for breakfast. Jenna has been buying local produce for years. She embodies the farm to table concept. 
Home Restaurant, John Lupi, buys as much local produce as he can. Virtually all of his farmers use organic methods or are certified organically. Donny Hunter from Mountain Valley Farms sells to John and at the Ellijay market. Chad McKinney (a Big Canoe native son) sells organically grown produce to 61 Main, Home Restaurant and Sharp Top Catering in Jasper. Eden Point and Smoky Mountain also sell to Home. Now you know Jenna's and John's secret. Great food starts with the freshest, healthiest produce in town. 
There are so many wonderful vendors at our market. I love buying the best vegetables around then getting scoop of Vivian's sorbet and strolling through the market visiting with neighbors and friends. Eat local and shop local.