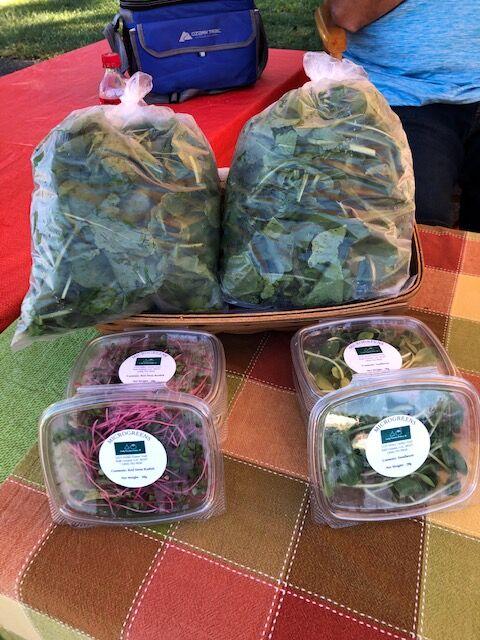 We have come full circle and back to the "greens season". Fall produce is very similar to spring vegetables with the added bonus of fruit. Last Saturday looked like a wash out but it stayed mostly dry for the duration of the market. The die-hard vendors came out and the die-hard customers reaped the benefits. Last Saturday, I scored wonderful focaccia bread with tomatoes and olives (preorder that), kale, turnip greens, radishes, microgreens, eggplant, figs, Swiss chard, cherry tomatoes, popcorn and Irene's wonderful pecan pie, all the while having my knives sharpened! 
Vegetables and fruit
Zach Hensen was loaded with figs last Saturday and plans to have lots more this week.  Zach plans to sell his fabulous French breakfast radishes, beans, kale, turnip greens, Lacinato kale, collards, Swiss chard, eggplant, figs, goji berries and eggs. Steve and Becky Alexander (Smoky Mountain Produce) will have organically-grown arugula, microgreens (radish, spicy lettuce and broccoli varieties), jack beans, jellies and maybe turnips. I had to ask about the jack beans and they sound pretty darn good. Steve often has other surprises as well.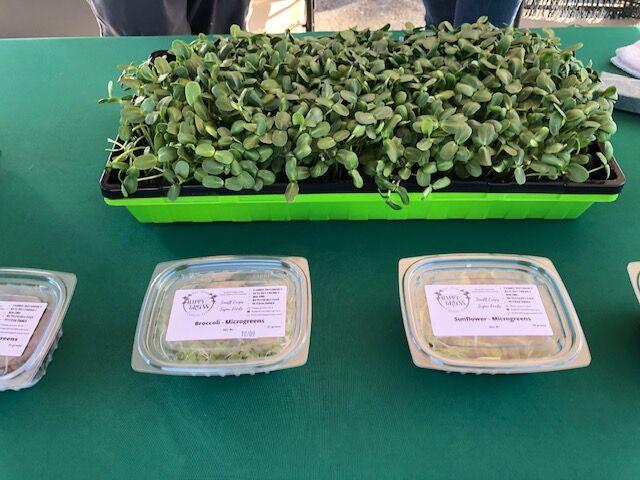 Paul Wagner has beautiful microgreens too. I have been buying his kale and broccoli microgreens which is a great way to add a healthy punch to my salads. Clayton Johnson is loaded with greens. I bought bags full of kale and he will have lots more this week. He sells these giant bags of greens for $4. This Saturday, Clayton will have kale, turnip greens with turnips, mustard greens, lettuce, eggs and maybe collards.   
Denise Seibel hopes to be at the market with persimmons and maybe figs.  I wait all year for Denise's persimmons so I can make a persimmon vinaigrette. Basically the recipe calls for a very ripe persimmon that is chopped (I use two), white wine vinegar, a small shallot and olive oil.  John Kuehl should still have his heirloom pears. 
Local meat
Possum Trot Farms sells local beef that is pastured but finished on grain. Sunnyside Farms sells local beef, pork, lamb and goat. Paulette also "cans" some of the best jellies and soup mixes around. 
Bread and sweets
Jackie Carlisle will be at the market this Saturday. That is a very good thing for me since I just discovered her quinoa oatmeal fruit bars. Jackie mills the organic quinoa and it is beyond fantastic. She also makes Ezekiel bread, whole wheat sourdough, English muffins, best ever brownies and gluten free ones also.
Tony Pisconeri made me a fantastic focaccia with tomatoes and olives.  I preordered it since he doesn't normally add olives to it. Tony makes delicious olive sourdough bread, focaccia, parmesan sourdough and more.  Call Tony at 404-525-4829.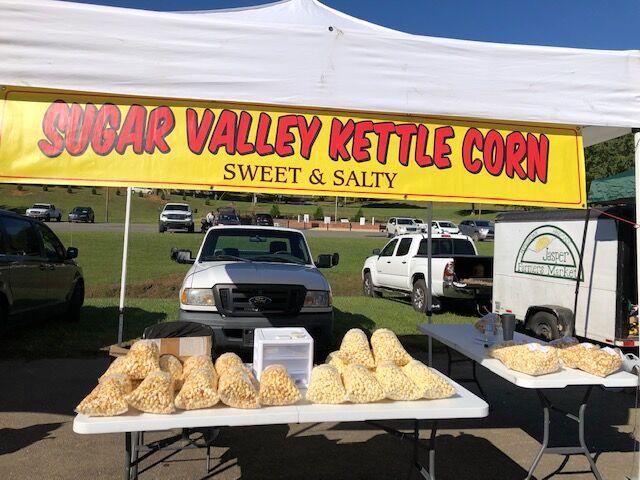 Irene Neal, Burnt Mountain Cakes and Pies, will be at the market this Saturday. Last week, I just missed out on her gorgeous lattice apple pie but I called her and preordered one for this week. I did, however, buy a delicious pecan pie. The market has two great pie bakers, Irene and Antonia. It is a real toss up on who makes the best pecan pie around. Both the pies were delicious and they each had their own merits. I have been trying to score points with my friend and trying these different pies. The verdict is that both of these ladies make terrific homemade pies.  If you wish to preorder pies or cakes from Irene, her number is 404-375-8040. 
Heavenly Acres makes a lovely artisan boule bread and goat milk fudge.  Sugar Valley Kettle Corn is our newest vendor. He sells great popcorn that comes in different flavors. 
Sharpen your knives and holiday gifts
Tony Whitfield sharpens knives while you shop. I dropped off several knives for some friends and he got them all sharpened in no time. It is a real treat to have sharp knives and garden tools.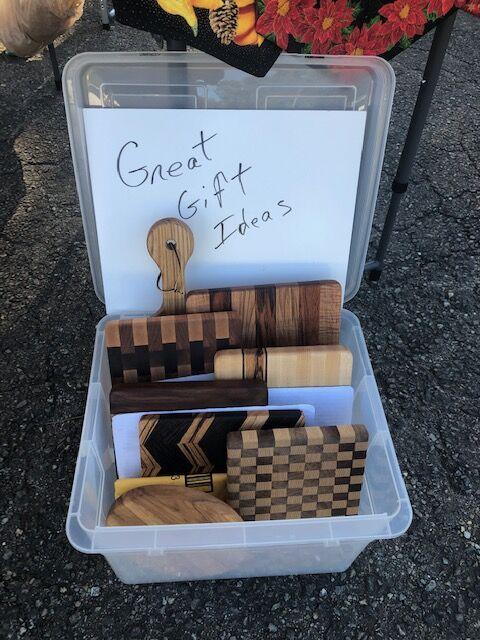 Dan Brown makes beautiful wooden pizza peels, cutting boards, jewelry boxes and more. I am thinking about holiday gifts and he is at the top of the list. Jenny Fellenbaum hand turns the prettiest votive candle holders you have ever seen. Jenny also makes really neat wine stoppers.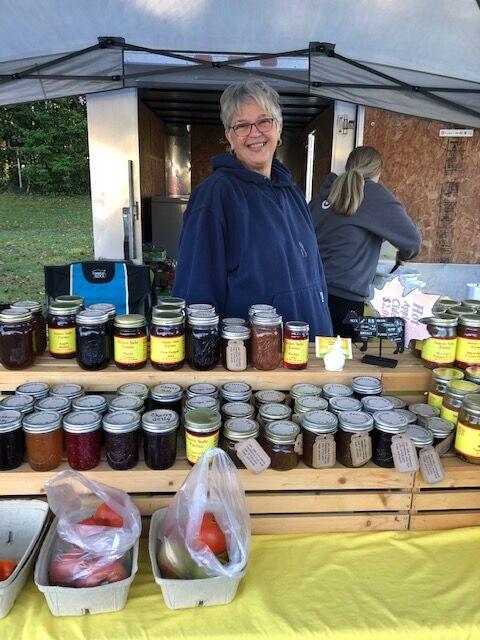 Denise Seibel makes the best fig preserves you have ever had and goat milk soaps as well.  Sergeant Peppers has best ever pepper jelly and beard oil too. Think local handmade gifts this year. 
Market hours in November
The Jasper Farmers market is still open from 7:30 to noon on Saturdays until October 31. Starting November 7 through December 12, fall hours will be 9 a.m. until 1 p.m. on Saturdays. 
Once in a blue moon
This month we will have a blue moon on October 31. A blue moon is the second full moon in a calendar month. October 1 was the Full Harvest Moon and October 31 is the Full Hunter's Moon. According to the Farmer's Almanac "The Harvest Moon is said to be the full moon that occurs nearest the date of the autumnal equinox (Sept. 22, 2020). This means that either September's or October's full moon may take on the name Harvest Moon instead of a traditional name. 
Similarly, the Hunter's Moon is the first full moon to follow the Harvest Moon, meaning that it can occur in either October or November. This year both the Harvest Moon (October 1) and the Hunter's Moon (October 31) occur in October. Despite all the creative Halloween full moon pictures, a full moon occurring on Halloween is not a common occurrence and only happens every 18 to 19 years. You have to love the Farmer's Almanac! 
Eat Local and Shop Local