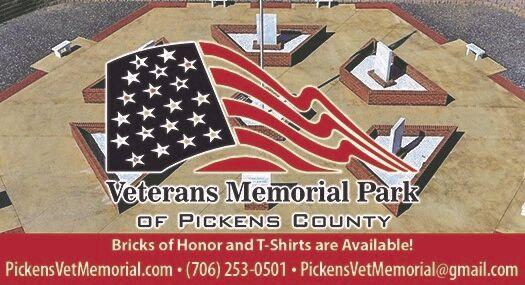 At one time the founders of Pickens County Veterans Memorial Park were told we would only place 50 Bricks of Honor at the park.  We just placed 17 more Bricks of Honor at the park and gratefully announce another milestone: The Bricks of Honor program has now grown to 858 Bricks of Honor. 
This memorial is dedicated to all veterans who have served our country including those on active duty. A veteran does not need to be a citizen of Pickens County to be honored at the Veterans Memorial Park.  Bricks of Honor are reserved for those who can't return a smile or a salute, not to mention the families and friends who have been left behind.  
Memorial Day is fast approaching and this is an excellent way to honor those veterans. We hope you will visit the Veterans Memorial Park on Veterans Memorial Boulevard. 
In addition, we have a Flag Box at the veteran's memorial.  We have collected over 600 flags for disposal.  If you wish to dispose of your flag properly bring it to the memorial and place it in this dignified box.   
To honor these veterans currently serving or who have served, a Brick of Honor may be donated in the name of a loved one or directly to a veteran.  The Brick of Honor program is for all regular service members of the military, National Guard and reservists. 
To donate a Brick of Honor or purchase veterans memorial T-Shirt, applications are available at the Pickens County Chamber of Commerce and Community Bank of Pickens County as well as our website— www.pickensvetmemorial.com.  
Contact us at 706-253-0501 or email pickensvetmemorial@gmail.com.  Donations for Bricks of Honor are $125.00 each and T-shirts are $20.00. Donations are tax-deductible. Checks may be mailed to Veterans Memorial Park, Post Office Box 2181, Jasper, GA 30143-9998. To learn more about the park, Bricks of Honor and our organization go to: https://www.facebook.com/PickensVetMemPark/