Leadership Big Canoe began the new class year on Thursday, Sept. 10 with a "Meet and Greet" at the Swim Club. There were 29 new class members present. This event gave the class a chance to socialize and get to know each other before they began the new sessions on September 11. Class members were encouraged to mingle and get to know each other and the board members.
Class began early Friday, Sept 11 at The Clubhouse on Lake Sconti. Because of COVID requirements, the class was divided into two sections that met in two separate rooms to accomplish the necessary social distancing.
Class lectures were divided into two events. Bob Crouch, president of the POA board, informed the group about the governance of Big Canoe. The topics covered included:
How Big Canoe Works
The Governance Model and Documents
Board Responsibilities and Operating Rules
The Role of the General Manager
The Mission, Vision and Values of Big Canoe
Long Range Plans
Major issues and status
There was a lot of information disseminated and all believed they had a much more informed view of this wonderful community.
Meanwhile the group in the second room was given a history of Big Canoe presentation. A video was shown that gave a detailed history of the establishment of Big Canoe as a community.  This included information beginning with the Indians and continued through Moonshiners, the Tate family, on to the present time.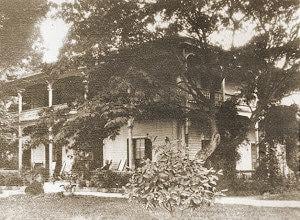 Historical community leaders such as Isaac Disharoon, Sam Tate, Steve Tate, the Cowarts, developers Tom Cousins and Bill Byrne came to life with the telling of the story of the metamorphosis of this beautiful area.  Included in the presentation was also a history of the surrounding area of Tate and Georgia marble.
Jan Murphy, an historian new to the community, then gave a presentation on the more recent history of Big Canoe.  Her focus was the development of Big Canoe as a community.  She seeks to preserve the history and photographic documentation of this era of our community..
The presenters then switched rooms and gave the lectures to the other group. This maintained proper COVID distancing while insuring that all present got the full advantage of the information being provided. 
Even with social distancing, masks, and frequent application of sanitizers, all left with a new and better appreciation of their community and how it is governed.  All believe they are ready for the next step in learning more about their volunteer community and how they can serve it.
Submitted by Leadership Big Canoe