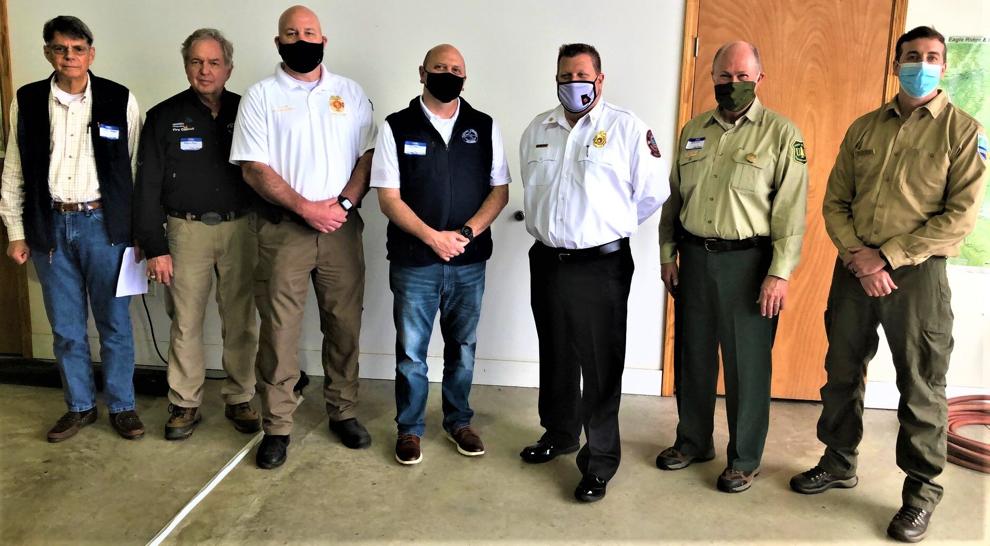 "March, April, and November typically have the highest number of wildfires in Georgia," U.S. Forest Service wildfire expert Mike Davis told attendees at the Wildcat Community, meeting in Pickens Station 10 on Saturday, March 27. Davis along with Forest Ranger Anthony English and Firewise state liaison Frank Riley presented critical information about mountain wildfires and fire prevention to representatives of mountain communities that comprise Wildcat at the 3,000-foot-high Monument Road station.  
"Stack the deck in your home's favor," Davis urged. Wildfire risk throughout the North Georgia mountains is substantial. "We're on the western side of the Appalachians," he added. The area is high and remote with difficult access—especially for fire engines maneuvering steep narrow roads—sloping land and lots of natural material for fuel. 
Create a "clean" zone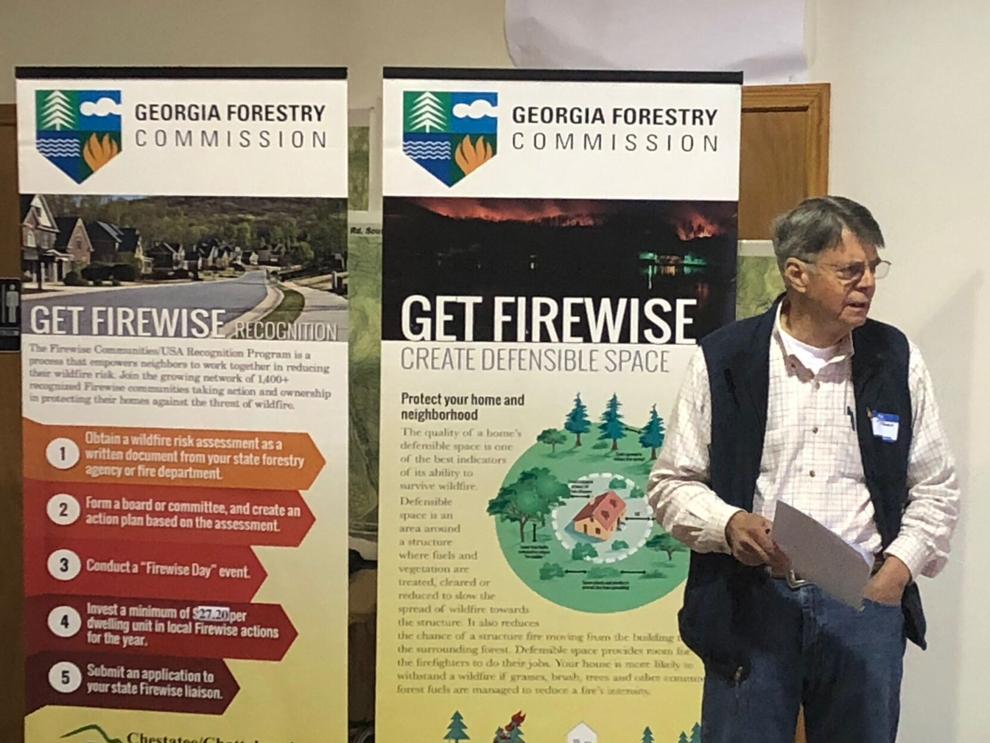 Davis stressed the proactive things homeowners can do to reduce fire dangers to their homes and emphasized the impact weather can have on fire conditions. 
"Pine straw and dead leaves are a danger," he said. "Change conditions of the house and immediate surroundings to reduce ignition likelihood." As an example, he described a house that survived a large, moving fire that destroyed surrounding homes and acres of forest thanks to the precautions taken by the homeowners. 
"Ember showers can account for most home ignitions during a wildfire," he said. "Research indicates that embers can ignite dry pine needles in as little as 9 seconds." Dried plant litter, leaves, pine needles and debris piled up around foundations and along roof gutters become fuel for ember showers. Non-combustible roofs are critical, he added.  
What should homeowners do? Davis recommends taking action within the "home ignition zone" which is the area five feet to 30 feet wide around the home. "Non-flammable green plants are fine but remove dead material from the ground, around and under shrubs by the home, get rid of dead branches and debris. 
"Install finer screening for vents and gables to prevent burning embers/material from getting inside the attic."  Unoccupied rental properties may become fuel for fires if the grounds aren't maintained, debris picked up and a clean zone maintained around the house, he added. Learn more by visiting:
https://www.nfpa.org/Public-Education/Fire-causes-and-risks/Wildfire/Preparing-homes-for-wildfire
Spring fire season is here
After this year's often wet January and February, spring can bring lower relative humidity. According to Davis, there are some concerns that the remainder of the spring and then this fall in Georgia could be dry. From May 1-Sept. 30 there is an EPD-mandated burn ban in Pickens County.
Davis said the forest department prepares a short term/long term weather outlook so everyone has an idea of likely conditions and their impact. The National Interagency Coordination Center (NICC), he said, analyzes ocean temperatures, La Nina effect and weather patterns to help predict and prepare for fire condition threats. NICC is the focal point for overseeing all interagency coordination activities throughout the United States. For more information, go to: https://www.predictiveservices.nifc.gov/outlooks/monthly_seasonal_outlook.pdf
"We observed relative humidity in the single digits in early March, those are numbers you would typically see in the Western US, that's extremely dry—we're concerned when we see 20%-30% humidity here on any given day as those conditions will dry our fuels out quickly" he added. As an example of the difference humidity can make, he shared a recent experience. "Sunday, March 7, we had a controlled burn planned north of Blairsville. We did a test but it was too dry, so we stopped. It was a windy day and we were called to assist in White County for a Mt. Yonah fire threatening homes. The fire was spreading when we came on scene, threatening several houses."
 The U.S. Forest Service and Georgia Forestry joined firefighters from White County, Cleveland, Helen as well as Lee Arrendale State Prison to fight the fire.  Twenty-five acres were destroyed but there were no injuries or homes destroyed.  
Anthony English, Ranger specialist with the Ga. Forestry Service, covered the many fire prevention and education resources available online and Frank Riley, State Firewise liaison, addressed Firewise support. 
Wildcat Community focuses on Firewise approach
The Wildcat Community Inc. is a leader in promoting the benefits of Firewise principles to reduce fire dangers and promote fire prevention principles. Wildcat Community President Clayton Preble and Vice President John Tarantino have been tireless is providing opportunities (e.g., the annual meeting and other presentations) to promote the benefits of Firewise to the greater community. 
"Georgia is fifth in the nation for its number of Firewise communities," said Riley.
Wildcat Community, Inc. is a consortium of Bent Tree, Big Canoe, Burnt Mountain Estates, Monument Falls, Sassafras Mountain Estates, Tate Mountain Estates, Tomahawk Mountain Civic Association Windsong and Wintermont Communities as well as independent property owners outside these communities. Together, Wildcat Community, Inc. includes more than 4300 hundred homes and its residents "promote awareness, improve preparedness and provide funding support for emergency management services to protect our mountain wildland environment." 
Pickens CountyFire Station 10, which serves the Wildcat communities, had 40 callouts in 2020 down from 55 in 2019; 40 % in Dawson and 60% in Pickens counties, including three search and rescue events and a risk assessment, said Preble. 
"This [Wildcat Community] is an example of what volunteers represent," said Kris Stancil, chair of the Pickens County Board of Commissioners, who attended the event.