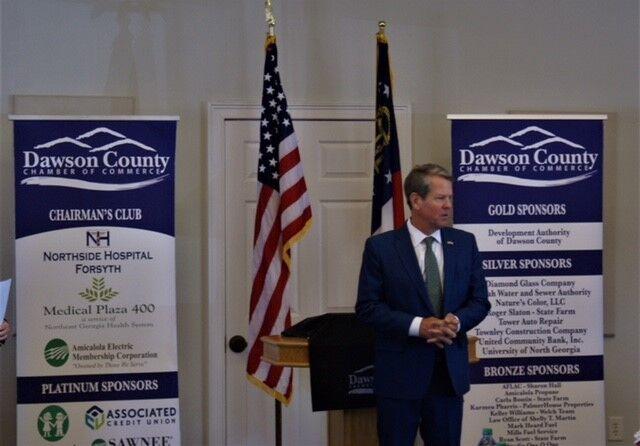 Georgia Gov. Brian Kemp made several stops throughout the state Thursday, Sept. 2 in what was described as 'a roundtable discussion with local civic and business leaders. Attendees at the Dawson County Chamber of Commerce-sponsored event included elected officials, small business owners, and Marty Kemp, first lady of Georgia.
Kemp shared his thoughts on education, the economy, unemployment, and the pandemic, calling the past year 'a wild ride'.
Education
"I'm just so appreciative of all those dealing with our kids in education right now, being so resilient having our kids back in the classroom," Kemp began. "That is absolutely where they need to be right now—in a challenging environment."
Kemp said he's working with superintendents statewide to make sure they have flexibility at the local level. "Despite what you may see in our Atlanta papers, I think things are going very well in our schools," Kemp said. "We absolutely need to have these kids in the classroom, especially after what some went through last year."
Economy
"We were one of the last states in the county to do a shelter-in-place, and we did it in a very limited way," Kemp said. "Businesses continued to operate, manufacturing and other things and we were one of the first states in the country to reopen. We've been open over a year now and we're seeing the fruits of that in our economy."
Kemp said that the state is "doing great" and is currently number one in the country for business. "We've done 379 projects in the department of economic development this year," Kemp said. "We've announced already 33,000 new jobs that are coming to Georgia, which is a five percent increase over last year, and our unemployment rate is at 3.7%, the lowest of the 10 most populous states."
Unemployment
Kemp said that it is important to get those individuals who were displaced due to the pandemic back into new jobs. "You have lots of jobs that have been displaced but there's still so many jobs out there right now so we need to implore people to get into the workforce," Kemp said.
It is important, he said, that leaders educate the next generation about different options of getting back into the workforce, including the traditional sense of going to college and going to a technical school to learn a trade. The state has been investing in workforce development programs for decades, resulting in a strong technical college system. He stressed continuing conversations with students about the "great higher education opportunities and the great technical college opportunities" so that they realize how much money can be made as a welder, metal technician, or other industries.
Pandemic
Kemp expressed his appreciation for sounding the siren at the Pool Room last year as it opened up amid the pandemic. He stressed that he encourages the COVID-19 vaccine but is not issuing any mandates anytime soon.
"I've been resistant to doing any mandates, masks, vaccines and other things, and trying to allow people to be Americans and have individual liberty and freedoms, and I think that's the way it should be," Kemp said. "These are difficult decisions and choices and I'm just encouraging people to get educated about the life-saving vaccine because it is, in my opinion, a medical miracle."
There are still hot spots of the virus and the Delta variant in parts of the state, and hospitals have seen a trend of cases going down from earlier months, Kemp said. "We're seeing some bright spots and we're cautiously optimistic. Our hospital cases in the southern part of the state have started dropping and they've seen about a 20% drop in hospitalization in the Piedmont system," Kemp told attendees. "We feel like the trend is moving in the right direction."
Hospitals that are experiencing shortages of beds for patients are due to staffing shortages, and not an influx of COVID cases, Kemp added. Georgia's 38th governor has called upon the National Guard to help augment staffing.
"We just gotta keep fighting through COVID, being smart, continuing to educate people on the vaccines, and getting  people to talk to their doctor and make good health choices for themselves," Kemp said. 
Voter Fraud
The Justice Department is suing the state of Georgia over the state's Senate Bill 202, which adds a voter ID requirement for mail-in ballots. The addition of voter ID numbers makes voting by mail more user-friendly and easier, Kemp said.
"The truth is that we are making it easier by securing ballot options," Kemp said. "We did it in a way that was secure and that's what people want."
Kemp said that the election system was set up with an arbitrary signature audit that worked well with a mere 5% of all Georgians voting absentee, but added that 35 to 40% of last year's absentee number was overloaded.
"It overloaded the county elections folks so we talked to them and said look, we're putting the voter ID requirement instead of signature match to make it more effective and secure," Kemp explained. "We've had voter ID requirement in Georgia since the mid-2000s. We've already been doing this and there's a lot of other states that do that as well."
Another voter-related issued Kemp addressed was the recount in the 2020 election, saying that going forward, future votes will be tallied non-stop until they are finished.
"We're also gonna make sure that there's continuous counting so people aren't starting and stopping during the night," Kemp explained. "And then, despite what the other side says, we've actually given the opportunity during the early voting period for people to have more access to participate in the process."