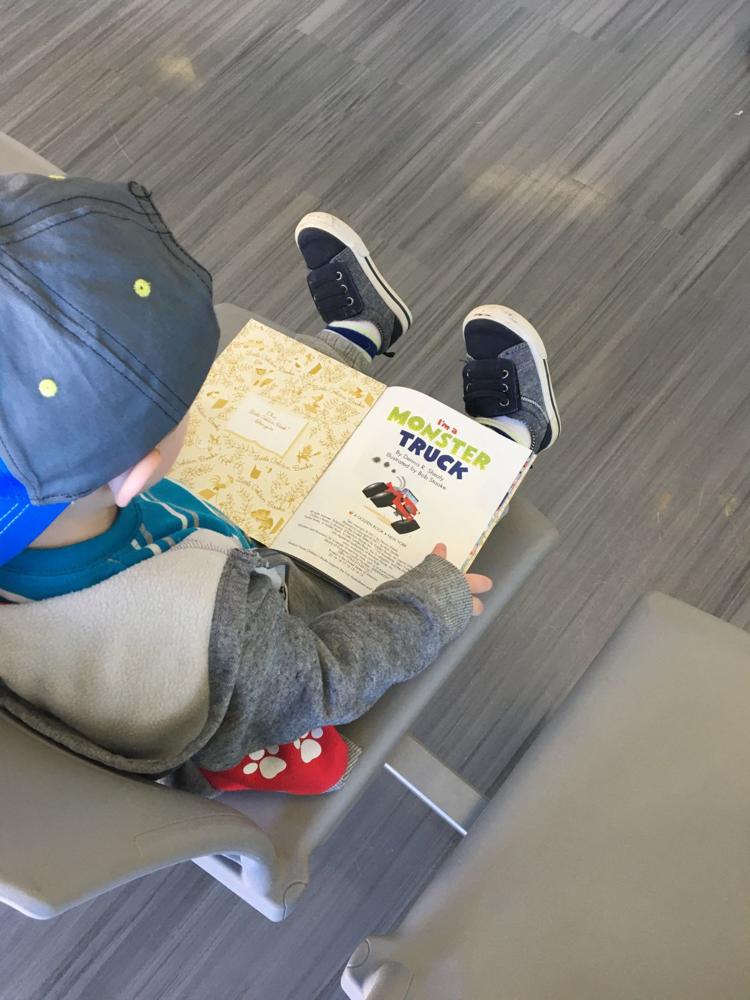 If you happen to be in the Dawson County Detention Center on a Sunday afternoon, you might wonder what the cheerfully decorated table covered with stacks of new books is all about. The books are there for the children visiting a parent who is a Dawson County inmate. Volunteers, like myself, with Isabelle's Book Club, a local nonprofit, sit at the table and strike up conversations with caregivers. We explain that the books are provided free to the children and then ask if the children may pick out a book. The reactions are relief (on the part of the caregiver because books are free) and delight (on the part of the child because they make the decision). Children are encouraged to take up to two books a visit.
It's not uncommon to have children choose books beyond their ability, but they're encouraged to take it. Volunteers believe "they'll grow into it," meaning the child will learn to read it themselves. Meanwhile family members can read it to them.
The organization has plans to grow by five jails in the state within the next year.
"I applaud the volunteers with Isabelle's Book Club for their passion, vision and desire to positively influence our most vulnerable—our children," Dawson County Sheriff Jeff Johnson said.
Holiday visits are hard
I've been volunteering with the organization since its inception in 2014. I'm often called "The book lady" and have met children whose stories are unforgettable. Sometimes I turn away, so they don't see the tears welling up in my eyes.
I remember one little boy who spied a Harry Potter book and asked if he could have it. The book was hard cover and several inches thick, and probably weighed as much as the child. I told him of course he could have it and I hoped he would enjoy reading it. He looked at me and said it was going to be a Father's Day gift for his father, who he was about to visit.
Another boy asked if he could have one and gift it to a young cousin.
What do you say to that request?
Holiday visits are the hardest on children and volunteers. I'll never forget the boy who brought his Christmas presents to the jail so his mom would watch him open them. Ever since then, I make sure there are books at the jail at Christmas.
Reprieves and academics
Isabelle's Book Club provides brand new books for the kids for two very specific reasons. First, it offers a reprieve from a life that can be chaotic, heartbreaking and uncertain. The second reason is for academics.
When a parent is arrested and in jail it means loss of income—sometimes both incomes. Necessities such as food, clothing and a place to live are top priorities. Caregivers—family members or foster care—may not be able to understand homework or have a lot of opportunity to help the child. Support through the school system is great but limited. So, academics may fall lower on the priority list.
Sometimes children dealing with parental incarceration are placed in the foster system as family members are not able to take care of them. For these children the books are significantly more important as the new book may be the child's sole possession.
Another significant reason for getting books into the hands of the young members of the community is their education.
Having the child choose the book(s) is key. If they want to read it, they will. It won't be "school" or "homework".
Statistics show that the more a child reads, the stronger their academic skills become. If a child isn't reading proficiently by third grade, there's a 20 percent chance they won't graduate high school. A child learns to read by third grade and from then on, they read to learn. If reading is a struggle, frustration builds and grades decline.
Volunteers and children
Vicki Jones is the newest member of the volunteer team. The Dawsonville resident gives of her time when she's not growing her real estate business.
"Seeing a child smile while picking out a book means so much," Jones said. "It's not only their smile in that moment, it's also knowing that they will discover new worlds through books."
Because the stigma of family incarceration can be painful for the children, volunteers are encouraged to simply smile if they encounter the children some place other than the jail. The kids sometimes don't hesitate to greet me, and one instance made me laugh.
I encountered two girls after they'd visited the jail and one said, "you're the lady from jail". Her comment drew a few looks from passersby.
The organization is a 501(c)3 as of 2014 and is run solely by volunteers. Dawson has had a program since 2016 and has provided children with almost 400 books.
"Statistics show that one in 28 children have a parent that is incarcerated. That translates roughly into one child in every classroom in the state of Georgia. Think about that the next time you attend an event at your child's school."
"Somebody I love is in jail"
Interactions with the children are delightful and often informative. Often the children will share their story or ask questions about what happens in the jail.
I met with Dawson County Sheriff Johnson and created "Somebody I Love is in Jail," a booklet designed to help address the concerns children have about a parent living behind bars. Tackling questions like "what happens if my parent gets sick?" and "what do they eat?" and explain words like "pod," "inmate" and "incarceration," among others in the booklet. The booklet is given to children and has been well-received. It has garnered high praise from judges, CASA, school social workers, DFACS and most importantly, the kids themselves.
Witnessing parental arrest is traumatic, there are medical studies that prove it. The booklet is to reassure the child that their parent is safe and has his or her needs met. It helps take one worry off the child's mind.
"I am excited to see a publication directed to helping those who otherwise may be forgotten. Often times in an arrest situation, the children are the ones most impacted with questions and uncertainty," Johnson said. "This insightful book truly illustrates and explains the where, why and how their parent is being held."
Donated books needed now
Two years ago, Barnes & Noble's The Collection designated Isabelle's Book Club a recipient of donated books during the holidays. The result was overwhelming, and the generosity of the community was just incredible. But book quantities are starting to wane as the need to increase the number of programs grow.
Currently there's a need for books for babies. Giving babies books they can literally sink their teeth into is a wonderful introduction to reading. The importance of reading to a child can't be stressed enough.
The recent visit of a grandmother and her grandson made me realize that not everyone may be able to read the book to a youngster. The little boy chose a book about Monster Trucks. The pair sat down and waited for their scheduled visit. The child—who would turn two in as many weeks—was fidgeting and not interested in his grandmother's keys. I went to them and asked if I could read the book to the child and "Nana" agreed. As I turned the pages, the little fella made all sorts of engine noises. I pointed to things on pages and he quickly told me what I was pointing to, adding animal sounds for the various animals that apparently attend monster truck shows. He learned the word "blue" that day.
Isabelle who?
One question often asked at speaking engagements and events is "who is Isabelle?" Isabelle is the aunt of the nonprofit's founder whose Christmas tradition of gifting books had a profound impact on the founder. The idea for the organization came about to advocate and bring awareness to the silent population—children of the incarcerated. Strengthening academic skills could keep children in school longer, increase graduation rates, provide greater opportunities post-graduation and break the cycle of generational crime. It just needed a name.
For more information visit the website www.isabellesbookclub.org