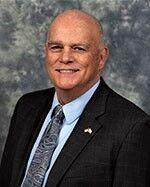 Development Authority of Dawson County continues its search for a new Director of Economic Development. 
Tony Passarello, chair of the Development Authority of Dawson County, updated county officials at the Oct. 7 voting session of the Dawson County Commissioners as to the status of replacing former Director of Economic Development Betsy McGriff who resigned in September. 
There have been a number of interviews, and several applicants ended up taking other jobs, so there was not a lot of news to report on the subject, Passarello said. 
"Dawson County Chamber of Commerce  is looking for a quality candidate," Passarello said. "We believe that quality trumps timeliness at this point." 
The Development Authority held a special called meeting Oct. 6 and on the agenda were options to find the quality candidate the Dawson County Chamber of Commerce hopes to hire. 
Chamber President and CEO Mandy Power presented Authority members with an opportunity to go with an executive search firm. Power highlighted the process of utilizing executive search firms, including meetings with stakeholders to get an idea of preferred qualifications candidates should have before the search begins. 
"The early census that is out, and I'm not sure you're all aware of this, but Dawson County is the ninth fastest growing county out of the 150 some odd counties in the State of Georgia," Passarello told officials. "That bodes well for the forethought that the commissioner had as it relates to trying to manage that growth and to also facilitate economic development." 
Passarello added he hoped to have more news for commissioners by the next quarterly update. 
In a Nov. 10 email to Smoke Signals, Power gave an update to the search. 
"We are going with the executive search offer with The Chason Group," Power said. 
The Development Authority of Dawson County members include Jere Allen, treasurer; Dennis Fedoruk; Calvin Byrd; Gary Coates, Tara Hardwick, secretary; Brian Trapnell; and Passarello.