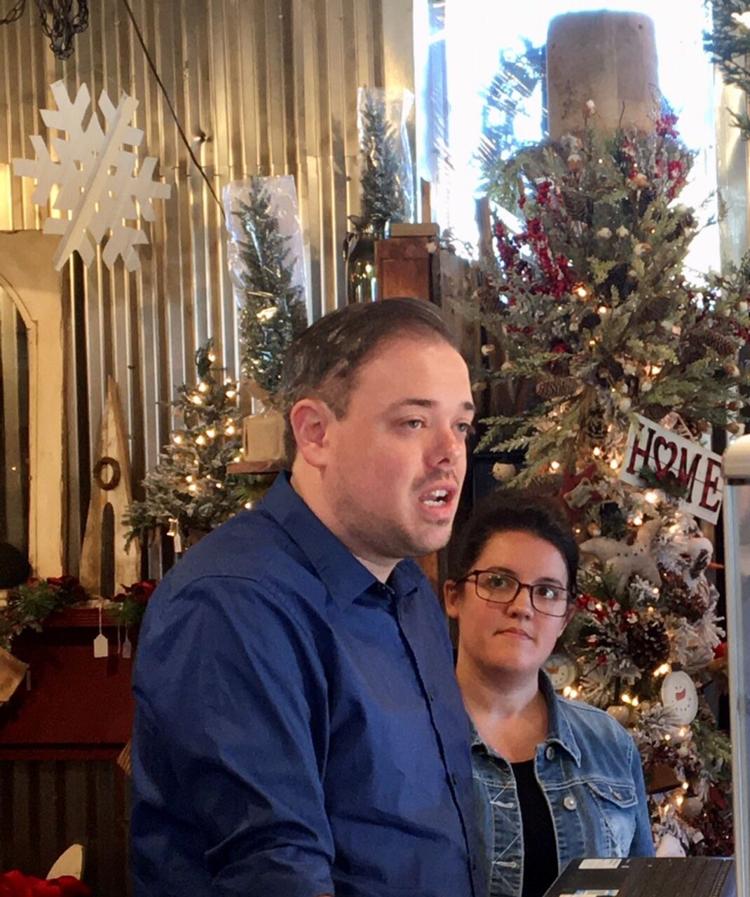 When Conyers, Ga. native Phillip Dalton moved to Dawson County, he had no idea the relocation would become a testimony of faith. Four years ago, Dalton married his wife Joy and moved to Dawsonville, her beloved hometown. The pair settled in and Phillip began looking for a little extra money. 
He approached Sandy Alexander, co-owner of Soul Sisters Antiques who hired Dalton at the store's original location on Hwy. 9, just off the Dawsonville Square. The moment he entered the building, he quickly fell in love with the store. "There was so much potential, he said. He especially loved the building's architecture and the history. "It's one of the older buildings in town," Joy added.
The 31-year old Dalton stayed on with Soul Sisters when it moved to its current location on Hwy. 53. After Soul Sisters, he went on to another local antique store, Fancy Flea. He enjoyed the antique business and remains friends with owners of both businesses.
At the first of this year, Dalton told his wife they needed to make a step of faith. "I told her I wanted to open an antique store," he explained. "I said you know that building I've always told you about, that's going to be our store."
"Phillip," she said, "we can't do that right now, you know we're not financially able."
"I said well, the Lord told me so," Dalton told his wife. "He said this is going to be your building." The building, the original home of Soul Sisters, at 85 Hwy. 9 South, was occupied, but Dalton was not deterred.  
"I called the owner and told him I was looking for a place to start my own business," Dalton shared. "I said I don't have much money to start it but if you would work with me, I said I believe I could make it happen."
The owner replied that the building was occupied currently but would soon be vacant. "He said, 'Get back with me in a few weeks and you think about if this is something you really want to do,'" Dalton continued.
A few weeks later, Dalton again reached out to the property owner and repeated his desire to use the building. "The owner said, 'I'll tell you what. We're just gonna see what happens. You sign the lease and we'll just see what happens.'"
At that point, Dalton had a dream and the faith that his dream would come true—but he did not have vendors who would sell their merchandise in Dalton's store. By the time the day rolled around to sign a lease, Dalton had eight vendors. He also had sufficient funds to cover his rent.
"You know how you have to have permits for everything?" Dalton asked. "I said 'Well God, how am I gonna do that?'" People began investing in Dalton's dream. Contributions for utility deposits, water, and permits came in. "So, everything was provided for us to open this building," Dalton said. "Can you tell me that wasn't God?" he said with a chuckle.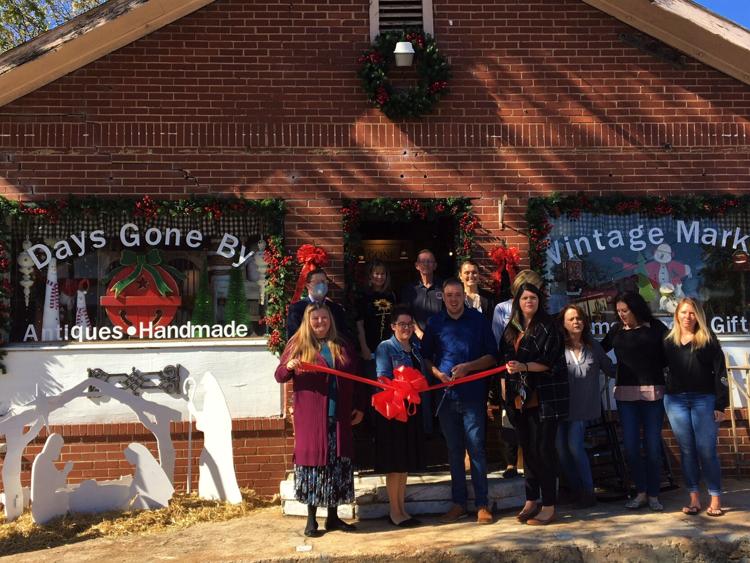 Days Gone By opened for business in February 2020 offering a unique shopping experience with vintage merchandise, antiques, handcrafted gifts and home décor in downtown Dawsonville. Before long, the pandemic hit and tested Dalton's faith.
"I said 'God how are we going to stay afloat through a pandemic. Do I need to close the doors or do I need to stay open for everyone?' " Dalton gave it two weeks—just enough time to align with CDC guidelines. Two weeks without income was going to be hard for any business but especially challenging for a brand new one.
"I was thinking and standing behind this counter and something said go live on Facebook," Dalton continued. "So, I went live and walked through the store talking about how we were going to be closed and people started asking how much is that, how much is this?" Several sales resulted from the video. Dalton went home and shared the news with Joy and told her he would do it again the next day. And he did. Merchandise sold locally and out of state.
"I said to Joy I have to figure out some shipping costs," he said with a big smile.
Dalton shared his idea with his friends at Soul Sisters, encouraging them to incorporate the concept into their business. He set them up and even helped with live sales several times. "I thank God for paving the path through this whole thing and I especially want to thank God for our vendors," a humble Dalton shared.  Joy helps out as needed and maintains a full-time job as a document control coordinator. The couple has a son, Samuel, who is almost three years old.
"I want to thank our local customers, everybody from out of state, just everyone that's been a part of helping us from day one to get to where we're at," Joy said during the November 6 ribbon cutting celebration. "We celebrate one year in February being open and we're just so grateful and thankful for everyone that has helped us get to this point."
Being able to celebrate the new business was encouraging to Dawson County Chamber of Commerce President Christie Moore, especially a new business that is thriving during a pandemic. "It's great to see a thriving local business and one who has found a way to really thrive during the pandemic," Moore said.  "We're talking about becoming the first business to be innovative and start doing sales online—but not just online website sales, but live preview sales through social media, which has really helped them through this."  
Speaking to Dalton's willingness to help others, in particular those who could be considered business competition, Moore was encouraged. "Phillip and I were talking about how if you prioritize competition you're not going to do very well as a small business, and I think that's the spirit of our Dawsonville community," Moore explained. "We want each other to do well and we like working together as businesses."
Helping other small businesses is important. We all know we're stronger together than by ourselves, Moore said. 
 "Days Gone By is a step of faith," Phillip said. "We're firm believers in God. Work hard, believe in God and that He makes ways."
The store is open Sunday 1-5, Tuesday 11-5 and 10-5 on Saturday. It is closed Monday.