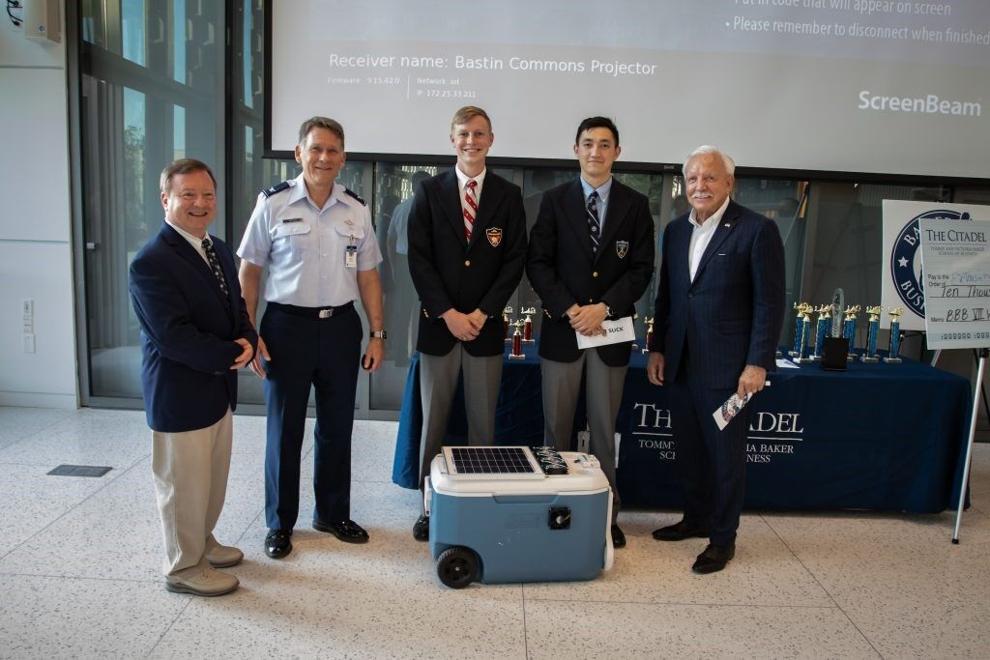 While classmates relaxed, socialized, and visited with family, Dawsonville resident Jack Zappendorf spent his semester break working feverishly on a new business venture with four teammates in hopes of winning the Baker Business Bowl VII.
A senior at The Citadel, Zappendorf was preparing for the prestigious competition with the final round held during the spring semester. The mechanical engineering major along with teammates Cade Bennett, Andrew Brabazon, Charles Marsh, and Joshua Valencia envisioned and produced Solar Suck, an "effective dehumidifier that exclusively uses solar power to lower utility prices and promote clean energy. It can also be used in survival situations, such as in a lifeboat, in order to collect water from the air to drink," according to a statement released by The Citadel.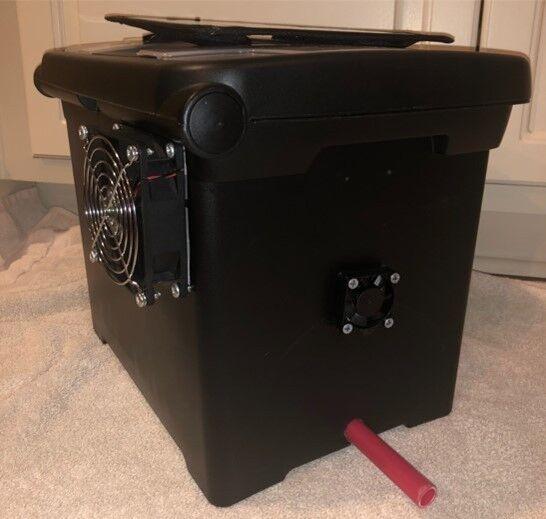 Team Solar Suck was one of nine teams that competed in the second round of the Baker Business Bowl VII in late 2020, and emerged one of five to move on in the competition. Its competitors were from various majors and the competition was streamed live on Zoom to allow for social distancing, Zach Watson, communications specialist with the Office of Communications and Marketing at The Citadel said.
The field of five finalists were given 30 minutes to present their business idea and field questions from the judges April 13.
The winning entry was Extrusionaire, a device that melts down 3D printed parts and scrap, and then reforms it back into filament to be reused by a 3D printer. Designers of the instrument explained to the judges that 3D printing creates a large amount of waste during production, and Extrusionaire provides a fully automated way to form waste or failed prints to be melted down and reformed into a spool of re-useable filament. It takes roughly five hours to melt down, reform and spool plastic products into useable 3D-printing filament. The equipment also allows used water bottles to be melted down into filament. It is the creation of a five-person team.
The first place prize is $10,000, meant to help them start their business. Team Solar Suck, the second-place team, received $5,000. The prize money is made possible by The Citadel Class of 1989.
The other teams that competed in the final round of the Baker Business Bowl VII developed products that represented a variety of industries.
A 15-member coed team designed Baja Sae, a single-seat, all-terrain sporting vehicle. Designed and constructed by the team, Baja Sae is capable of being produced on a mass scale.
Helping Hands Gaming is a one-handed Xbox gaming controller, with designs for both left- and right-handed users. It retains full functional capabilities like buttons and joysticks. The controller will include a wrist strap and the option to use with foot pedals. There were four team members.
Zip Clips was the result of a two-man team. It is an app for smart phones that takes making hair appointments to a whole new level. Similar to third party delivery apps like Uber, Lyft, and Door Dash, Zip Clips allows users to schedule a haircut. 
Baker Business Bowl
The Baker Business Bowl is a program aimed at assisting budding entrepreneurs with ideas for a new product or service, and the desire to turn that idea into a business. The competition is open to cadets, evening undergraduate students, and graduate students. It is hosted by The Citadel's Tommy and Victoria Baker School of Business.
Contestants participate in teams and compete in three rounds over the academic year. The final five teams are given the opportunity to attend a series of educational workshops on how to develop their full business plan.
The Baker Business Bowl started in 2014. This program is designed to support budding entrepreneurs who have an idea for a new product or service, and the desire to turn that idea into a business.
Zappendorf is the son of Ron and Seannie Zappendorf. He will be accepting a seven-year contract with the Army upon graduation. His brother Max is a sophomore at The Citadel. The family has lived in Dawson County for almost a decade and owns Discovery Parts, a veteran owned racing and safety equipment company located inside Atlanta Motorsports Park in Dawsonville.