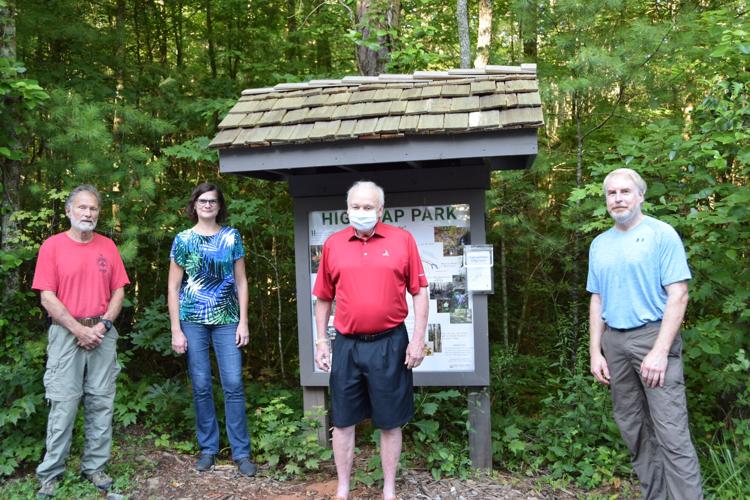 Joe Tipton, builder of the High Gap Park walking trail system in Big Canoe, is the recipient of the 2020 Big Canoe President's Award, given to the person who epitomizes volunteerism and contributes substantially to improving Big Canoe. He received 52 nominations from Big Canoe residents. On Tuesday, July 14, Big Canoe POA Board Chairman Bob Crouch made the presentation to Joe who was surprised by the presentation event at the kiosk at the High Gap Park parking lot near the entrance to the trails.
"This year was extraordinary in that more than 50 individuals nominated you Joe, recognizing your extraordinary work in designing and building the High Gap Park trail system," Crouch said in presenting the award. "You contributed more than two miles of trails, benches, tables, chairs, bird houses, bridges. You have given us 2,000 hours over a four-year period, one man-year. It was a labor of love not done for recognition, but that labor of love was recognized by the love of the property owners of the results of your labor.
"The trail system was recognized as the highest rated amenity in Big Canoe in a property owner survey. We truly appreciate all that you have done and congratulate you for your extraordinary effort and as a token of our appreciation I represent all the property owners in Big Canoe in giving you this memento."
Tipton responded that he appreciated the recognition and pointed to the voluntary efforts of many others in Big Canoe.
"Thank you so much," Tipton said. "It is such an honor to be recognized. There are so many people in Big Canoe who volunteer so many hours and so much of their time. To be recognized is so special."
Crouch said this was a particularly good year for the kind of effort Tipton exhibited.
"There were many qualified candidates submitted this year and Joe represents the best of the best. His contributions are particularly valued this year in this COVID environment as people want to get out in the fresh air and exercise."
Also present at the presentation were Clardy Schwarz and Liz Scherer, co-chairs of the Big Canoe Trails Committee.
"All these trails on the map are his doing," Scherer said. "He has turned fallen trees into benches, and bridges, tables, even dove tail joints with a chain saw."
"Trails like this are one of the very special things about Big Canoe," Schwarz said.
"In this environment [Corona virus pandemic], this and the Marina have become social centers in Big Canoe," Crouch said. "This is about as social as you can get."
"Joe received 52 nominations," Crouch said. "There were multiple excellent other candidates but it was kind of an easy decision, unlike some of the decisions we have to make," he said smiling.