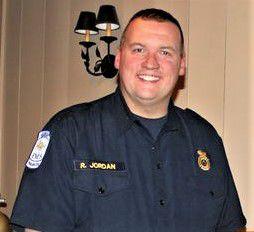 Big Canoe Fire Chief and Public Safety Director Ricky Jordan said Monday, March 16, Fire Station #3 in the Village is now closed to visitors. A person may enter the lobby and speak through the glass to the dispatcher, but no one is allowed beyond that area. He said the stakes are changing weekly. Both Pickens and Dawson counties 911 operators are asking each caller if breathing is a difficulty and a fever is present.
"Two weeks ago, they would ask if you had traveled outside the U.S., but that has been dropped from the questions asked," Jordan said. Each call is evaluated case by case. He said if a person is ill, they need to contact their health provider. Testing is for those very sick.
As for the public safety personnel in Big Canoe, all EMS and firemen have been issued masks, gowns, eyeglasses and protective suits to wear on calls. They have received extensive training in Big Canoe, Jordan said.
A Cherokee Fire Department member also, Jordan told how he had answered a medical call in Cherokee County that was suspicious for the COVID -19 virus. "As a result, I was not in quarantine but what they term 'social reclusion' in the guest bedroom of our house for nearly three days until the woman was found not to have the virus," Jordan said. Jordan has a wife and two young boys at home.
In addition to the fire station being closed, Jordan said no one is allowed in either of the gate houses. The gate attendants are wearing gloves when greeting people. When it comes to supplies, Jordan said Big Canoe as well as other emergency responding stations are in need of EMS supplies but have enough for the present time. He said the state has a stockpile that can be released when needed.
He concluded his remarks with, "Everybody is an expert but go to the CDC website for the official information."
POA Board meetings will be closed to the public but will encourage electronic access. In a statement sent to property owners, at 5 p.m. on Monday, March 16, other actions likely to take place in the near future were listed as, "gate access limited to property owners, all amenities closed, all POA buildings closed."
In regard to POA meetings, the board issued a statement urging residents to watch live-streamed meetings or videos of the meetings.
Big Canoe cancellations and area event changes announced through Tuesday, March 17
The Mt Oglethorpe Foundation cancelled the Indian Removal Memorial program and sculpture dedication previously scheduled for the weekend of March 20, 21.
Big Canoe Artist Club Spring Show set for March 27-29 was cancelled. 
Travel Club's March and April meetings, March 18 and April 22 cancelled.
UIG, Inc, has temporarily closed its office until March 27.
Potts Mountain Market will not open until further notice.
Big Canoe Chapel is closed until at least March 30, including all scheduled meetings in the Chapel buildings.  Len Walker will be sending daily messages and streaming worship services on March 22 and March 29.
Trinity Church has cancelled services until further notice. Sermons and services will be streamed.
Big Canoe POA Board meetings will be closed to the public until further notice. The meetings will be streamed and also available on video. See the POA website for more information.
April Acoustic Showcase canceled.
Ridgerunners Spring Luncheon originally scheduled for April 14, is now planned for Sept. 8.