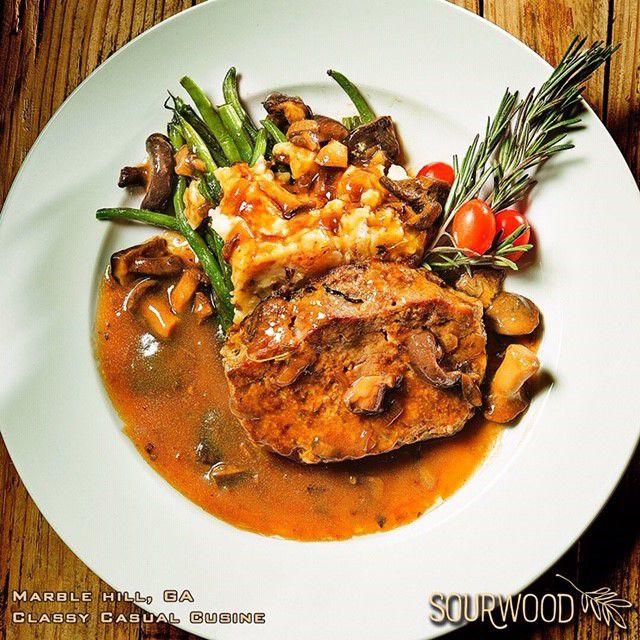 Tired of eating leftovers? Is your supply of meal prep ingredients sparse? Are you just plain tired of cooking and need a change of pace? Help—and great food choices—are available now in Big Canoe and nearby.
To help ease the stress of the CDC's "social distancing" recommendations, our finest area restaurants are offering a new option: fresh-cooked gourmet meals for pick up. Here is a list of nearby restaurants with descriptions of each pick-up service. For more information and updates, contact the restaurant of your choice directly.
The Clubhouse at Lake Sconti is offering curbside delivery service at the Black Bear Pub Tuesday through Saturday. Place your order by calling 706-268-1253 at least 30 minutes before your desired pickup time then drive to the clubhouse for free delivery to your car.
Lunch: Order beginning at 11 a.m. Choose a delivery time on the hour or half hour between noon and 3 p.m.
Dinner: Order beginning at 4 p.m. Choose a delivery time on the hour or half hour between 5 p.m. and 7 p.m. The Black Bear Pub's Curbside Menu includes all the fixings for a snack, lunch, dinner or dessert treat:
Appetizers include Bang Bang Shrimp, goat fritters, jumbo pretzel, chicken wings and chicken fingers.
Soups and salads
Pub favorites pastrami Reuben, Black Bear burger, grilled chicken, salmon BLT and fish tacos.
Entrees include grilled salmon, sage-rubbed filet, veggie pasta
Desserts include two favorites: Key Lime Pie and chocolate cheese cake.
For details go to the POA website and select from this special Curbside Delivery menu
Forno Italian Restaurant and Pizzeria
218 Foothills Parkway, Marble Hill, GA 30148
770-893-4222 • 762 448-9505
Forno, under new ownership, is extending its dine-in and pick-up menu to include home/office delivery to Big Canoe.
Menu options include salads, wings, house options—cheese calzone, panerotti and pizza roll—to 10 gourmet pizza choices and seven selections of subs and sandwiches. To order call 770 893-4222 or email fornopizzeria01@gmail.com
White Glove delivery service now available. Big Canoe resident and Forno's new owner Will Temple, announced Sunday, March 22, Forno Italian Restaurant and Pizzeria will begin a white glove delivery service to Big Canoe residences and offices effective Monday, March 23.
Forno daily delivery hours are from 11:30 a.m. until 1:30 p.m. and 5:30–7:30 p.m. To order from Forno Italian Restaurant and Pizzeria call 770-893-4222 or contact fornopizzeria01@gmail.com.
Forno's delivery service extends to deliveries from the Foothills IGA, Jasper Drug at Foothills and Park Aire Cleaners to Big Canoe homes and offices. Forno will make deliveries from any or all three businesses for only $5.
IGA. Go to www.foothillsiga.com then click on the "shop" tab. Beer and wine can be delivered, but you must show your photo ID to the Forno delivery driver at the time of delivery. IGA requires you to notify them at time of purchase that you want Forno's delivery service.
Park Aire Cleaners. Call 770 893-6104, give them your name, address, credit card information, and tell them you want delivery by Forno. The driver will also pick up your dry cleaning and return it to Park Aire Cleaners.
Jasper Drug at Foothills. Log into your account and ask for delivery service by Forno.
There is a $5 delivery charge to homes and offices or a $2 charge for delivery to either the Main or North gate. You cannot charge delivery fees to Forno, IGA, Park Aire Cleaners or Jasper Drug. All delivery fees are due to the driver upon time of delivery.
HOME Restaurant
3909 Steve Tate Hwy, Marble Hill, GA 30148
Hours are: Tuesday - Saturday 12-6:30  &  Sunday 12- 5
Phone: 770-893-3389, call or text: 770-893-7311, 678-899-1123
For menu updates, go to the Home website https://homerestaurantga.com/
In addition to regular dining as usual, Home is helping hungry families practice "social distancing" by offering a to-go-only menu called Dinner for 2.
"This menu will have comfort meals designed to feed two people and will be price friendly. This menu will not be offered in the restaurant," according to the Home Facebook page.
"Our efforts will be to provide fresh hot meals for the community and to keep steady work for our valuable employees. We will post the To Go Menu on our website as well as our Facebook page."
Interested? Just call in your order, pay with a credit card and request a specific pick-up time. Home's current menu items are also available for pick up. Home's Dinner for 2 program started March 17 and will continue until further notice.
Dinner for 2 menu items include:
Spaghetti & meatballs
Chopped beef steak, mashed potatoes, gravy
Chicken fricassee, potatoes, carrots, peas, creamy
tarragon sauce
Slow roasted pork, red potatoes, cabbage
Wood grilled vegetable pasta with pesto
Above entrees come with house or Caesar salad and bread
Grilled chicken Caesar salad
Soup and house or Caesar salad
Sourwood Restaurant and the Honey Dip Café are now open for take-out only from noon-6 p.m. Tuesday through Saturday.
60 North Gate Station, Marble Hill GA 30143
For updates and new menu items, go to Sourwood's website at www.sourwoodga.com
To place an order call 470-695-3600. If you sign up to be on the email list, Sourwood will send you updates to its two menus:
The Take-Out menu features dishes that are ready to eat or can be easily reheated.
The Cooking with Sourwood menu is a version of a "take and bake menu." These menu items will require a modicum of participation to complete the meal; proteins like fish and beef steaks continue to cook after being confined to a to-go container. "The end result is a piece of food that doesn't reflect the standards that we aspire to at Sourwood," according to the Sourwood menu. Instructions are included on how to cook the protein along with a side dish and sauce.
•Examples of a few menu items include starters, BBQ Springer Mountain Farm's Drumsticks, Sourwood Rolls, Meatballs; salads and soups; supper, Fried Chicken, Stache Burger, Mushroom Meatloaf ; sandwiches, Ham & Cheese Panini; desserts, Salted Honey Pie, Apple Crostata.
Sourwood's menu will be posted on its Instagram and Facebook pages or call 470- 695-3600
Fuego Mexican Grill and Tequila Bar and Grill
260 Foothills Parkway, Marble Hill, GA 30148
Email: info@fuegomexicangrill.net; phone 770-893-3399
Fuego Mexican Grill is still open for sit-down business and offers take out for those concerned with social distancing.
Old Mulehouse
2 North Main Street, Jasper, GA 30143
Email cheers@oldmulehouse.com; phone 706-253-3440
Old Mulehouse is still open for business but also offers an order-online menu for pick-up in about 30 minutes or for a scheduled time from its own servers s well as a delivery service through Georgia Delivers.
To order pick-up online go to https://www.toasttab.com/old-mulehouse/v3
To order and arrange delivery, go to: https://www.georgiadeliverstakeout.com/r/751/restaurants/delivery/The-Old-Mule-House-Jasper
61 Main
49 South Main Street, Jasper, GA. 30143
61 Main owners Jenna and Tadd Schreiber announced they are closing the restaurant for two weeks as of Saturday, March 21 with the current plan to reopen on Monday, April 6.
From Big Canoe's Wellness Collaborative: "While our general services are currently suspended, we have rides volunteers who are graciously offering curbside or drive-through pick-up and delivery of groceries, prescriptions and meals for Big Canoe residents who meet our relaxed eligibility criteria, and who prepay for the necessary items. Please contact the Collaborative at 706-268-3334, www.bcwell.org or info@bcwell.org for further information.
Foothills IGA

Foothills Shopping Center
70 Foothills Parkway, Marble Hill, GA 30148
Hours: Mon-Thurs: 7a.m.-9 p.m., Fri-Sat: 7a.m.-10 p.m., Sunday: 7a.m.-9 p.m.
Phone:(770) 893-1000
Website: www.foothillsiga.com
For all the great cooks in Big Canoe and neighboring areas, there's a convenient way to socially distance and still make sure you have the ingredients you need for home cooked meals as well as your household and personal items. Go to www.foothillsiga.com and click on "My Account" to begin the process of ordering directly from the store and setting a pick up time reserved for you. It's well organized, shows your entire shopping list, price of each item and the total cost. A choice of pick up times and dates allow shoppers to arrange pick-up at the most convenient time. Just call the IGA, dial 1 for customer service to let them know you've arrived. Pull up in front of the store and pop the trunk. It's that easy. You can pay with a credit card when you order or have a check ready when you arrive if you don't want to go inside the store to pay.