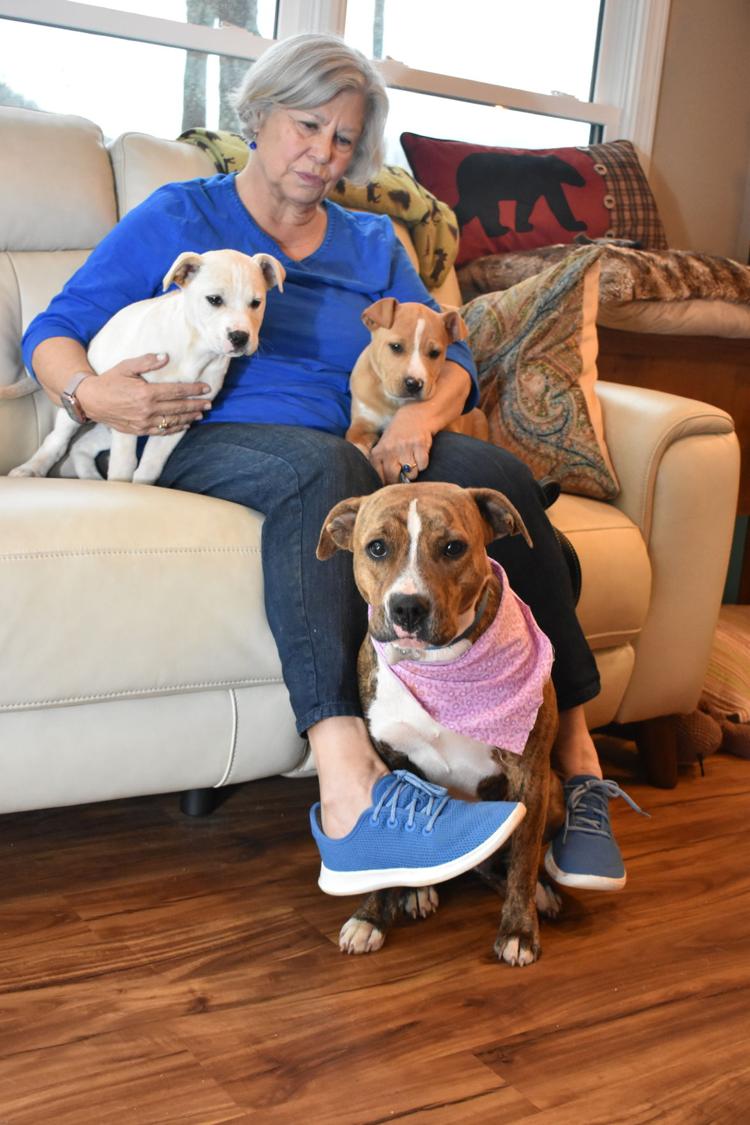 When Karen Rickards took her two dogs to meet friends at the dog park one recent Saturday, she had no idea that she would be returning with six new dogs.
A call on a friend's cell phone, while at the park, from Kristen Vanucchi was about to change her life. Kristen was traveling on Old Federal Highway in Cumming by the recycling facility when Mama and her five puppies appeared.  Kristen was on her way to an appointment but stayed with Mama and the pups until Karen arrived with crates.  A call to Forsyth County Animal Shelter confirmed it was full and could not take the dogs for a few days.  From there Karen tried Pickens Animal Control but since she had a Dawson county license plate, Pickens would not take the dogs.
Karen returned to her home in Big Canoe with her now extended family and made more phone calls.  Big Canoe Animal Rescue could not take them since they were found outside its jurisdiction.
BCAR has very strict bylaws agreements with the POA on what BCAR can do. One of the bylaws states that all animals coming into the shelter must be found in Big Canoe or the immediate area. However, the situation did warrant help from BCAR's outreach program. Karen said that BCAR has been her lifeline with a special shout out to Liz Wintter, the kennel director.
BCAR has covered food and all medical expenses.
Dr. Tomlinson at Wayside Animal Clinic put aside a chunk of time to examine all five dogs.  They are all healthy and would be ready for adoption by March 30. By then the puppies will have had their second round of shots and the time period for an owner coming forward will be up.
Karen said she is overwhelmed by the generous help from her "village."
She would like to thank Liz Wintter and BCAR; Anne Jaeckle, who fostered three puppies; Charlene Mosshart; Ursula Berl; Traci McLeod; Sherri Post; Monica Harris; Kate Critchett; Dr. Tomlinson, Wayside Animal Clinic; Kelly Ingram, Forsyth Humane Society Fur Kids; and Be-Paws We Care, Jasper.
As of this writing three of the puppies have been adopted. If the other two and Mama are not, they will be traveling to Dog Orphans in Massachusetts.  It would be wonderful if they all could stay in the area. All the pups are males.
The biggest shout out goes to Karen Rickards who unselfishly stepped up to the plate and saved the lives of five dogs. When asked where she met so many helpers she replied, "the dog park."
Thanks to this special village these dogs will enrich the lives of the people and their families who adopt them for years to come.