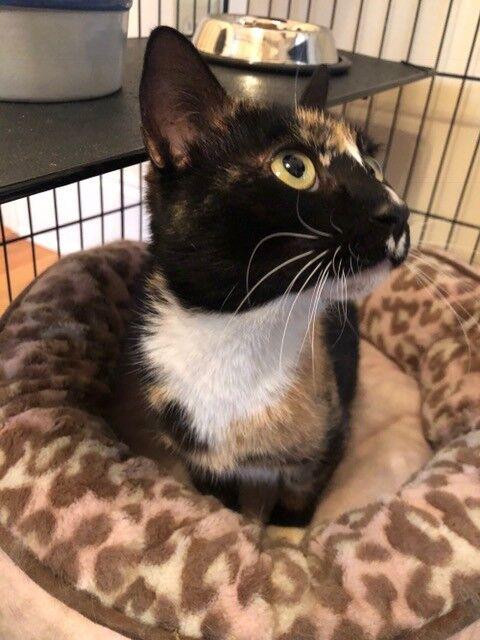 During the beautiful springs we have here in North Georgia, we all think about gardens, often visit gardens, and sometimes plant gardens. 
Carmela, a stunning bobtail calico, would be a way to bring springtime into your home, for calicos are colorful, and Carmela's sparkle will brighten your days. And what a perfect name for this gentle, sweet girl. After all, "Carmela" comes from the Hebrew word "carmel," which means "garden." And in her case, without the hay fever.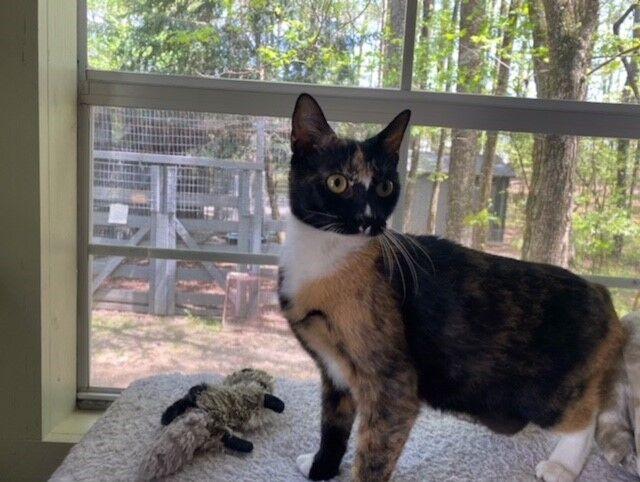 Sure, we can all afford to be light-hearted now, but just a few weeks ago Carmela seemed doomed to a life envisioned by Thomas Hobbes, "nasty, brutish, and short." Friendless, alone, and pregnant, she was taken in by a kind lady as she was about to deliver the kittens. Only one survived (the little ball of light who is now called Carmelina), and Carmela adores her. But their lucky string seemed to be shortening when her rescuer could not keep either of them. 
Before the glum Mr. Hobbes could reappear muttering "l told you so," BCAR stepped up to arrange for fostering until Carmelina was weaned. They both came to Maggie's House last week and will be available for adoption after April 26, the mother cheerful and resilient despite her considerable ordeals. Perhaps it's because she knows that her kitten will never have to face any. 
Carmela is only about a year old, if that, and likes other cats as well as people, so her list of new friends grows daily as she gets used to being petted, brushed, and cuddled. It's a pleasant occupation, or as the Gershwins noted, "nice work if you can get it, and you can get it if you try." Well, why not? 
Carmela is accepting appointments for interviews at 706-268-1346. (Here are a couple of tips for the inside track: Don't be a stranger. Carmela has never met one. And if you mention any philosophers, she's partial to John Locke. Good luck!) 
Due to the COVID-19 pandemic, we are not currently holding open house. We will arrange individual appointments for potential adopters to visit our cats and kittens. To request an appointment please call the number below and leave a message or send an email to bigcanoeanimalrescue@gmail.com. One of our volunteers will then contact you to set up a time for you to visit. 
BCAR is a 501(c)(3) nonprofit no-kill shelter for homeless dogs and cats found in the Big Canoe Community, providing them with a safe, healthy and positive environment until they are adopted into their forever loving homes.
• Call BCAR 706-268-1346
• Check out the BCAR adoption postings in the Big Canoe Postal Facility
• Go to www.bigcanoeanimalrescue.org
• Check us out on Facebook