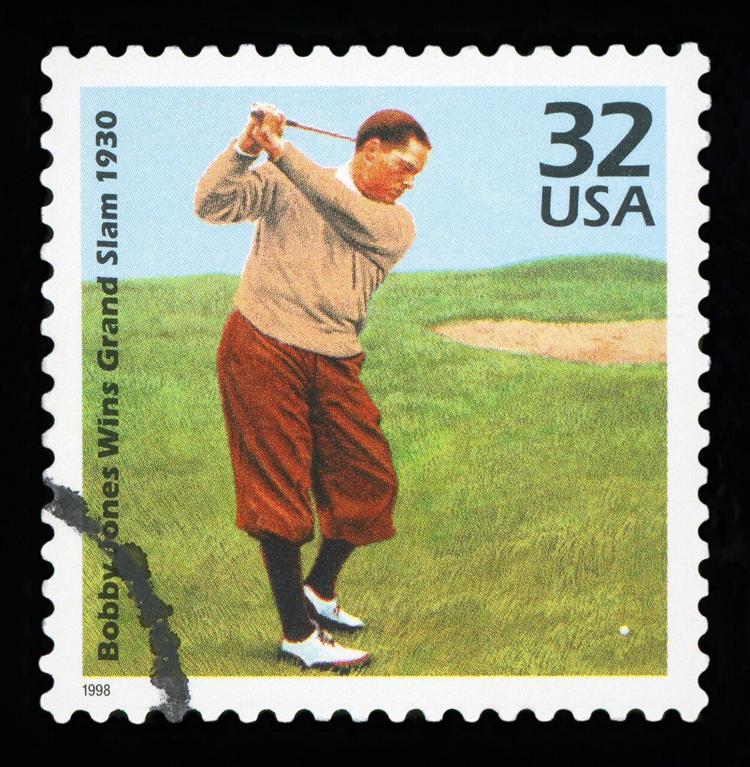 There's a wonderful, wandering connection of people and promise that lies under the historical surface of Big Canoe and its golf. You may already know some of the story, but many parts are worth noting and embracing about the serendipitous links that now exist with Big Canoe golf. 
Let's begin over 120 years ago in Atlanta: the Atlanta Athletic Club was founded in 1898, and the club purchased acreage east of the city in 1904 for the construction a golf course that they named East Lake. At the time, Bobby Jones was a two-year-old toddler in a lawyer's family that was active in the club. Young Bobby took some lessons and soon showed a real talent for the game. At 11 years old, he shot 80 on the East Lake course and soon afterward began an unmatched career as an amateur golfer. 
At 18, Bobby Jones played in his first U.S. Open. Over the course of his career, he won the U.S Open four times; The (British) Open three times; The British Amateur once; and the U.S. Amateur five times. He remained an amateur all through his career. Throughout his successes, his humility, grace, and personal integrity as a competitor set standards for the game. 
Away from the course, he also found time to earn a BS in mechanical engineering from Georgia Tech, a Bachelor's degree in English literature from Harvard, and a law degree from Emory University. He was a distinguished lawyer for a prominent Atlanta firm for many years. 
In the 1930s, he was instrumental in purchasing the land of a former nursery in Augusta, Ga., and shaping its design into a championship golf venue.  He helped to create an invitational tournament to be played each spring on the new course. The Masters and Augusta National Golf Club have become iconic universal symbols of the game. 
Jones' remarkable life included volunteering for military service in World War II, a few months after the bombing of Pearl Harbor. He was over 40 years old at the time, and he insisted that he be assigned to an active military position, not just a public relations spot away from danger. He was commissioned as a Captain in the Army Air Force, entered France at Normandy on June 7, 1944, the day after the D-Day Invasion. He was eventually promoted to Lieutenant Colonel before leaving the Army in 1945 and returning to Atlanta without fanfare. 
As Atlanta's booming growth spread outward post-World War II, the membership of the Atlanta Athletic Club also moved further from East Lake and the city limits. In the late 1960s and early '70s, the club's membership purchased land on the Chattahoochee River in north Fulton County, and a clubhouse and golf facility were constructed.  Some members maintained their loyalty to the old East Lake location and continued to enjoy the fine course there. 
However, the neighborhoods near and surrounding East Lake began to decline into a failing community. East Lake Meadows, a large low-income housing project, was constructed in the area and became a high-risk community problem. Crime and violence were commonplace; unemployment rose; school achievement declined; property values crashed.
 A familiar figure in Big Canoe's history soon entered this story. First, a bit of background: a young and very successful real estate developer was beginning to make an impact on Atlanta's urban landscape. His name was Tom Cousins. 
Cousins, along with former Georgia Governor Carl Sanders, purchased the St. Louis Hawks basketball franchise and moved the NBA team to Atlanta in 1968. His Atlanta Hawks, featuring an exciting young player named Pete Maravich, initially played their games in Georgia Tech's Alexander Memorial Coliseum because there was no other suitable arena in Atlanta. Cousins solved that problem by gaining development rights and building the Omni Coliseum in downtown Atlanta, soon following that up with the massive addition of the Georgia World Congress Center. 
Not long afterward—in 1972—staff members of Cousins Properties informed their boss about a large and attractive piece of property that was up for sale, near the mountains and miles north of the then-new I-285 Perimeter Highway. Cousins visited the 8,000-acre site, thought that it had great potential as a get-away retreat for his company's employees, and the land deal was completed. You likely know the result: "Valhalla" was soon scrapped as a name for the development, and a place called Big Canoe began. And Tom Cousins insisted that these lovely mountains (and its creatures) be protected and conserved. His guiding mantra: "Don't mess it up." 
But there's more to our links: Tom Cousins remained connected to the East Lake Golf Club and its environs. In 1995, he created the East Lake Foundation as part of a visionary plan to revitalize the neighborhood through a public/private partnership, including neighborhood engagement, all with East Lake Golf course as a central player. 
The golf course was redesigned; the massive housing project was removed and replaced with attractive individual East Lake Village home sites; a charter school with excellent facilities was created; and community golf lessons and programs were initiated for young people. 
The results have been outstanding, and Cousins' vision has become a template for communities around the country who are working to improve living standards and success rates for troubled neighborhoods. Criminal activity has dropped. Public safety issues have been resolved. High school graduation rates for the charter school are soaring, and students are headed toward college success. Property values in the East Lake area are continually rising. The golf team of the Drew Charter High School has even won the state championship of the Georgia High School Association. All of the team's members are fine golfers; all are minority students from the neighborhood who learned their games at the East Lake course. (Note: that's the same course that is now the permanent home of the annual FedEx Championship, a top goal and the richest prize on the PGA Tour.) 
Can you finish the loop? The legendary golfer and gentleman Bobby Jones to East Lake Golf Club to Tom Cousins to Big Canoe and back to Bobby Jones Links—now the management arm of our rare neighborhood—and its golf courses. Quite a legacy.