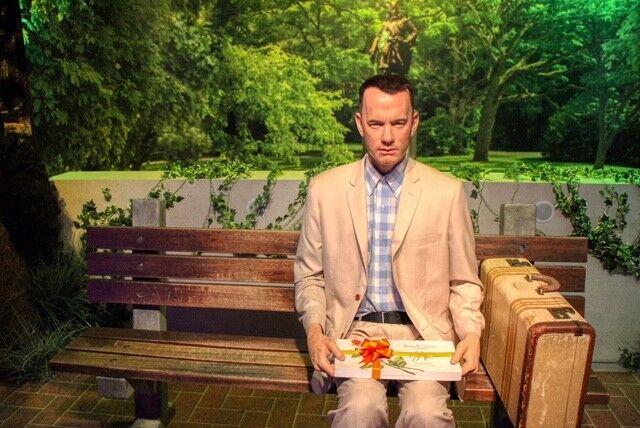 Who doesn't like a good movie? Good characters, good stories, good sentiments, beautiful settings and hunger pangs. Can a movie make you hungry? You bet it can!
My mind turned recently to food-themed movies. The numbers are astounding. Probably the most memorable is Sally's reaction to her turkey sandwich in the flick "When Harry Met Sally." Although she isn't being emotional about her lunch, people in the restaurant don't know that. The famous line from an onlooker, "I'll have what she's having," has gone down in cinematic history. So many others come to mind, it's worth a trip down Memory Lane.
There's Forrest Gump and his box-of-chocolates philosophy. If ever anyone had a life of disappointments turned to triumphs, it's Forrest Gump. He is able to face each obstacle with determination, turning adversity into sweet triumph. His bus stop conversation about the ways to serve shrimp brings a smile—fried shrimp, shrimp gumbo, shrimp kebabs, shrimp stew, coconut shrimp, shrimp scampi, his list seems to go on for a full five minutes—and made me want to rush out to the shrimp boat dock to find Bubba's Shrimp Company on my next beach trip.
Walt Disney mentions the power of food in "Lady and the Tramp," featuring a smitten Lady sharing a bowl of spaghetti with Tramp. What can be more romantic than sharing pasta in the back alley of a restaurant? The rat with the sophisticated palate in "Ratatouille" also made his mark in the realm of food cartoons as his dream of becoming a chef results in a dish of ratatouille being served at movie's end. These cinemas leave no doubt the way to a heart, be it canine or rodent, is through the stomach.
The debonair James Bond introduces the iconic request for a Vesper martini, "shaken not stirred. Just one before dinner, but make it very large." The drink acquired a new sophistication as the suave actor made that specific request at least once per movie. In addition, and depending on location, Bond's taste led to Champagne, scotch, whiskey, brandy and the Mojito, bringing huge advertising potential to the spirits industry.
In "Julie & Julia," the character Julie, so enamored with Julia Child, endeavors to replicate every one of 524 recipes from Child's Mastering the Art of French Cooking in one year. Her efforts in the kitchen lovingly depict Child's genius with great success. Her blogs about the experience resulted in a published book, not to mention her popularity when being invited to be a guest at her table.
The classic "Babette's Feast" centers on a French cook living in Jutland who uses her entire lottery winnings of 10,000 francs to produce a fabulous French meal for her staid Norwegian friends. It is a life-changing experience for the simple folks who equate enjoyment with sin and pride themselves on their abstinence from the joy of living. Her feast renews friendships, restores love and revives harmony in the community. "I made them happy," Babette concludes with great pride. She made me happy too with her unselfish desire to promote taste buds as a source of joy to her Lutheran friends in Jutland.
The Mexican movie/book "Like Water for Chocolate" reinforces the power of a cook's feelings while she prepares a meal. Each dish is connected to an event in the main character's life. Her rose petal quail provokes great sentimentality in all her guests. Her wedding cake nearly poisons everyone at the table with her infusion of bitter tears that fall into the cake batter as she cooks. Her sorrow in unrequited love leads her to consume a box of candles, sparking a fire that engulfs the entire ranch, with only the cookbook containing the recipes in the tale surviving. Here's an example of magical realism at its finest.
"Fried Green Tomatoes at the Whistlestop Cafe" proves the "best BBQ ever" has macabre origins. Watch it again if you don't remember how that dish came to pass. Barbecue may never taste the same. Another Southern favorite, "Steel Magnolias," reveals a subtle comment as a neighbor, Ouisier played by Shirley MacLaine, serves the bride's father, with whom she has been arguing, the tail end of the armadillo groom's cake at the wedding, leaving no question what Ouisier thinks of the cad.
Yes, food at the movies evokes all sorts of reactions. It can make me smile and it certainly can make me hungry. So, before I tune in Netflix tonight, I'll prepare a big bowl of popcorn—with plenty of butter—mmm.