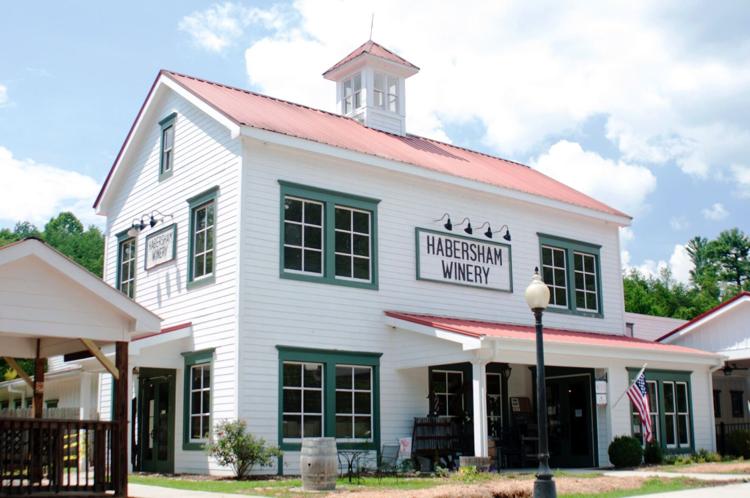 Early American wine history is best captured in the two-volume "A History of Wine in America" by Thomas Pinney, published in 1989. Pinney reminds us Leif Ericson, while sailing in 1001 A.D. from Greenland to Newfoundland, observed grapes—or perhaps cranberry plants. After Christopher Columbus reached the New World in 1492, Giovanni da Verrazzano, sailing south to north along the Atlantic Coast in 1524, observed grapes—likely native muscadines— growing naturally near what historians believe was Kitty Hawk, North Carolina. In 1564, Sir John Hawkins, sailing along the Saint John's River in what is now Florida, reached a starving colony that had produced 20 hogsheads of wine—likely from native muscadine grapes.
The distance from Maine to the southern tip in Florida is approximately 2,055 miles via roads. The East Coast wine region generally includes all states boarding the Atlantic Ocean, a 17-state collective that includes Pennsylvania and West Virginia. Georgia shares a humid, subtropical climate with South Carolina, North Carolina, Florida, Virginia, Maryland and Delaware—or parts in each. Moving north toward Maine, the climate zones change to hot summer-humid continental to warm summer-humid continental.
Growing wine grapes in northern New England presents two challenges in varietal selection: a short growing season and the need for cold-hardy plants. In Maine and Vermont, red grape Marquette and white grapes Frontenac Blanc, Frontenac Gris and La Crescent are primary. New Hampshire adds a few others. Most readers will have little experience tasting these grapes. They include white grapes Aurore, Cayuga, Diamond, Niagara, Vignoles and Seyval Blanc (10 acres of which grow in Georgia) and red grapes Noiret, Marechal Foch and Marquette. Climate conditions, to a great extent, drive grape varietal selection, particularly over 2,000-plus miles.
The East Coast is enjoying a growing renaissance in American wine production. When considering the top 10 wine states as a percentage of total output, West Coast states California and Washington lead the way. Importantly, New York, Pennsylvania, and Virginia are in the top 10. Well-known wine regions in the East include Charlottesville, Virginia, and the 30 wineries along the Monticello Wine Trail. The Finger Lakes region routinely is chosen as an exceptional wine region to visit, April to December, with Seneca, New York in easy reach of 36 wineries. Pennsylvania has 23-plus wineries along the Lake Erie Wine Trail, with a wine heritage as the largest grape-growing region east of the Rockies.
Thirty-three states within the USA share 248 approved American Viticultural Areas or AVAs. New York has 11 AVAs with one shared with Pennsylvania and Ohio. Virginia has nine with two shared with North Carolina, Tennessee and West Virginia. North Carolina has six with one shared with Georgia; Pennsylvania has five, with two shared with New Jersey and Maryland. Maryland has three, Georgia two, and Rhode Island one shared with Connecticut and Massachusetts. As we learned with the Dahlonega Plateau AVA, it takes time for a viticultural area to develop and earn AVA approval. With 26 AVAs approved, the East Coast is becoming a significant competitor in our national wine industry.
The Big Canoe Wine Group tasted 13 East Coast wines in a blind-tasting for this article. The challenge in Georgia is locating these wines. Generally, we are able through Total Wine to acquire North Carolina, Virginia, New York and other East Coast wines. The local IGA carries some North Carolina wines, along with several Georgia wines. As readers travel north along our coastal states, consider researching wineries or wine trails to visit and ask about their shipping ability. The best window, given our hot weather, is to ship wine from October to March.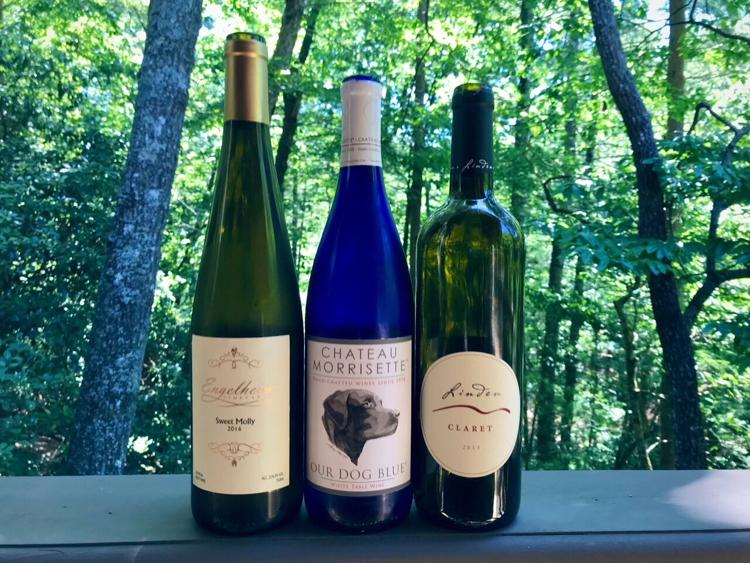 'Wines Drinking Well Now'
Chateau Morrisette NV Our Dog Blue, white blend, Blue Ridge Mountains, Virginia, $11. Chosen as the best wine among 13 blind-tasted. The real surprise is this semisweet wine is non-vintage—a light-straw color, reflective with melon, apricot and lime with some floral aroma. On the palate, semisweet, medium body, a smooth wine in the mid-palate, an easy finish retaining melon and citrus flavors. Indian and Middle Eastern cuisine for pairing along with salty foods. Check Total Wine for availability or contact the winery. A well-crafted wine from Virginia. Best Buy and Highly Recommended.
Linden 2015 Claret, Linden, Virginia, $26. A red wine blend: 46 percent cabernet sauvignon, 25 percent merlot, 16 percent petit verdot and 13 percent cabernet franc. Jim Law, owner of Linden since 1983, has long served the Virginia wine industry and has been invaluable to its growth. I was delighted to spend part of one afternoon talking with Jim. This excellent Claret is dark-red with slight purple hues on the rim. Blackberry, plum and cherry dominate the aromas. Medium body, a balanced smooth red blend with pleasant blackberry, black cherry and plum flavors on the palate. A medium to long finish with fruit dominating makes this wine excellent. Braised or grilled beef and lamb are good food pairings.  Highly Recommended.
Engelheim Vineyards 2016 Sweet Molly Gilmer County, Georgia, $23. A sweet white featuring the traminette grape. Light-straw color with honey, lemon, mango and apricot aromas. A semisweet, medium-body white wine, smooth mouthfeel with honey and citrus dominating the palate. A medium to long finish and easy drinker. A well-crafted Traminette, the grape is an American hybrid from the University of Illinois. Won the 2018 Wine of the Year in Georgia in its class. Pairs well with Thai curry dishes, seafood, oysters, roasted meats and Portobello mushrooms. Check IGA or the winery for availability. Highly Recommended.
 'Drink What You Like'
My next article will focus on red wines from Argentina and Chile.
Writer's note: The Wine Highway will occur from Aug. 1-31. Twenty-four wineries are included this year. The one-time cost is $50, which includes a glass and passport guide with four pours per location. See www.georgiawineproducers.org/new/9025034 for a link to participating wineries, along with additional tasting rooms supporting the highway. Check each winery for operational hours.   
On the matter of wine and spirit tariffs enforced since last year, all tariffs are 25 percent and apply to the whole EU except where otherwise specified: single-malt whiskeys from Scotland and Ireland; dairy products, including butter and yogurt; cheeses, including Parmesan; olives and olive oil from France, Germany, Spain and the U.K.; and wine from France, Germany, Spain and the U.K., 14 percent alcohol or less. On July 10, the U.S. Trade Representative (USTR) changed the tariff to allow French sparkling wine and cheese to enter the United States duty free. This was an unexpected victory.
Wayne Crawford is the author of "Georgia Vineyards and Wineries—A Historical Guide to Georgia Wines" (www.wayneonwine.com), and is a French Wine Scholar, a Certified Specialist of Wine and holds a Wine Scholar Master Certificate in Champagne.