Ridgerunners' Big Canoe Woman of the Year
Plans have been put in place for Ridgerunners to open the 2020/21 year on Tuesday, Oct. 13. As part of the organization's objective to recognize women who have made significant local contributions, the Ridgerunners' Big Canoe Woman of the Year will be announced. Past recipients of the award will be acknowledged and the 2020-2021 board will be introduced. Additionally, we will recognize our co-presidents for the 2019-2020 season. All of this will be in addition to our planned presentation by local wine historian Wayne Crawford. Starting with this October meeting all presentations will be videotaped for viewing online. Going forward, be it for travel, other commitments or health concerns, you will never have to miss any of Ridgerunners' informative presentations.
Wayne Crawford discusses Georgia's wine history
A resident and POA board member, Crawford will speak on the history of wine in Georgia as he takes us around the state to "sample" some of his favorites. Today, Georgia proudly boasts over 70 vineyards cultivating approximately 74 grape varietals. Crawford, author and senior judge of the Georgia Wine Challenge, will take us back to the 1733 arrival of the grape on the shores of Georgia and the initial planting of a few precious vines by James Oglethorpe. The allure and romance of the grape has attracted vintners throughout Georgia's history. Crawford will detail the varied character of our state's regions and, hopefully, share the names of some of his favorite wines. Lunch will follow the presentation and distancing guidelines will be observed. Visit the website at www.bigcanoerr.com for up-to-date details.
Programs for 2020-2021
Mark your calendars for the second Tuesday of the month, when Ridgerunners has some excellent presentations and events planned. On Nov. 10, we will hear from Roger Tutterow about the unforeseen impact of COVID-19 on our economy. A holiday gathering in celebration of the season is planned for Dec. 8. The new year will begin Jan. 12, with Jan Murphy, another Big Canoe resident, recounting the history of our beloved Big Canoe, once the home of Native Americans. On Feb. 9, we will hear about the rapidly changing world of technology and how it is likely to impact our daily lives. The Booth Western Art Museum will be the focus of our March 9 program. Seth Hopkins, the executive director, will discuss not just the Western art they are known for, but also Booth's extensive exhibition devoted to past presidents. The year will conclude with a gathering on April 13, bringing members together for a fun time with fellow Ridgerunners.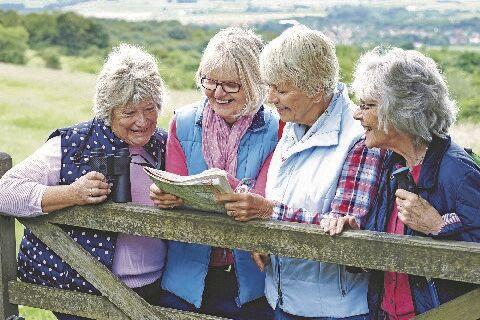 Become a Member
Don't miss the opportunity to enjoy engaging and educational monthly presentations (either alongside fellow Ridgerunners or online). Trips will take place during the year and, of course, you will not want to miss the festive special events for the Christmas holiday and the close of the Ridgerunners' year in April. Book clubs and both party and duplicate bridge groups are other popular activities open to all Ridgerunners. Membership began in May, so now is the perfect time to sign up at www.bigcanoerr.com. The yearly fee of $18 entitles members to attend the monthly presentations (or view them online), as well as access to all special events and trips. Check your alpha box and the Ridgerunners' display at the postal facility in August for more information on the 2020/21 schedule. Members of Ridgerunners who elected to continue their membership have been billed by the POA. Alternately, sign-up and payment are available online by lot number or by check. Residents also can sign up and pay at any monthly meeting.
We look forward to seeing you in October.
Ridgerunners is Big Canoe's largest women's social and educational organization. All women residents of Big Canoe over the age of 21 are invited to join. To become a member, visit www.bigcanoerr.com. Ridgerunners' events are open exclusively to members.