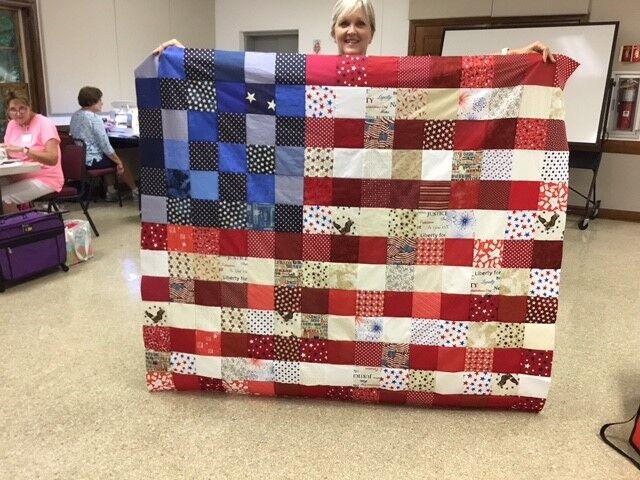 The August Pine Needle Quilters meeting brought members and their sewing machines out for a day dedicated to our veterans. Machines buzzed as many members enjoyed sewing the kits prepared by Christine Twiss and Randy Case. Red, white and blue fabric on every table was skillfully pieced together to produce the tops to be quilted and bound into blankets given to a deserving veteran.
It is an honor for our guild to be able to make and give quilts to those who have served our country. We hope in some small way they will know the gratitude we sew into these quilts. Our guild is also very proud of the dedication of Christine and Randy to this worthy cause.
August also brought the Art Festival @ The Terraces, where the guild set up shop to sell the wonderful items our members have been working on for a year. During that time, we have held workshops, Sew&Sews and get-togethers at homes to prepare kits and sew the many projects offered for sale. Our guild is a congregation of wonderful talent, and it is encouraging to see the giving spirit that prevails there.
Guild members put in hours of work and had some fun along the way as we constructed quilts, table runners, bowl koozies, ornaments, bags and other projects. The money raised will help the guild make quilts for several area charities and also bring in outside talent to increase our quilting skills.
Our new board was elected this month, to be installed in December: President, Kate Smith; Vice President of Events, Margie Parr: Vice President of Programs, Christine Twiss; Secretary, Lynn Downie; Treasurer, Gayle Falinski; and Parliamentarian, Barb Fraser.