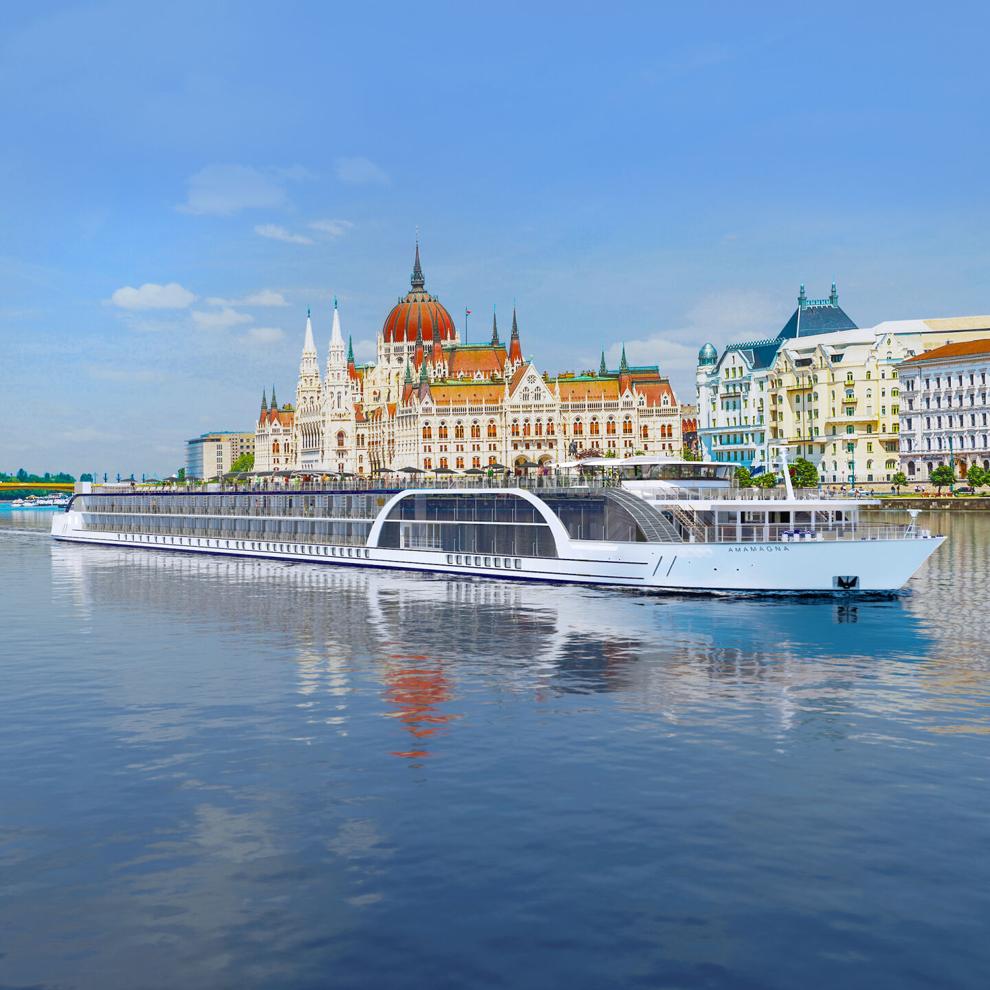 The Big Canoe Travel Club has earned a bit of international recognition. At the first in-person meeting in over a year, Mike Ziegenbalg and Kathy Brock, business development manager for AmaWaterways, surprised members with a video recorded by Kristin Karst, cofounder and executive vice president of family-owned AmaWaterways. Founded in 2002, Kristin explained the Ama in the name means "love," and her final statement in the five-minute video was "Big Canoe Travel Club, welcome to our family."
Brock explained Ama runs river trips through 15 countries, and, in Europe, it cruises from the origin of the Rhine River in the Alps through six rivers to the North Sea. She pointed out oceans take you to countries but only rivers take you through them. You can walk off the ship right into the center of the most idyllic villages and some of the most spectacular capital cities in Europe, Africa and Asia.
The average European river ship accommodates 156-162 passengers and is 38 feet wide and 443 feet long with 81 staterooms. Ama's new, one-of-a-kind ship, AmaMagna, designed by Ama President and Kristin's husband Rudi Schreiner, is 72 feet wide, 443 feet long with 98 staterooms accommodating 196 passengers. In addition to ultra-spacious suites and staterooms, the AmaMagna features five bars; four dining venues; a sun deck with a large heated pool, whirlpool, sky bar and barbecue; walking track; and an expansive Wellness Studio/Spa. Rudi boasted the company carries no debt on any ship so he—and his guests—can sleep at night.
With a hopefully post-COVID-19 world opening, the travel industry, and particularly cruise businesses, are booming, and ships are being booked well into 2023. In fact, Brock reported all Ama Rhine cruises are sold out for 2021-22. She noted the immensely popular Christmas Market cruises that open in early November are filling quickly, so hurry!
As for rescheduled and newly scheduled group trips sponsored by Dream Vacations, Mike summarized: The "Secrets of Egypt and the Nile River" trip on the AmaDalia is still scheduled for November and is fully booked; a seven-day trip to the "Northwest Wine Country with Highlights of the Columbia and Snake Rivers" is scheduled for May 2022, and has space available; the 17-day "Majestic Princess Best Alaska Cruise Tour," after being rescheduled three times, is scheduled for August 10-27, 2022; and a specially discounted Ama trip to Provence, France is slated for 2023.