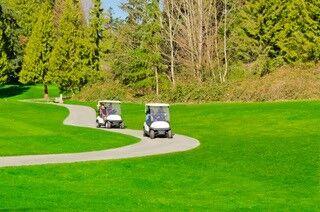 Taking a stroll on Big Canoe's beautiful golf courses has been an enjoyable activity for many as COVID-19 took hold. Whether social distancing with a friend or walking alone, the rolling courses are a delight to explore.
Creek 9 will officially close to all pedestrian traffic as Sanders Construction mobilizes its equipment and begins the course rejuvenation process. Due to hazardous conditions, pedestrians are not permitted on Creek 9 until completion.
Pedestrians will be permitted to walk the open courses based on the limited schedule below. Golfers have the right-of-way, please be cognizant as you enjoy the views.
Permitted walking hours on the Golf Course cart paths:
- Dawn to 10 a.m. each morning on the turn side.
-  5 p.m. to dusk each evening on the turn side (will move to later times as days get longer).
For the latest walking information, check (@golfcourse27), insidethegates.org, the daily tee sheet (bigcanoepoa.org) or call the Golf Shop, 706-268-3323.
Information submitted by Golf Shop