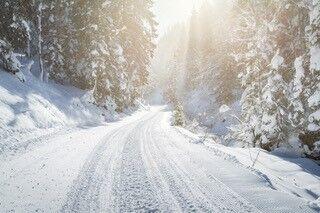 If you've ever tried to conquer one of our mountain roads during a winter weather event—that would be snow and ice, it's tough going until Big Canoe's Public Works Department coats the steep and winding roads with brine.
Brine is a mixture of calcium chloride and water which Big Canoe purchases from Pickens County. The tank at Public Works holds 4,700 gallons of brine. It takes 1,600 gallons to apply one lane on a main road. Brine lowers the freezing temperature so snow/ice doesn't bond to the road surface, allowing it to be scraped off much faster.
The mixture must be 23% calcium chloride for it to work. Pickens County has a mixing machine that takes care of this.
It takes two Public Works employees in eight-hour shifts to brine the entire community.
The road must be dry when the mixture is applied, and it should dry on the road surface for the best result. This means the department often applies brine the day before a big storm is forecast. Even if it rains, the solution can still be effective.
Always be mindful that conditions are often treacherous, even with treated roads. Drive slowly and be safe.