Prior Smoke Signals articles covered Big Canoe model train layouts located in basements or a room above the garage.   But did you know that Wildcat resident John Herzler has operated a backyard Garden railroad in his back yard for the past 18 years? "I believe that this is the only outdoor railroad in Big Canoe. It resides on a plot approximately 25 by 150 feet and includes two lakes, two operating waterfalls, 600 feet of stainless-steel track and thirteen turnouts", said John.  Garden railroads are also known as G-Scale, which is based on a 1/22.5 scale.
John started out with trains over thirty years ago when his children and grandchildren were growing up. "Our previous residence included a train room which was covered with an N-Scale (1/150) model railroad," stated John. When John and his wife Ruth moved to Big Canoe in 2003 it was time to downsize, resulting in no additional room for a model railroad.  "Another factor that led to the decision to move up to G-Scale was aging vision," according to John. "My prior N-Scale layout started with an unused ping pong table in the basement, while a somewhat leveled and partially landscaped backyard served as the new 'ping pong table' for the Garden railroad," he added. "We had always wanted an in ground jacuzzi that featured a waterfall, and this quickly became the focal point for the 'Cherokee Short Line Railroad', which is a mythical branch of the Georgia Central Railroad," said John. 
The layout has evolved over the past eighteen years. "I had no formal track plan or no specific time era when I started. Villages and buildings were centered roughly around lifetime events and experiences," stated John. Like many neighbors, when they relocated to Big Canoe, John gladly left the lawnmower behind, swearing off yard work forever. Now there isn't day that goes by when he's not 'workin' on the railroad.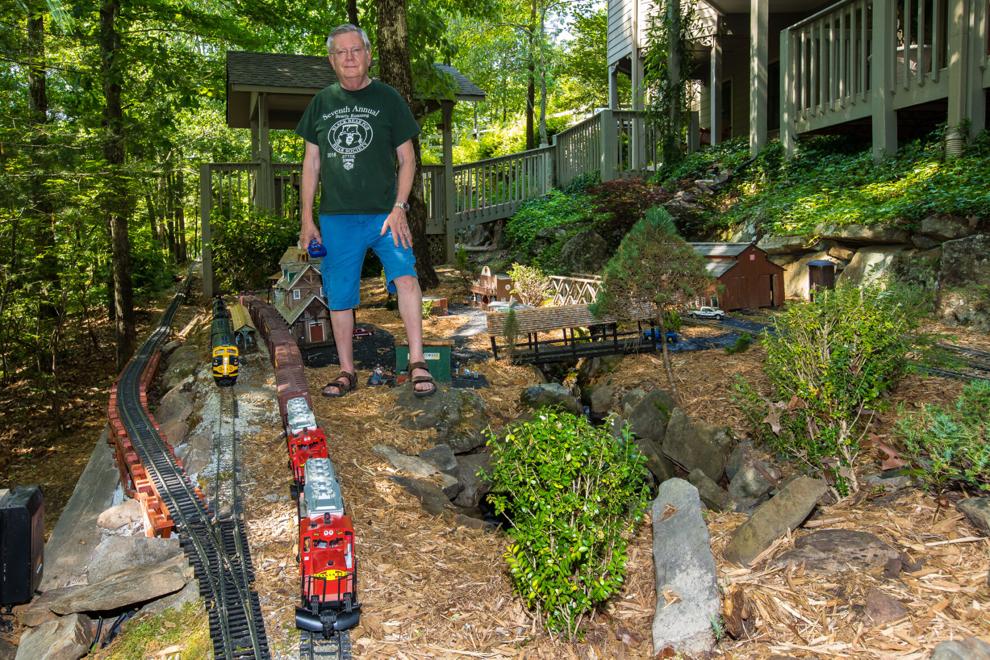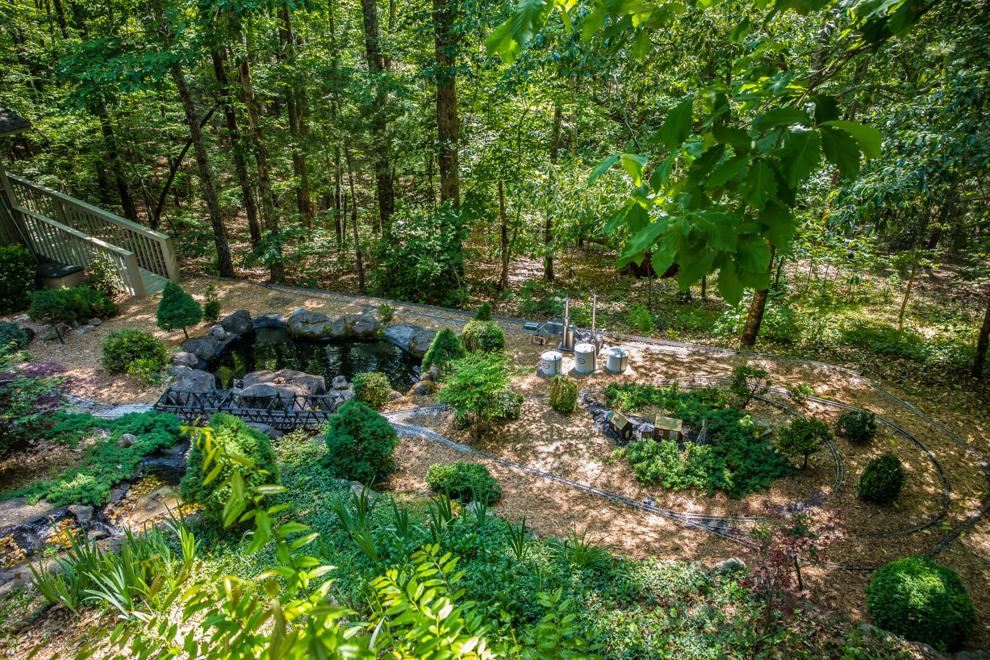 "Lake Ruth, a former jacuzzi and waterfall, is named after my wife Ruth," commented John. "We originally had the jacuzzi installed for our enjoyment but found the outdoor location too inconvenient for everyday use, so we turned it into Lake Ruth," observed John.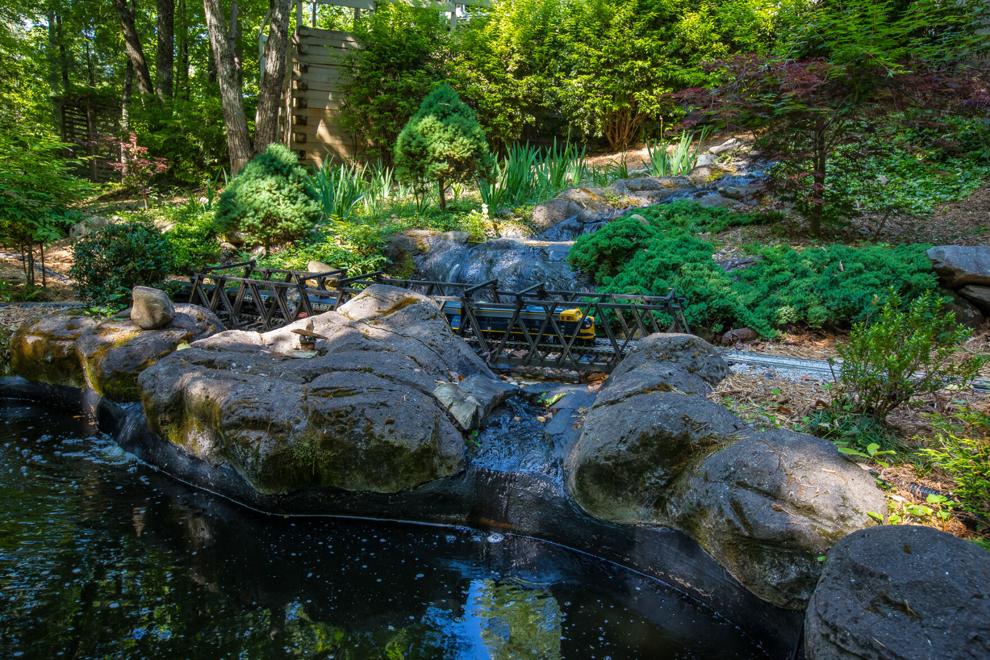 The village of Lake Ruth, located adjacent to the lake, has a small gathering of buildings that support the railroad. The blue and gold Santa Fe diesel engine pulls several oil tank cars through the center of the village.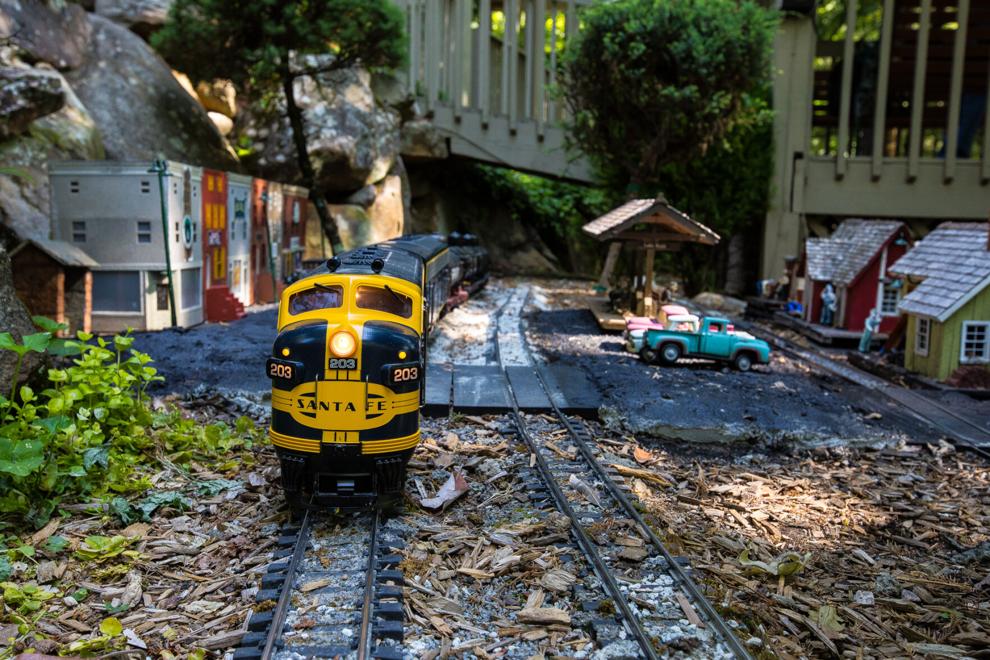 A passenger shelter is located between the two tracks, with passengers waiting for the next passenger train to arrive in town.  The red Lake Ruth depot sits in the middle of the buildings on the left, with a small freight platform beside it. Behind the depot a farmer operates a vegetable stand with the town church in the background.  "Our older residents will recognize the 1960's era VW van parked in front of the church," said John.   There are several vintage cars and pickups located throughout the layout.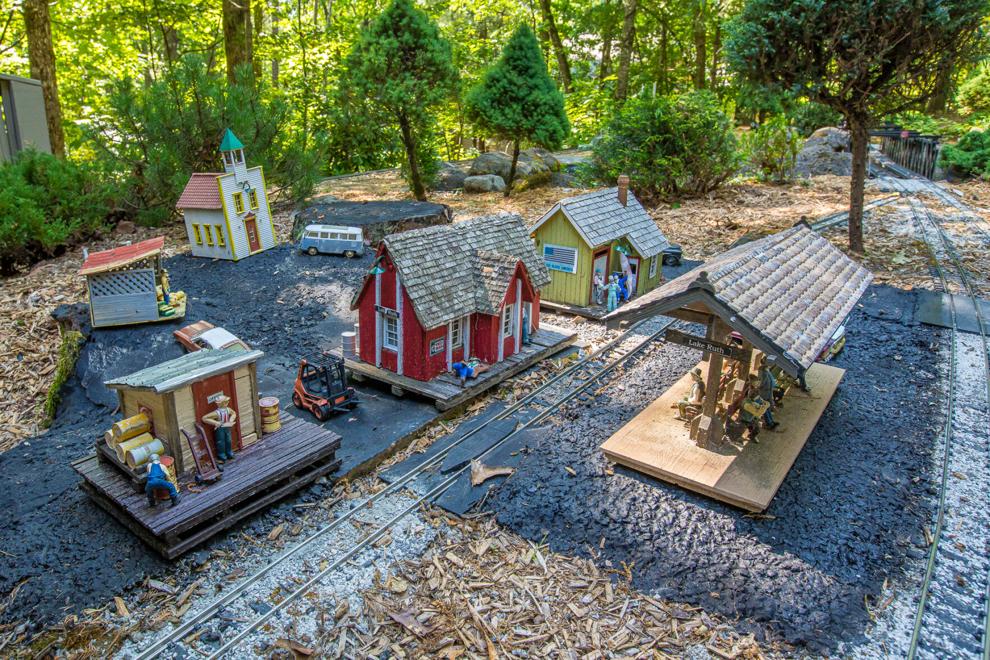 "There are various buildings on the 'other side of the tracks' in the village, which is the seedier part of town. There is one known brothel as well as the law firm of Dewey, Cheatum and How. The law firm boasts the most expensive car on the layout, a Rolls Royce of course," said John.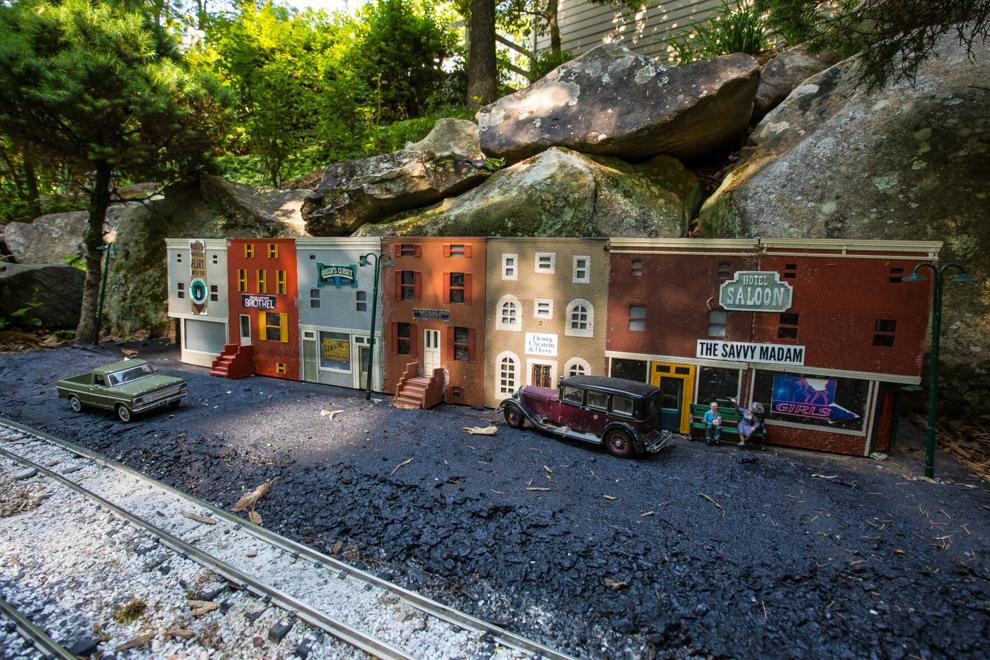 As the train passes through Lake Ruth headed south it passes an automotive repair shop and gas station, R.S. Motorwerks. "I named it after my son's business in Sandy Springs and it features an old AMC Gremlin that is about to be torn apart by a couple of welders," said John. "A Gremlin was our second car, and given our memories of it, the end seems fitting," added John.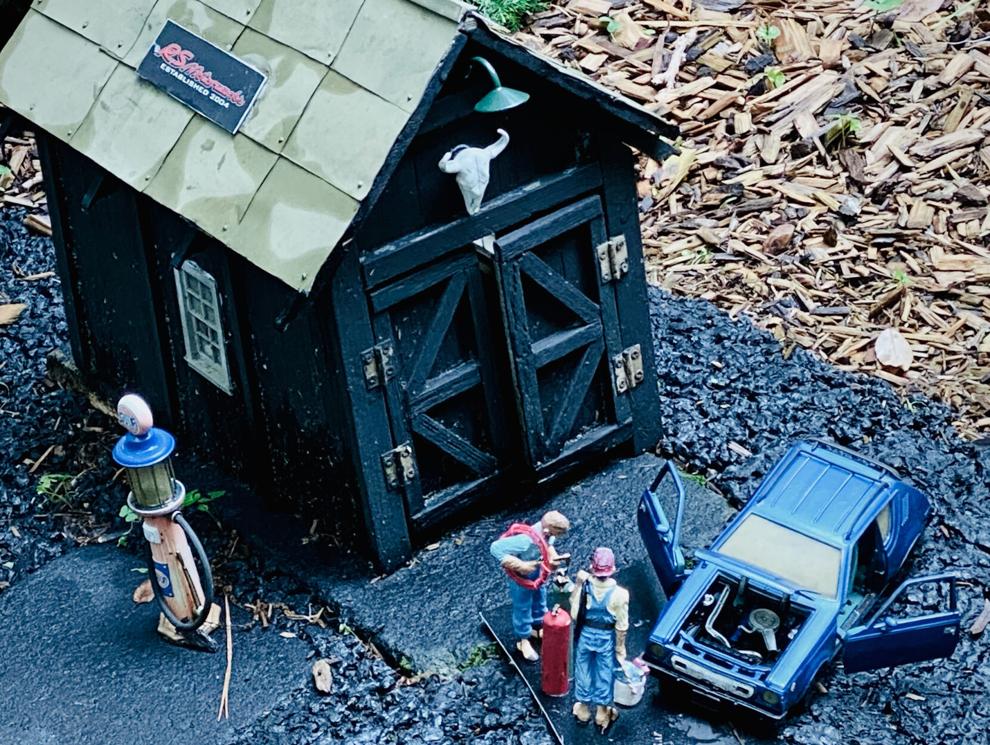 The track turns around south of the repair shop to head back north, and then can loop back to Lake Ruth or take the outside loop to pass by an Exxon refinery, fuel storage area and fueling station for the engines.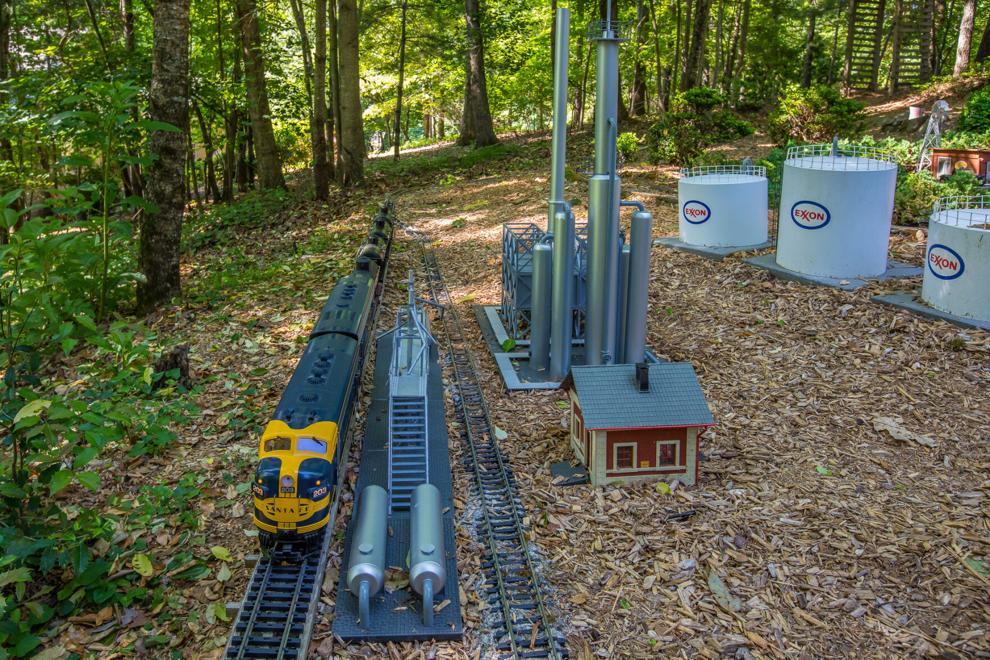 This south and north sides of the layout are separated by a central operating and viewing platform named "Jessica Junction" in memory of their youngest daughter who passed away several years ago.
On the north side of the layout sits the village of Johnstown.  The first building on the edge of Johnstown is the BB&T bank building. "I just finished repairing the cedar shake roof on the bank.  Repair and maintenance due to weather is one downside of having a Garden railroad as opposed to my former N-Scale railroad," commented John.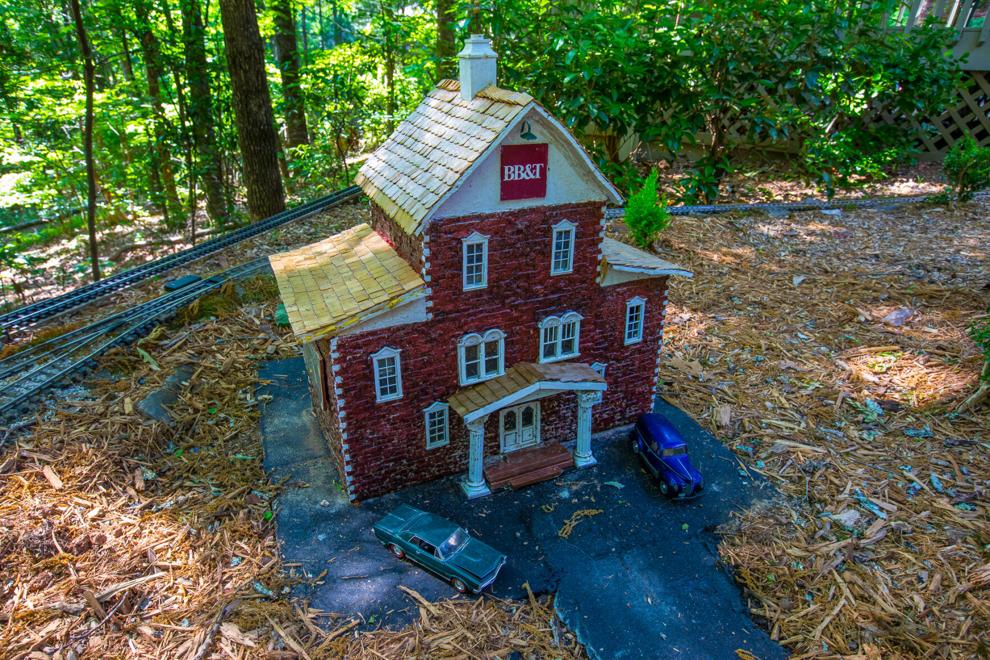 The Santa Fe diesel engine passes by the BB&T bank and the train depot as it approaches the freight train powered by two diesel engines.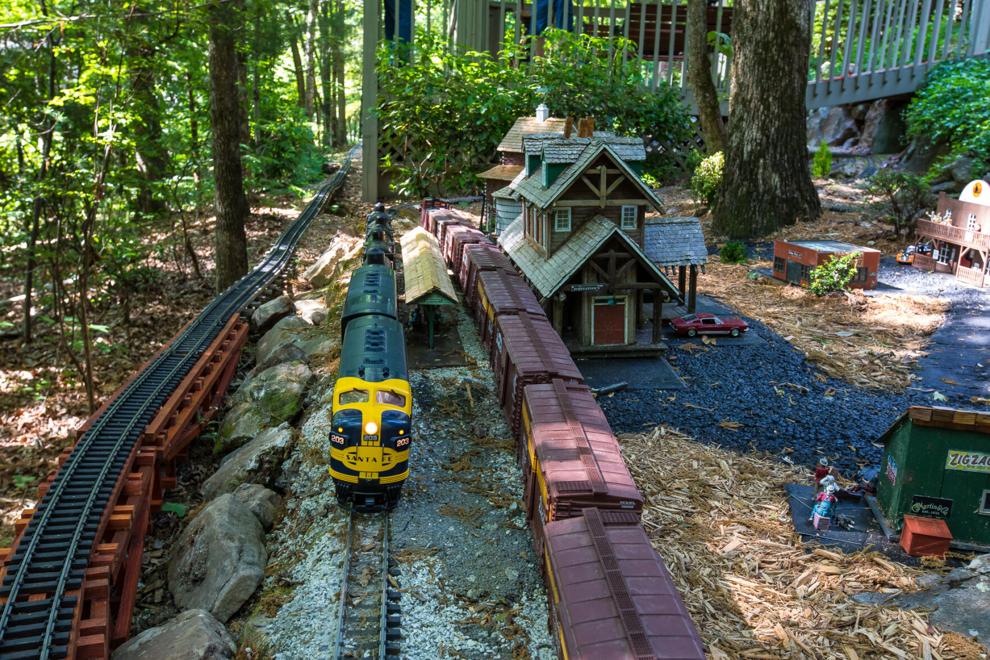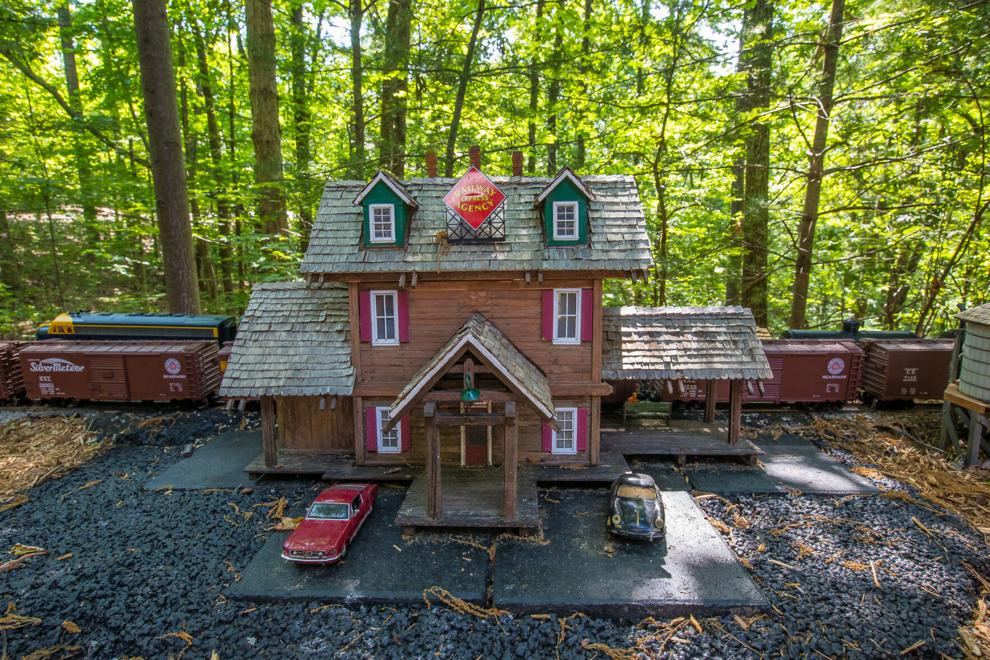 One of the buildings houses what is believed to be the only retail outlet for Clinchfield Instruments. "Because of my involvement with the Acoustic Showcase, I wanted to recognize neighbor Frank Brewer, who builds custom guitars, and the many Showcase participants I've met over the years," said John. There are three folks pickin' and grinning on one side of the building and two gentlemen "busking" for food on the other side.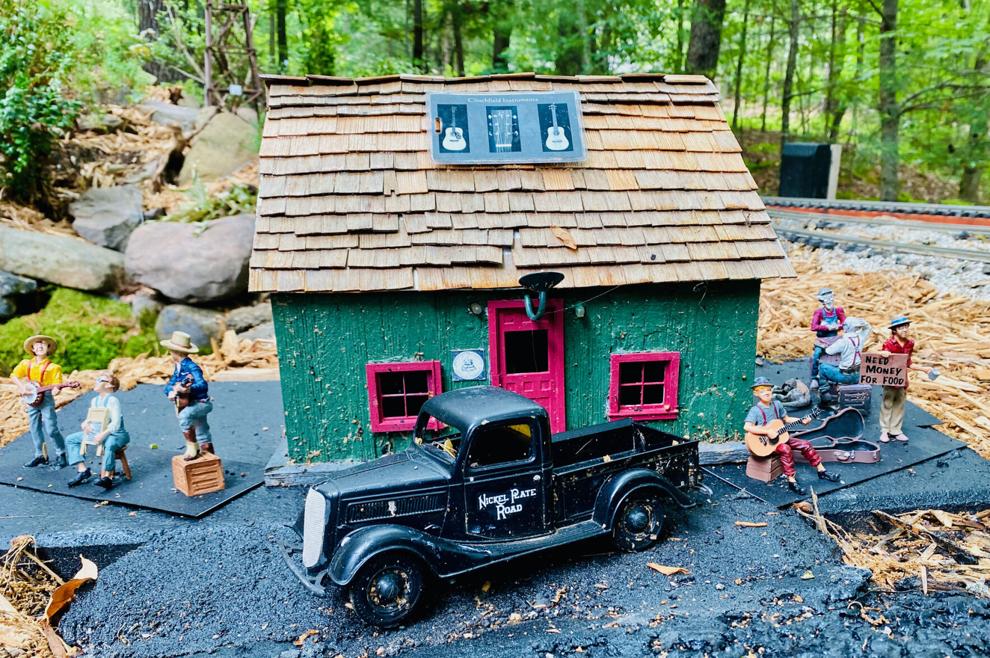 Another focal point is the 'Tonkin Gulf Yacht Club' with its local franchise, 'The Red Dog Saloon'. "Anyone who was attached to the Seventh Fleet from 1968-1975 was automatically a member of the Tonkin Gulf Yacht Club," John stated. "The Red Dog Saloon refers to the alternative BOQ in Da Nang. It was a plywood shack loaded with beer and all the graffiti of the western world on its walls. I recall spending one night there in transit between the north and south," added John.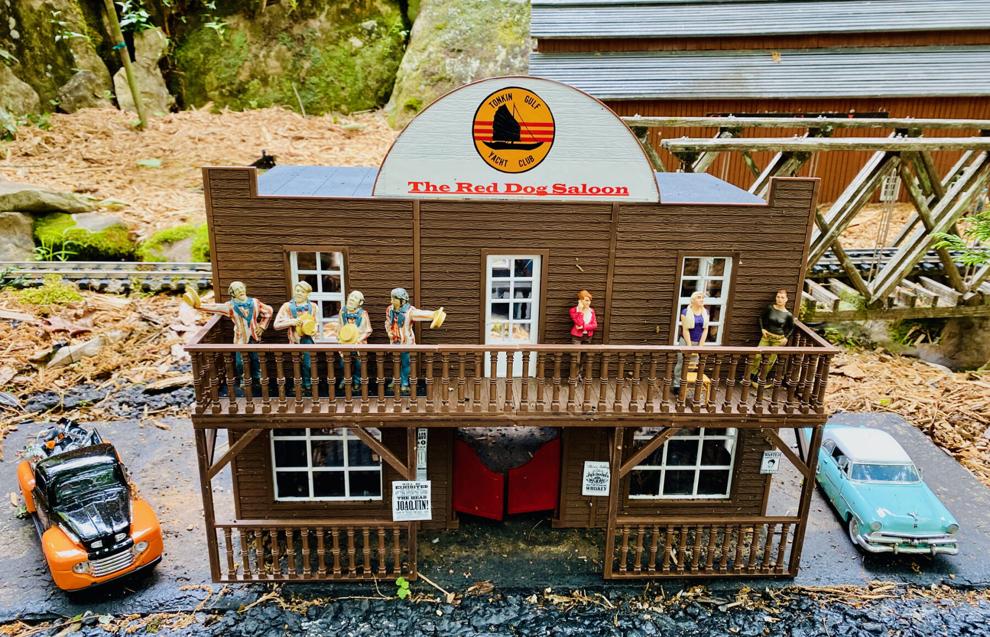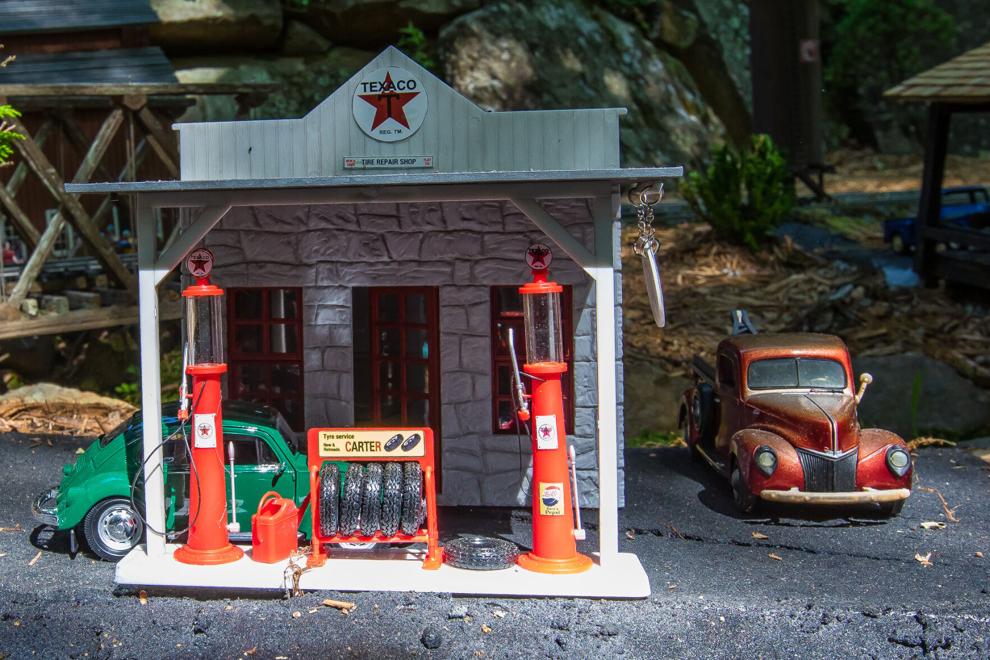 Since the layout is located in Big Canoe it is logical to find that a meeting of the Bear Society is in progress, featuring all variety of bears.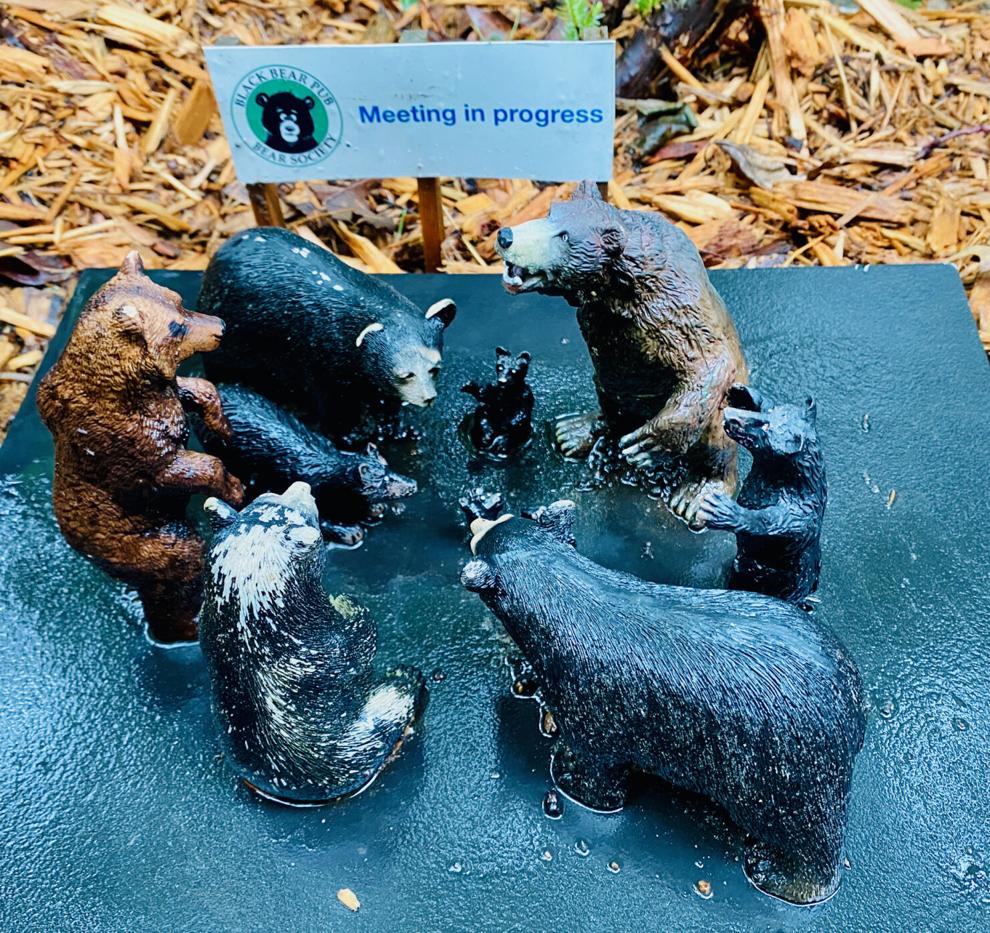 "I have three LGB diesel engines and three steam engines that I run on the layout, although I usually operate only three at any one time. Typically, this would be comprised of a consist (two engines operating in tandem) and one solo engine," John stated.  The maximum load on the consist is limited to eight cars due to grades and lack of dynamic braking. John has about thirty pieces of rolling stock to transport freight and passengers.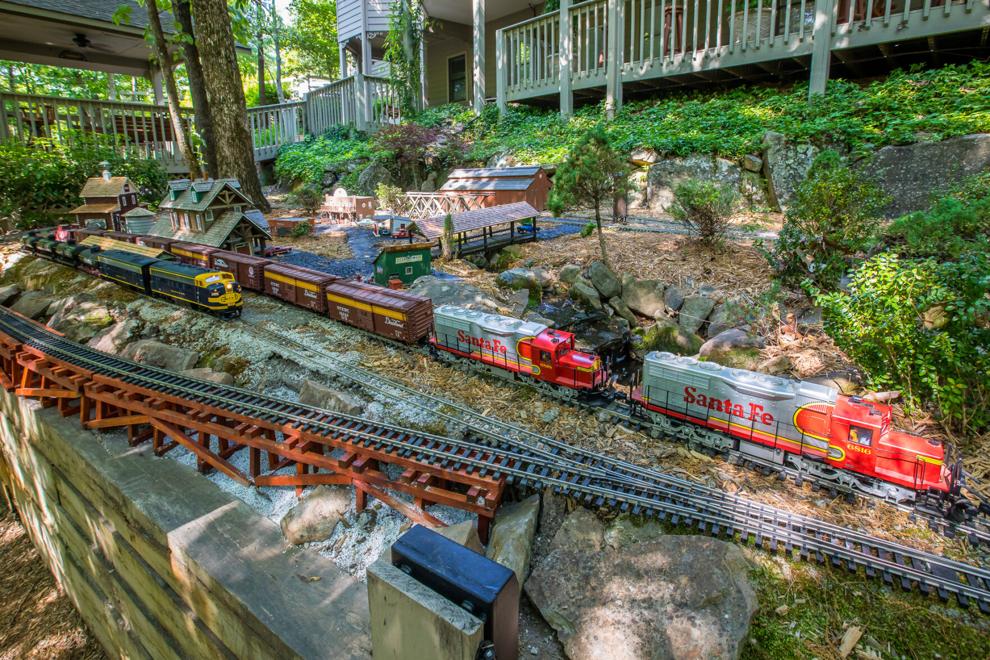 The layout is operated by a Massoth DCC (Digital Command Control) system. Massoth is the successor to LGB systems, which went out of business several years ago. "The remote control I use has a range of three hundred feet, which allows me to control operations from the upper deck with a 'God's-Eye' view," said John. 
There are 16 hand-built structures on the layout, including two bridges, a fire tower, a central station, a saloon and a refinery. "These are supported by a fleet of twenty cars and trucks as well as numerous miniature figures. When night falls, the buildings are illuminated with LED lighting," stated John. 
"I store the engines in the train barn, which can hold four engines on the two tracks that enter the building", said John.  "Unfortunately, at the current time workers are striking outside the barn for more pay with shorter hours," he added.  Something everyone would like if they could get it.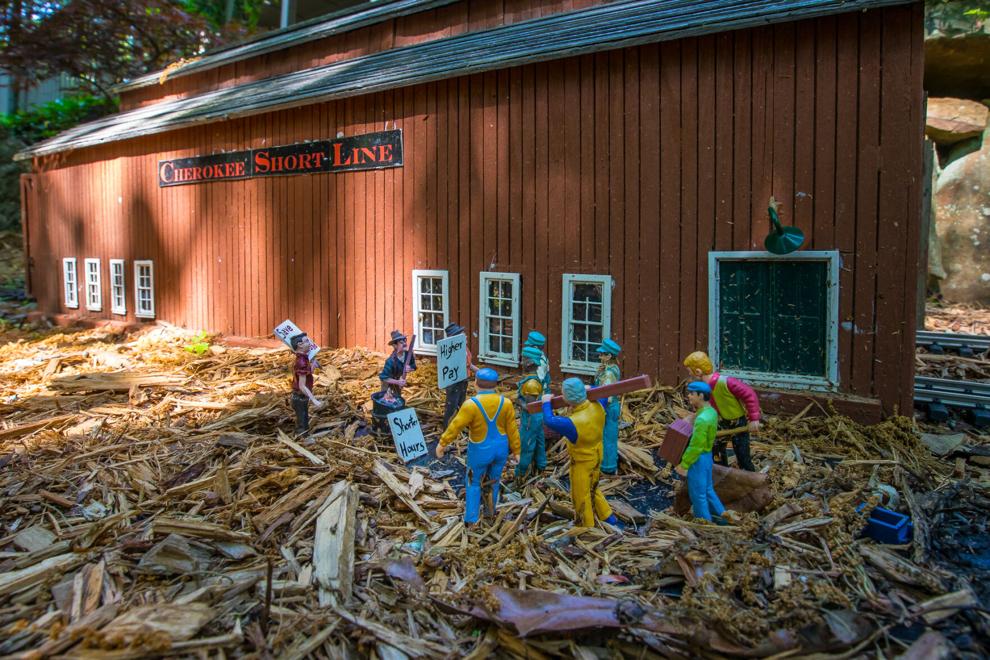 "My future plans include adding a concealed rail yard under the central platform for protected outdoor storage of rolling stock.  I also need to rebuild 120 feet of trestle," said John.  "Maintenance is a never-ending job on an outdoor railroad," he added.
The hobby of model railroading, and garden railroading in particular, unfortunately is in decline. "There are a number of reasons involved with this. First and foremost, the concept of operating model trains does not appeal to the younger generations," stated John. "Passenger trains are no longer a dominate factor in our national transportation system. While most people in our generation had the opportunity to ride the rails very few of our children and grandchildren have had this experience," continued John.
Over the past decade, there has been a major consolidation in the modeling industry. "Many firms specializing in G-Scale, such as LGB and Aristocraft, have gone out of business," John commented.  "Stainless steel track was not available for some time, and the track that is available now is cost prohibitive. In addition, there are currently no sources in the United States that provide stainless steel turnouts," continued John. Sustained outdoor garden layouts are not achievable in the absence of stainless steel. 
"Another factor is that model railroad magazines have given way to the internet. In-stead of separate magazines and national conventions for garden railroading, these have now been consolidated into publications and conventions for all scales," John added.
It is difficult to see any changes in this trend. "So, for those of us dedicated to the hobby, we continue to do our best to preserve this bygone era of transportation and commerce," John concluded.
Please check out the video of John Herzler's Cherokee Short Line Railroad by clicking on the link below.