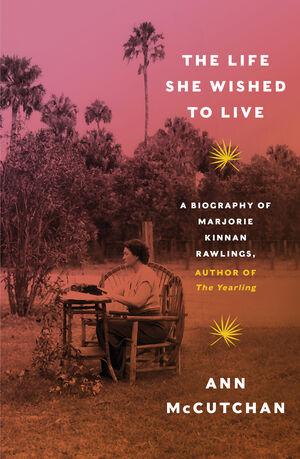 "You are a wonderful example of a shell game with your soul as the pea," wrote Charles Rawlings, the first husband of Marjorie Kinnan Rawlings, the celebrated author of "The Yearling." "God knows which walnut shell you will find it under next. If anyone asks you what you are, tell them that."
Rawlings responded enigmatically: "You mustn't interpret a mood as a permanent state of mind."
It's an exchange that concisely makes clear the challenges of writing about any writer, much less one as complex and thorny as Marjorie Kinnan Rawlings. Experienced biographer Ann McCutchan rises admirably to those challenges in her new book, "The Life She Wished To Live," the subtitle of which goes so far as to offer the requisite description of its subject as author of 'The Yearling.'"
The reason for this is so straightforward and unforgiving that Rawlings herself would doubtless have liked it: although she wrote (grudgingly, slowly, slowed by both alcoholism and perfectionism) for her whole life, and although some of her books were critical and financial successes, she will forever be both associated with one book and overshadowed by it. "The Yearling" was the bestselling novel of 1939. It won the Pulitzer Prize. It was translated into dozens of languages. It was illustrated by N. C. Wyeth. It was adapted into a movie starring Gregory Peck. The story of a young boy who befriends a fawn in the hardscrabble world of the central Florida scrub country, "The Yearling" became a genuine literary phenomenon and made its author, who'd only settled in the area 10 years prior, a very reluctant celebrity. "Within a few years of her arrival in north-central Florida," McCutchan writes, "[Rawlings] had put the region, and herself, on the national literary map."
In writing this biography (the first full-dress life of this author since Elizabeth Silverthorne's excellent volume 30 years ago), McCutchan wants to illuminate "Marjorie's humanity: her heart and mind." To this end, she has scrutinized thousands of letters, read draft works the author's adoring public never saw, and searched through old newspapers for every scrap that might help to illuminate Rawlings in all her fierce individuality.
McCutchan makes smooth, often invigorating reading out of the dealings Rawlings had with her two husbands, her long-time friends and servants, her fellow writers (especially Zora Neale Hurston, who provided a transformative bond that's very effectively sketched here), and of course her legendary editor Max Perkins ("He led by suggestion," McCutchan writes touchingly, "guided smoothly, a quiet rudder").
It's a remarkably assured performance, deeply informed and infinitely interesting. McCutchan never apologizes for Rawlings and never looks away from her many shortcomings. And if she never quite finds that pea in the shell game, well, very likely nobody could – even Rawlings herself.
WW Norton, 2021
418 pages
$35