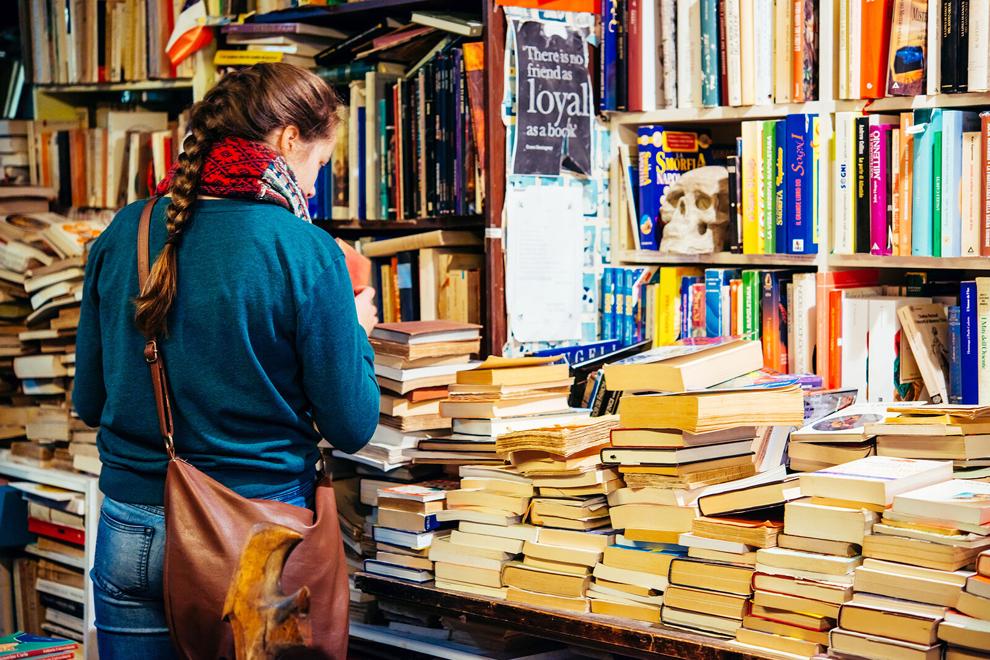 Although it was entirely unplanned, it seems only fitting that I kicked off what turns out to be National Library Week with a visit to a library book sale.  
National Library Week was first sponsored into existence way back in 1958, and in the ensuing decades it's steadily grown into a week-long mega-event in which people all over the world celebrate what so many consider the single most important institution in their town. As former First Lady and avid library fan Laura Bush was fond of saying, the most valuable thing in her wallet was always her library card. 
I myself have extensively used and dearly loved a baker's dozen libraries throughout my life. These institutions ranged from some of the grandest libraries in the world, like the mind-boggling palace that is the Vatican Library or great Marciana Library in Venice, to places decidedly more humble, like the Sigourney Public Library in Sigourney, Iowa, or the old Edgartown Public Library on Martha's Vineyard, a dear little wonderfully welcoming space that closed back in 2016 so a bigger, newer, and brighter building could open in its place.  
I've spent vast amounts of happy reading time in the big main library in Austin, Texas; I've lost myself in books in the old reading room of the British Museum; I've read and written happily in the old university library of Basel … and in all cases, in the back of my mind, was that soft hum of gratitude we all feel in our hearts every time we visit a library.  
Which makes it a bit odd that I didn't realize this week is National Library Week, but at least I got things started off on the right foot: I dutifully made my way to the April book sale of the Boston Public Library (BPL).  
The BPL is an odd hybrid creature, architecturally speaking. There's the old building, a magnificent creation of the early 20th century team of McKim, Mead, and White, gorgeously decorated with marble statues and murals by John Singer Sargent, and right next to it is the antiseptic "brutalist" Johnson Building, originally built like a bomb shelter but recently renovated to be considerably prettier and more inviting. 
The book sale is held in one of the many available basement-level spaces in the old building, and although I was naturally wary about crowds and enclosed spaces — a reflex held over from the worst days of the 2020 pandemic that I doubt I'll ever be able to shake completely — I went over and filed my way down to the sale room. 
Fortunately, I got there early enough so that there were no crowds, just about two dozen people browsing the books laid out on tables and neatly stacked on the wall shelves that lined the room. And as soon as I started browsing, I found myself remembering what I always forget: just how satisfying it is to walk into a library book sale with money in my pocket that I intend to spend. You're buying books in a place that's completely devoted to the love of books — the combination feels wonderful. 
Once upon a time, the Boston Public Library held its book sales every week, and they drew large crowds of readers who were often discouraged by the high price of new books in retail shops. Now the sale is held on one Saturday every other month (very bookish Bostonians envy the many libraries across the country that hold much smaller but ongoing book sales), and the room is always full of many kinds of books, most of them incredibly cheap and with all proceeds going to support the Friends of the Boston Public Library in all the good stuff they do for the library community. 
This time around, I found a bunch of science fiction paperbacks, things like Kirk Mitchell's "Procurator," set in an alternate history where Ancient Rome never splintered into a dozen nations but instead retained its central imperial machinery for thousands of years, or Robert Stallman's "The Orphan," a beautifully-written take on the classic werewolf story, or S. M. Stirling's "Dies the Fire," the first book in a terrific series in which a mysterious event destroys all higher technology on Earth, forcing the survivors to adapt their modern sensibilities to the hand- and horse-powered implements of the Middle Ages.  
Most of the sci-fi goodies I found were books I've read before, although sometimes not for 40 years, and of course the added pleasure was that they were all so cheap.  
But it wasn't all science fiction! I also found Willard Sterne Randall's fantastic biography of Ethan Allen, which I read many years ago and found both very granular and very readable. And I was very pleased to pick up a hardcover copy of Rick Atkinson's "The British Are Coming," the first book in his new projected trilogy about the American Revolution. I lost my original copy to a book-greedy house guest a couple of years ago, so I was happy to find this like-new copy for a couple of dollars. 
I left that basement room and climbed the marble stairs back into the sunlight with a canvas tote back full of books, which always feels particularly satisfying when the haul comes from a library sale. The counterweight is that the books themselves can sometimes be ex-library copies, which means they tend to be wrapped and stuck and stamped with library paraphernalia. I might love libraries, but I don't like the idea of having all that stuff festooned on books in my own collection, so the aftermath of any library book sale tends to be a bit of time spent peeling and cleaning my new books. 
It's worth it, of course. If it's been a while since you tried your luck at a local library book sale, by all means add one to your calendar for some coming weekend. You can use websites like Book Sale Finder to locate the ones nearest to you, and heck, even the tail-end of National Library Week is still plenty of justification for a book-hunt or two, don't you think?