28 Summers is novelist Elin Hilderbrand's 26th book, and since her debut in 2008, she's garnered a large and devoted fan following. By now those fans know exactly what to expect from a new Elin Hilderbrand novel: a light, summery narrative tone —the books often appear in time to be stuffed into tote bags and taken to the nearest shoreside getaway— a strong but not overpowering subtext of gauzy nostalgia, and surprisingly sharply-drawn characters. This author is one of the current reigning queens of "beach reads," not only because her books tend to take place on the vacation resort island of Nantucket but also because they chart the perfect course between heavy melodrama and mindless fun.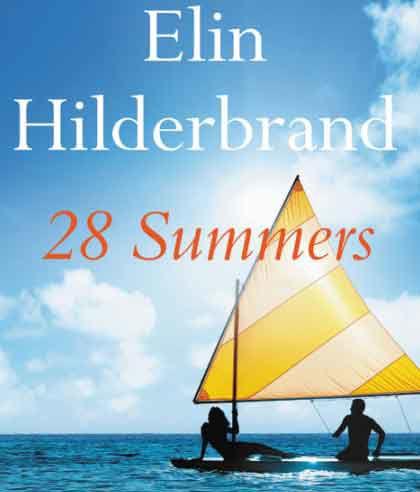 This latest novel is likewise set mostly on Nantucket, where Mallory Blessing inherited a house in the summer of 1993. As 28 Summers opens, the present day has seen many changes, some of them dire: Mallory has received an ominous medical diagnosis, and her deathbed request to her son Link is a phone number written on a piece of paper in her desk—he's to call it and see what happens.
What happens is at first unbelievable to Link: the number connects to Jake McCloud, the husband of firebrand Presidential candidate Ursula DeGournsey. Link had no idea that his mother knew Jake, and the story—told in long and lovingly detailed flashbacks—grows both stranger and more touching. Mallory meets Jake at her brother's bachelor party, and they fall in love. For the next 28 summers, they meet once a year to keep their relationship alive, even though they each go on to marry other people and raise families who never suspect that each is carrying on a secret life at very discrete intervals.
All the customary Hilderbrand magic is here: the separate years of Jake and Mallory's long affair are evoked with delicate skill; the seeds of present-day dilemmas are carefully planted as the time frame advances; and most memorably, the complex dynamics of each of the two families—unwittingly sharing the most personal connection imaginable—are sketched with complexity and genuine empathy. Only the political dimension of Ursula's sub-plot feels undernourished; the rest of the cast lives and breathes.
It hardly needs pointing out that the whole concept of the "beach read" is in jeopardy in the summer of 2020. Taking a book in a crammed summer bag to a crowded seaside or lakeside resort may be seen this year by many thousands of people as an unwarranted risk rather than a long-anticipated reward. Fortunately, Elin Hilderbrand's novels are proof against even worldwide pandemics. 28 Summers will transport readers to the long, sunny afternoons of years long gone by—and readers need such a vacation this summer more than ever.
Steve Donoghue is a book reviewer whose work has appeared in the Wall Street Journal, the Washington Post, the Boston Globe, and the Christian Science Monitor.