"Rocky Top you'll always be
home sweet home to me
good ol' Rocky Top
Rocky Top Tennessee"
Lyrics – Felice & Boudleaux Bryant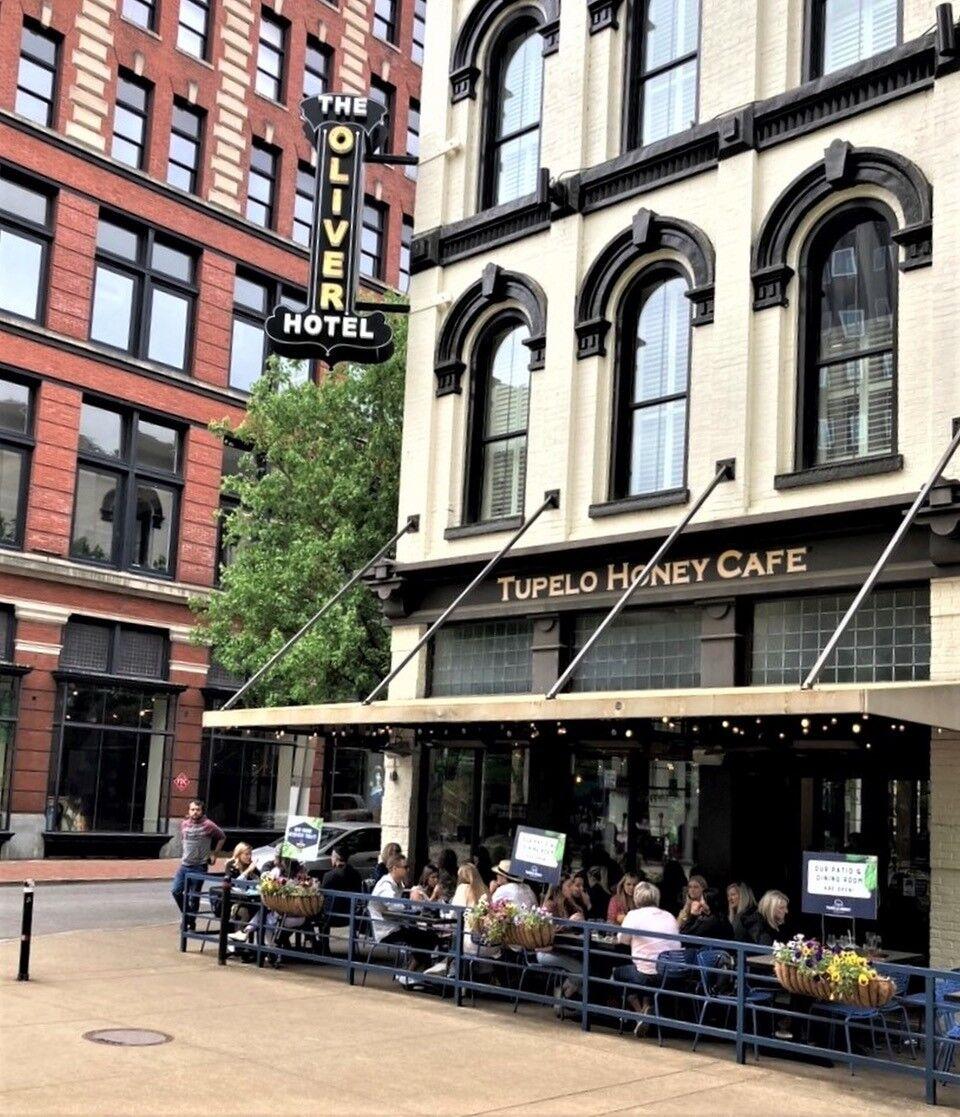 I don't talk about it much but I grew up and went to college at the University of Tennessee where eating is a fun sport and football is king. Located in Knoxville, Tennessee, it is a fun college town offering lots of good restaurants and places to explore, like Market Square downtown. It is an open, pedestrian-only area where hotels, restaurants and shops all come together to form an outdoor haven where you can relax, hang, eat, drink and listen to music and/or live performances.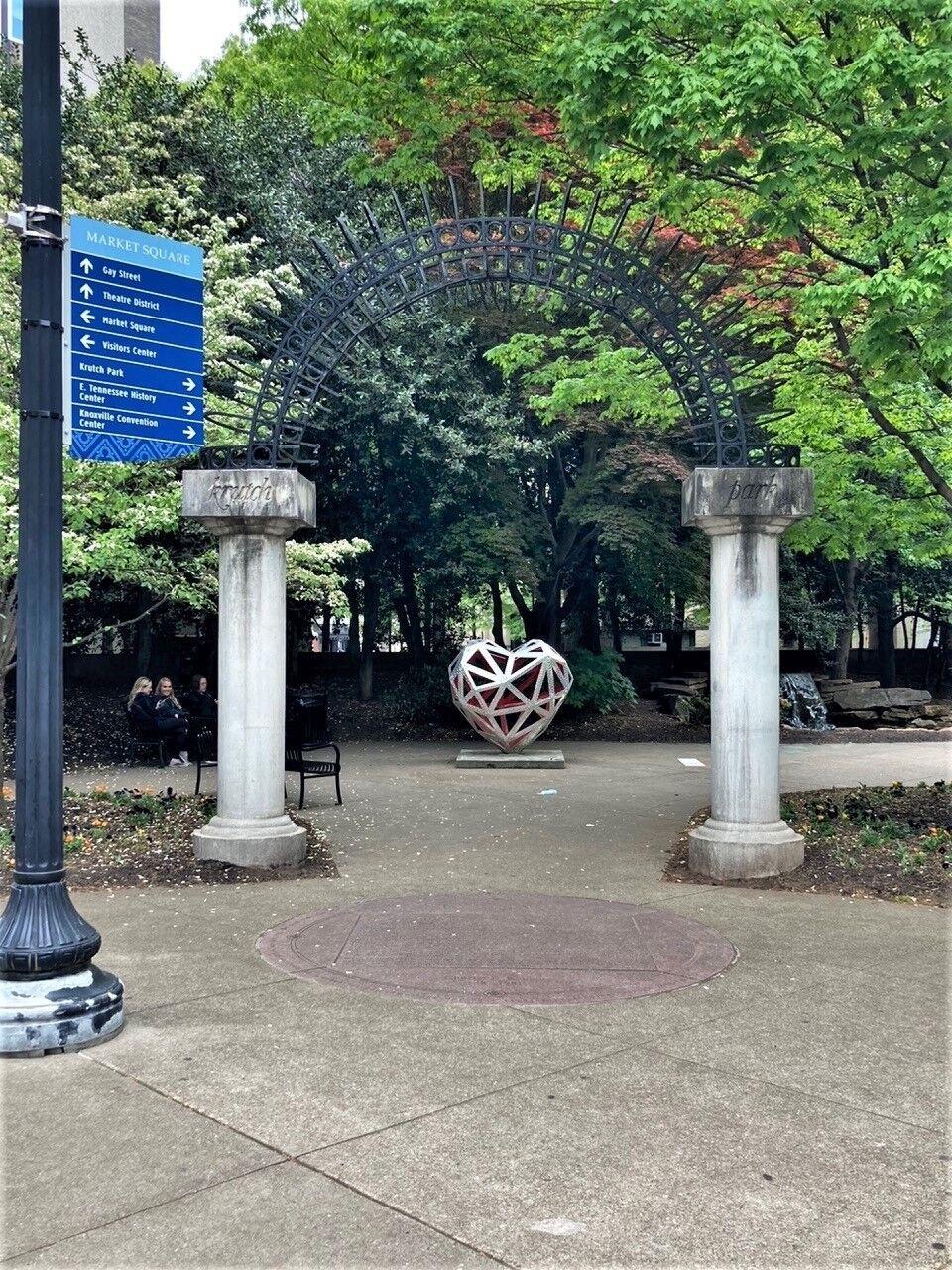 A recent Saturday looking like cold rain turned into a glorious warm day; perfect for a walkabout and some brunch at any of the outdoor dining possibilities from which there are many to choose. I try to get back there on almost every trip home. This column I will give you some tips you should check out the next time you're up for a short road trip.
            Sitting on the corner of Market Square is The Oliver Hotel, with rooms located above The Tupelo Honey Cafe. The building dates back to 1896 when it was opened by Peter Kearn as a bakery. It was restored to become The Blake Hotel and was later purchased by Kristopher Kendrick who changed the name and further restored the building. Kendrick was a former hairdresser turned developer who was the man with the vision to revitalize the Old City and downtown areas of Knoxville.
            The hotel has his gracious Southern attitude, taste and style in the design and details. Fine dining is offered in the evening and for weekend brunches at The Oliver Royale where you can start with small plates like tuna sashimi, crispy pork belly and duck confit spring rolls. Entrees include sous vide duck breast, pan seared snapper and short ribs. This is luscious eating in a cozy warm atmosphere.
            Stop by Knoxville's only speakeasy after dinner for a quiet drink in The Library Bar. Hidden behind the lobby, it used to be a best kept secret and now is a must-do staple. This quirky little property is my pick for where to stay when visiting.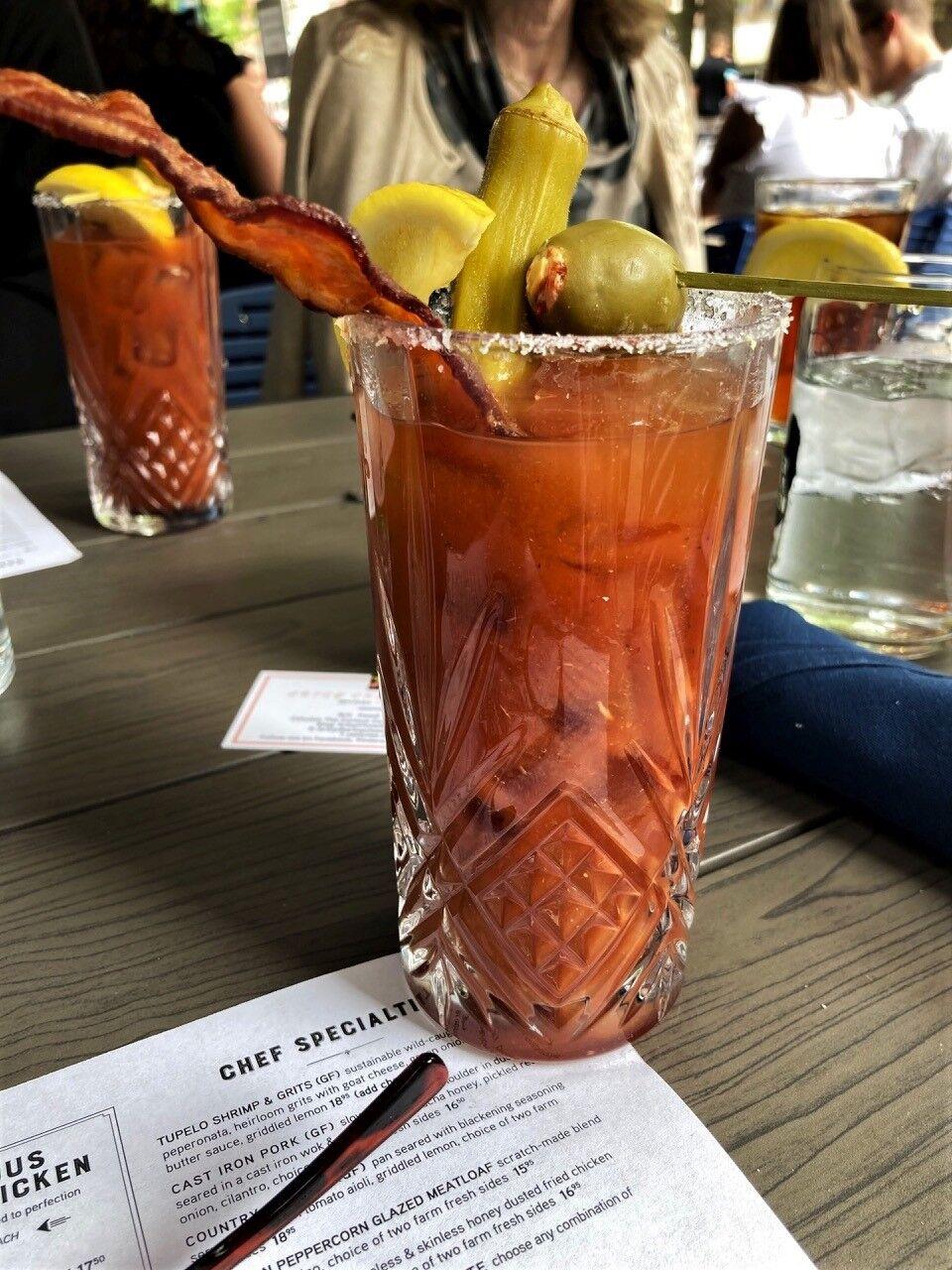 Tupelo Honey Café is casual dining located beneath the rooms of The Oliver Hotel. It is a chain restaurant with locations in twelve different states. I first ate at one in South Carolina where I had some of the best fried chicken I have had in years. The scratch-made Southern menu changes with the seasons and you can experience classics like fried green tomatoes, chicken and waffles, country catfish, meatloaf and shrimp with grits. We decided to pop in for brunch and snagged a great table.
            There were four of us and each tried something different so we could test as many options as possible. We ordered a breakfast platter with sausage and grits, cauliflower tacos with fries, Belgian waffles and the best of the day, The Benny. This was the café's version of eggs benedict and it was pretty gosh darn good with tender Canadian bacon, runny eggs, pickled onions and crispy home fries. We also had a round of Bloody Marys that were tart and spicy with olive, bacon and pickled okra for decoration. What's brunch without a good Bloody?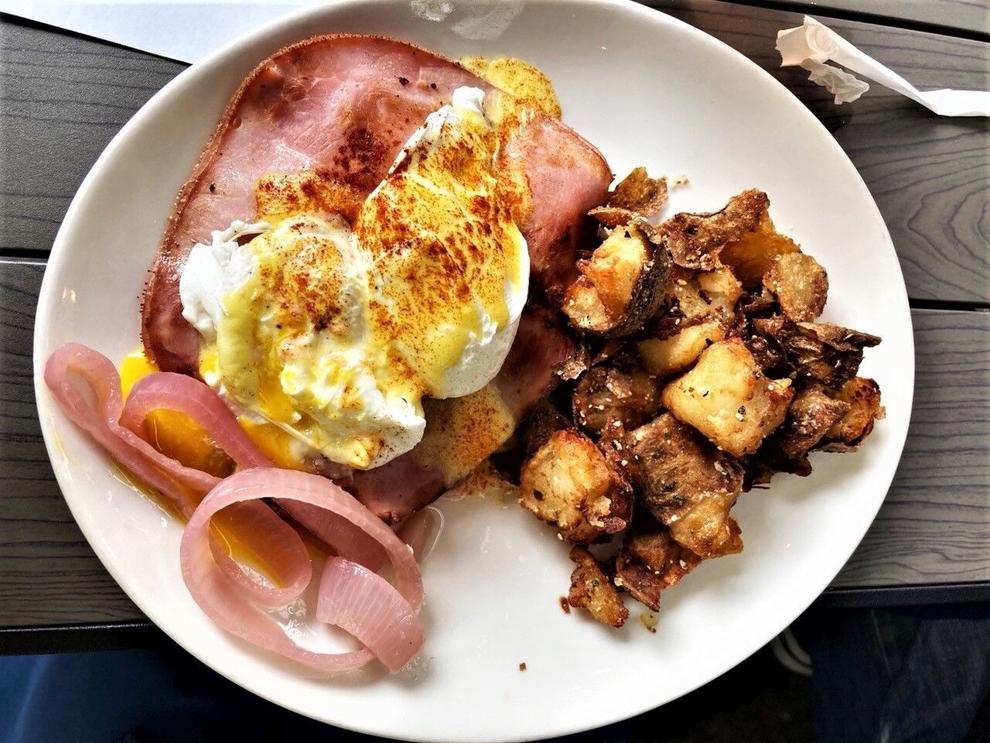 Almost all the restaurants offer year-round outdoor seating—which has made it nice during the pandemic—and there are over 90 restaurants in a walkable square mile. Another favorite is Café 4. Their outside dining is beautiful with flowers planted in pots and boxes everywhere and a lovely arbor with tea lights, making it a romantic spot for date night in the evening.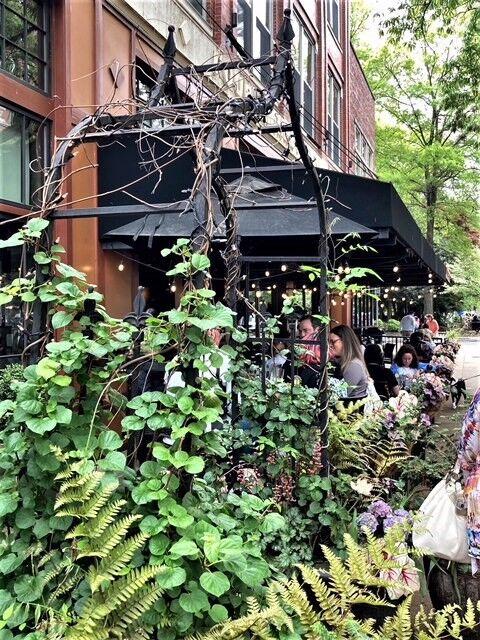 The menu has Southern flair to it with signature cocktails like an Old Fashioned or Briar Patch and "sharables" like warm pimento cheese dip and lobster flatbread. Who wouldn't like that? Entrees include mac-n-cheese three different ways, pulled pork, Tennessee cheesesteak and maple pecan salmon. You might want to leave enough room for some sweets at this spot. Try the butterscotch bread pudding, apple pie or chocolate fudge torte. You will need to share because the servings are sizable and delicious.
            Want the best burger around with an extensive list of bourbons to try? Stock & Barrel is your place. I love this dark stylish restaurant with a pub vibe and never order anything besides the fabulous burgers. If you insist on trying something else, go for the duck fat fries or spicy crab dip. I got a thing about duck, and duck fat works with almost anything, amirite? You say you don't like beef? Well they have bison, turkey, chicken, salmon and black bean burgers. There is a burger for everyone cooked to perfection just the way you want it.
            A holla out to Myrtles Fried Chicken & Beer for comfort food and craft beer selections and to Emilia's for authentic Italian food in a casual atmosphere. Got a sweet tooth? Slide by Chocolate & Coffee. A tiny place with big flavor and the best spot to pick up something for late night snacking at home. Honestly, the best seafood is off the square on Union at Chesapeake's.
            There is usually someone playing music on the square at all times. This day it was fun and festive with steel drums playing a selection of old favorites on a system with speakers. Kids were dancing while others stopped to sit and listen with their dogs. Krutch Park is a nice walkabout too, for outdoor sculpture installations and a beautiful water feature. There are shops galore to get your Boho vibe on and pick up some well-priced finds to take home. Plan a trip to good ol' Rocky Top and Market Square soon, OK?
Artsy is a freelance writer, columnist and full-time blogger at www.ArtsyChowRoamer.com. The North Georgia mountains and Big Canoe offer the beauty, inspiration and quiet for the lonely endeavor of writing. Her husband and furry travel buddies are the best partners in crime. Don't be a stranger, follow her on Facebook, Pinterest, Instagram & Twitter.