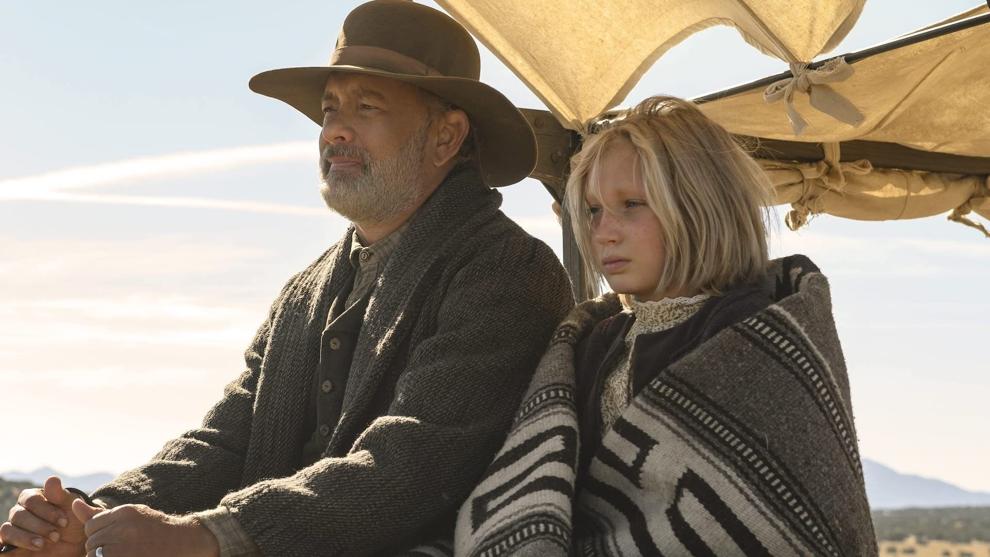 To make up for the lack of content in a 2020-21 winter season, movie studios are still finding small ways to drop decent to good films. Paul Greengrass' new western drama, "News of the World," was given a limited theatrical release over Christmas weekend, like any typical Oscars contender. But for people who aren't near an open theater or might not be comfortable sitting in a public building just yet, it's already on VOD for home viewing.
            Set in post-Civil War Texas, Jefferson Kidd (Tom Hanks) is a former Confederate Infantry captain who now makes a living going town-to-town across the U.S. reading newspapers for 10 cents a person to anyone interested. One day while en route, Kidd comes across a lost 10-year-old German girl named Johanna (Helena Zengel) who was raised in a Kiowa village. Now orphaned twice over, Kidd takes up the responsibility of traveling the girl to an aunt and uncle in Red River, Texas.
            "News of the World" co-stars Mare Winningham, Bill Camp and Elizabeth Marvel in the supporting cast, and reunites Greengrass and Hanks for the first time since their highly acclaimed "Captain Phillips" (2013). Based on Paulette Jiles' 2016 novel of the same name, Greengrass might seem like a peculiar choice for a period piece, as he's more well-known for modern-set thrillers like the Jason Bourne movies and "United 93" (2006). It's a pleasant surprise to discover "News of the World" might be his most restrained as a director, with his recognizable shaky cam style absent for all but two quick shots. The English filmmaker proves he can hold his own outside of the action genre and naturally makes us feel like we're watching the Old West on screen.
Hanks is solid as the star of the story, as expected, but it's newcomer Zengel who really shines in her Hollywood debut. It's a testament to her talent that she can capture the viewers' attention each scene with no English dialogue, only speaking German and Kiowa. The theme of journalism in the 1850s is also an interesting, unique subject we don't see much in this time period in fiction, and comes off refreshing with both Hanks' performance and Greengrass' and Luke Davies' adapted script.
            "News of the World" could easily have been just another generic, basic, Oscar bait. But instead we get the first high quality feature film in 2021.
Megan Bianco is a southern California-based movie reviewer and film historian, providing entertainment content exceeding 700 published articles to various publications since 2010. She has a degree in Film Criticism & Screenwriting from California State University, Northridge. You can follow her on Instagram @moviemuses.